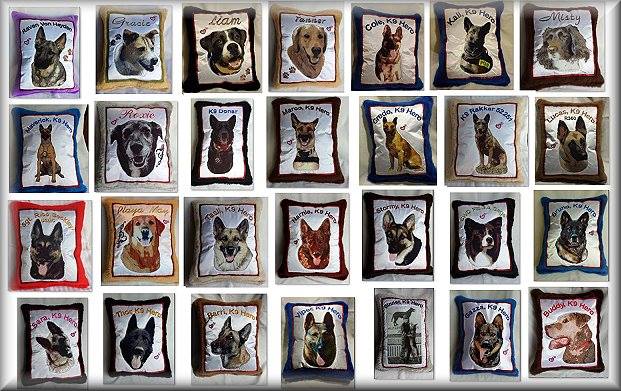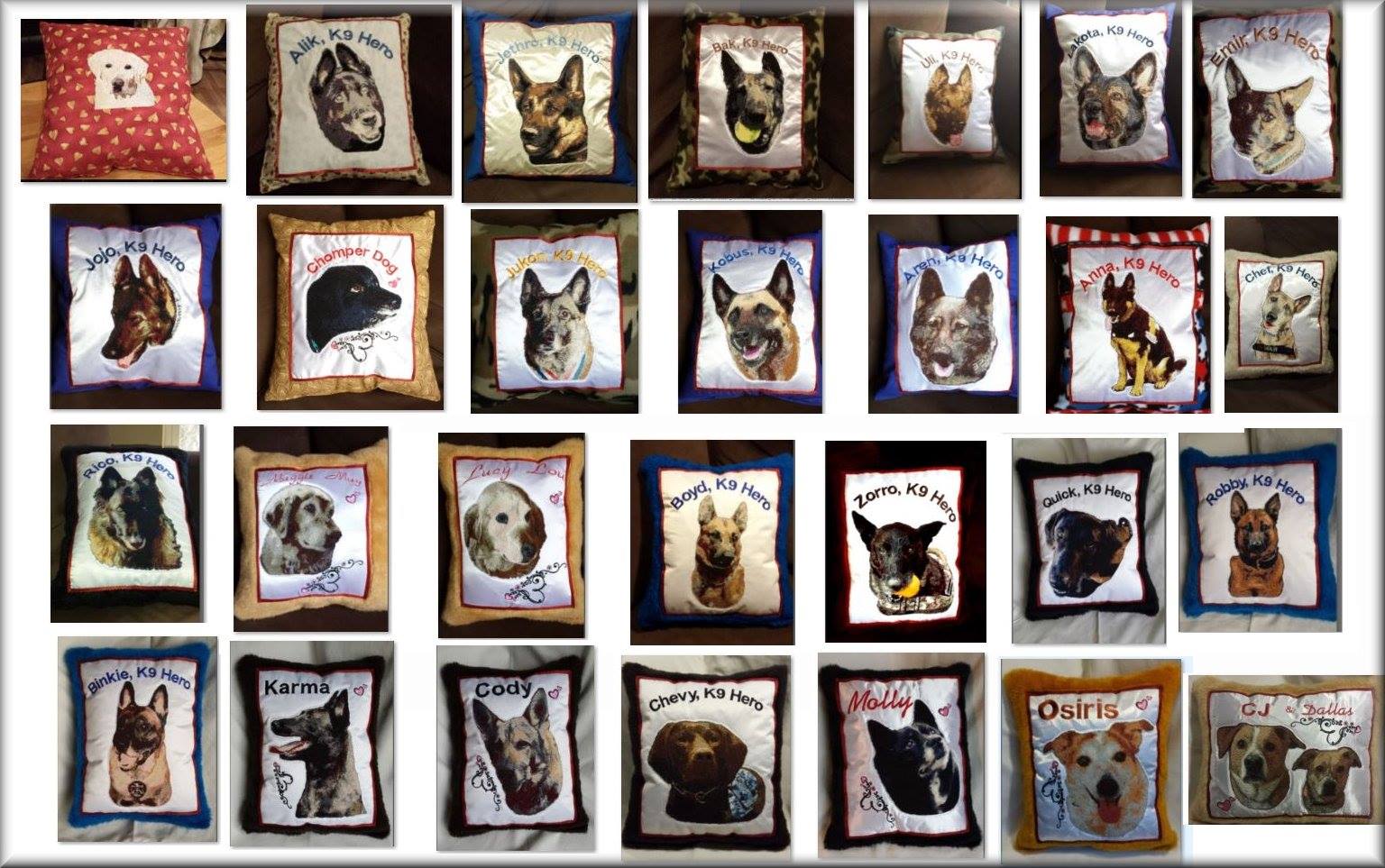 Gaylene Rose alerted me that K9 Hero Karma passed away while active duty due to an illness. This free K9 Hero pillow was passed to her and was later presented to Karma's partner. Be sure to scroll down for more info and several more pictures of this K9 Hero.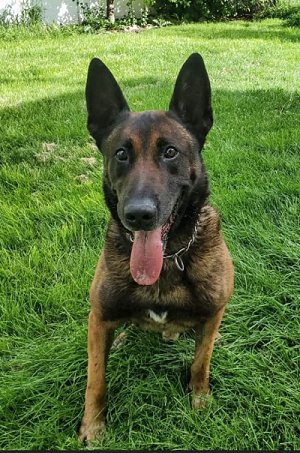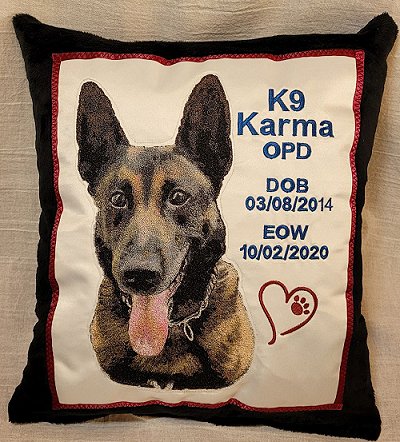 "K9 Karma died following a months-long battle with a debilitating health condition. Karma faithfully served the Ogden, UT Police department for more than 6 years. He loved police work and excelled in every aspect of the position. He was a dedicated partner, friend, and—most importantly—family member. Karma spent his final moments surrounded by those who loved him.

"We are forever grateful for his dedicated service to our department and city."

"Rest in Peace, Karma. You will be missed by all."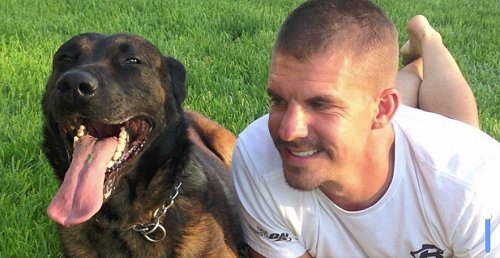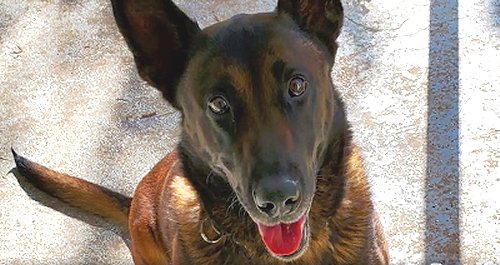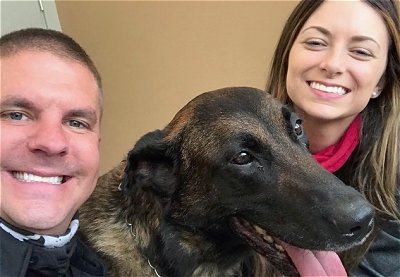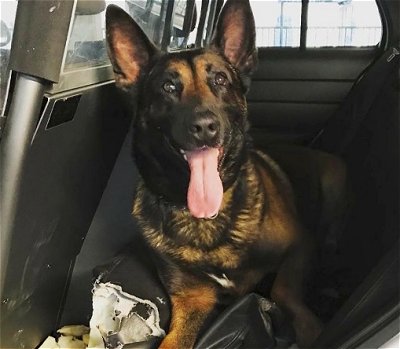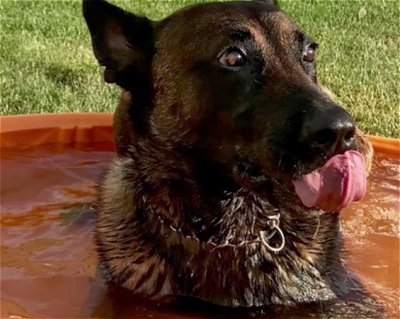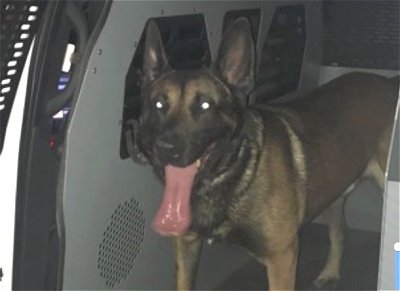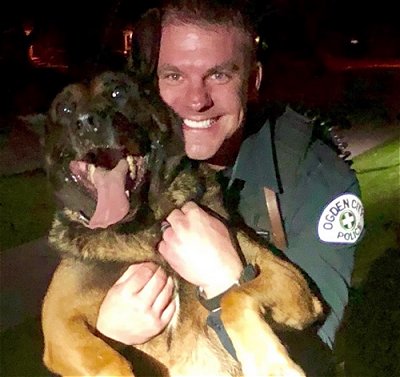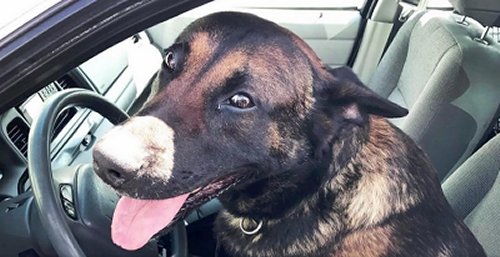 Nov 18, 2020, from the Odgen, UT Facebook page...

Today, Captain Scott presented Officer Whitby with an embroidered pillow honoring K-9 Karma's life and service to the Ogden Police Department and the City of Ogden.

Dian Chapman, founder and artist of K-9 Hero Pillow Project created the pillow with a beautiful image of Karma. This endeavor was supported by Gaylene Rose.

Officer Whitby, his family and the members of the Ogden Police Department would like to thank Dian and Gaylene for their thoughtfulness and generosity.

This beautiful pillow will be a constant reminder to Officer Whitby and his family of Karma's service, companionship and loyalty.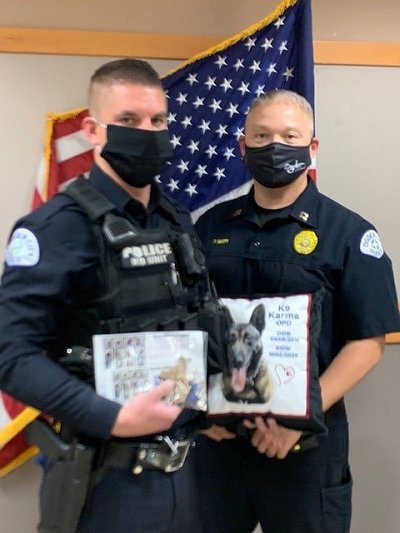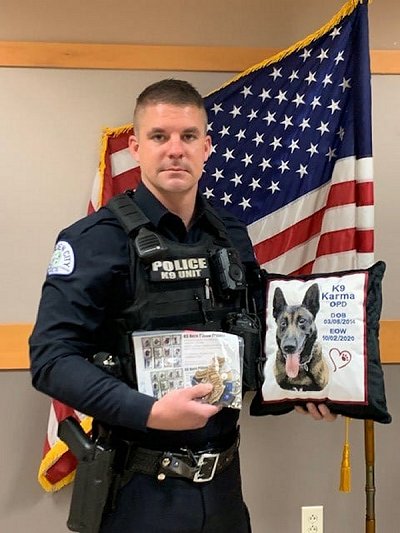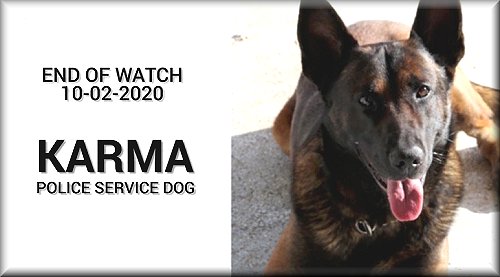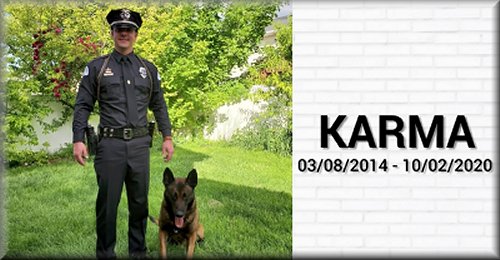 Up to Top
Jada's partner, Veteran and current LEO Chris, contacted me to obtain a pillow to honor his K9 partner, LEO K9 Hero Jada, who passed from an illness while still active duty. These types of pillows I do for free as a thank you to these heroes who are loss while serving our country. Chris sent me his favorite photo and I was, as always, very honored to help honor this K9 Hero and to try to help heal Chris' heart. Be sure to scroll down to view many more photos, details and funeral video.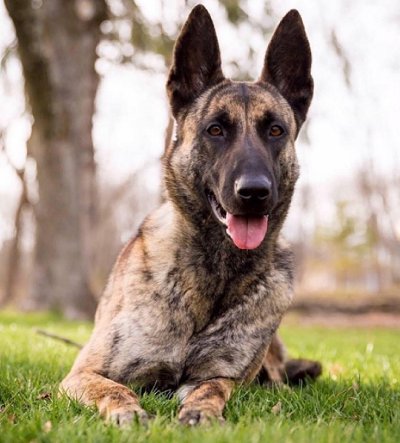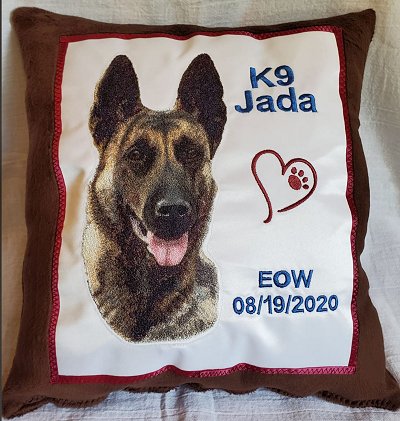 LEO K9 Jada's Funeral video on YouTube:
https://youtu.be/mlvLMArrslY
Chris' post...

"Words... what words do I use, what is it that I'm searching for to say? How do I share with each and everyone one of you all that is truly going on in my head right now? Heartbroken? Devastated? Numb? Numb is the best way to explain all of this. I didn't want to initially post anything on social media without having my wits but I had to explain to everyone what had happened. After a day full of love from my family, spending time with my wife and kids and doing my best to answer everyone back, I've finally sat down and decided it's time to share what Jada meant to each and every one of us.

"I'll start off by sharing my love and passion for K9. In 2005, while deployed overseas I learned all about military working dogs. For those that know me well can attest to my passion when I set a goal. I knew K9 was my calling. I've campaigned for a position as a K9 handler for many years, gearing anything and everything in my law enforcement career to succeed as a handler. I've idolized handlers such as Mich and Kieran from Sussex County Sheriffs and SAR handlers Rob. I've always had hopes to come in under them.

"A career change brought me to the town of Hackettstown. I came up with this crazy idea to get a puppy from a working dog bloodline bred by a retired K9 handler Pete. My wife knew it was an insane idea but she supported me from day one. She said if this what I wanted to do she will be along for the ride. I will not forget the day I brought the kids and my wife up to Pete's to pick out our new pup. My eyes were set on Jada from the start. We had the pick of the litter. It was final, Jada was picked named and she came home with us!

"She instantly became a part of our family. I and blue brothers Glen and Sean presented the idea to start the first K-9 unit to Chief Jim Macaulay. We gained his support but there was no guarantee I would be the one to get the position. There was no guarantee that Jada would be my partner. After tryouts and a presentation to the Hackettstown town council, it was official. Jada and I were paired as Hackettstown's first K9 team.

"We set off to train and certify at the Union County Sheriffs K9 Academy for narcotics and patrol. I am so grateful for my classmates (Ash Karl, Matt, Shannon, and Al) and all of my instructors (Howie, Anthony, Tim, Frew along with every other experienced handler (Aversa) (Ricky) that helped out during in-service training). The bond of the K9 world is nothing but the elite. After graduation, we hit the streets. I was fortunate enough to work short but adventurous four-plus years with K9 Jada. We have so many memories together. We have had some successful call outs. Most of all, I truly enjoyed having you by my side. We drove each other nuts as we spent those long hours together in the car but I know we loved each other. Jada was my rock. Jada loved to work.

"Last night we started to get ready for our night shift at 1800. It was nothing out of the ordinary and all was well as we both geared up and signed on duty. After a few hours into our shift, Jada's health quickly diminished. I knew I had to get her help. Jada went unresponsive as I rushed her to the animal hospital. The staff at the Newton Animal Hospital did what they had to do to save her life. I previously stated that Jada left this earth to go serve with God. My girl is a worker and she's definitely patrolling those gates.

"I have not stopped crying. I miss her so much. I want her back. I would do anything to spend another minute with her. What hurts the most is seeing my kids and wife cry and say how much they miss her. Saying she was a big part of our life is an understatement. My family has endured the years of training, my shift changes, my time away from home, the late-night call outs, and most of all our relocation to the Hackettstown area. They were as dedicated as I was to K9 Jada's purpose.

"If you are still around reading this novel, I want to thank you all. The support from our community, our blue family, and personal family and friends are absolutely amazing. Your kind words have helped me grieve. Jada was not just a pet, she was my sister in blue!

"Jada, I know you hear me! I'm not mad at you. I am so frigging sad. I miss you so damn much. Please rest easy girl. You deserve it. I love you and we will meet again.

"RIP to (K91)
K9 Jada
Hackettstown Police Department
EOW 08/19/2020"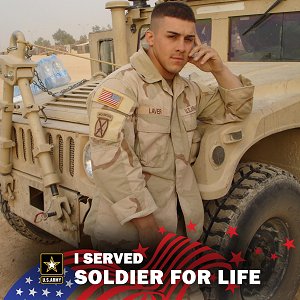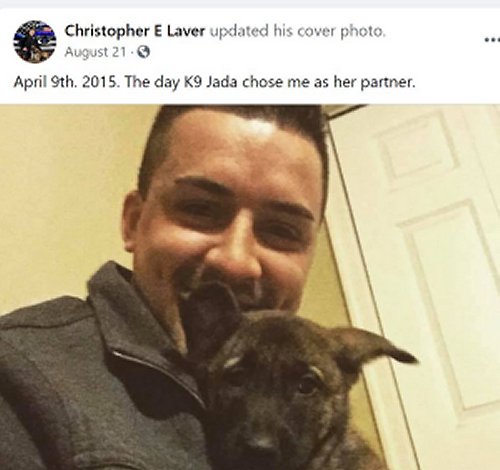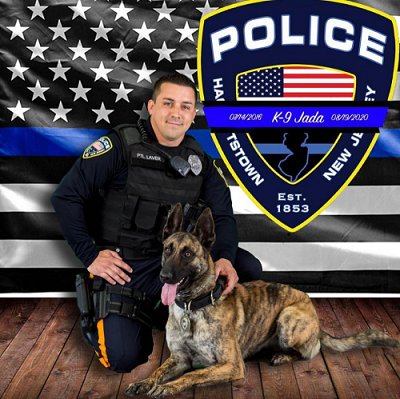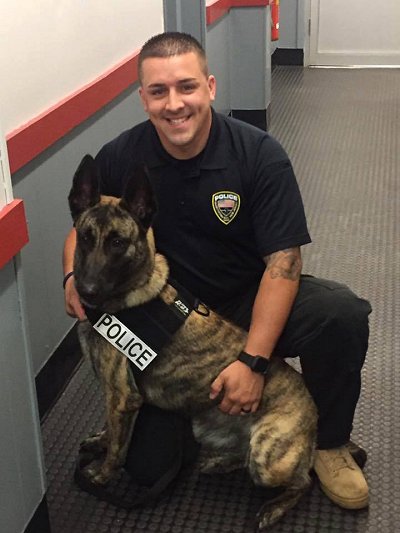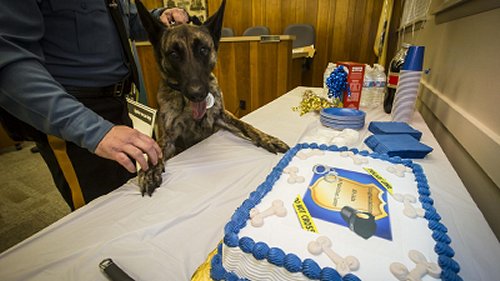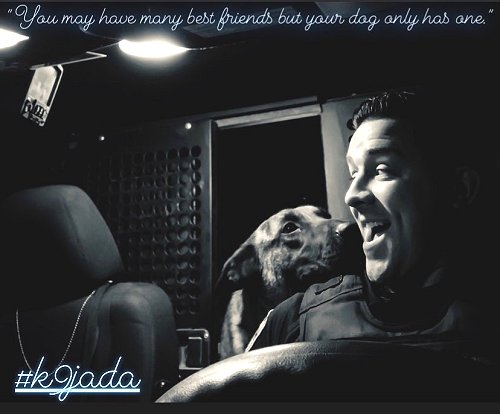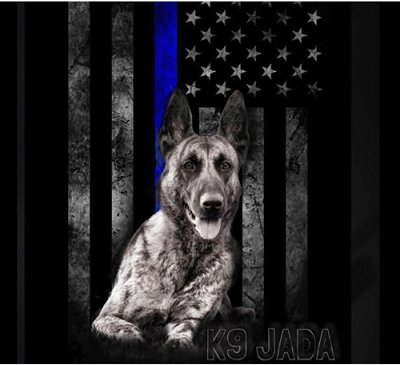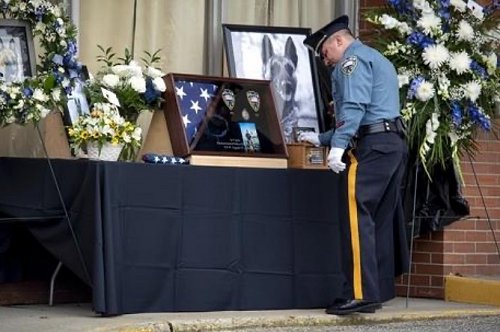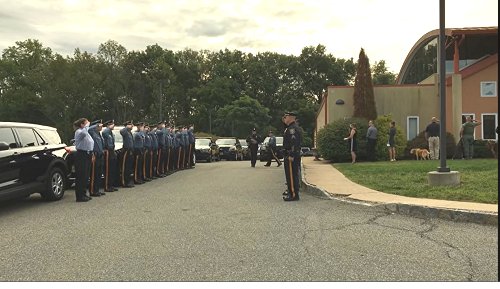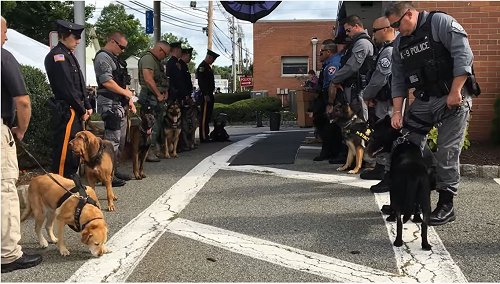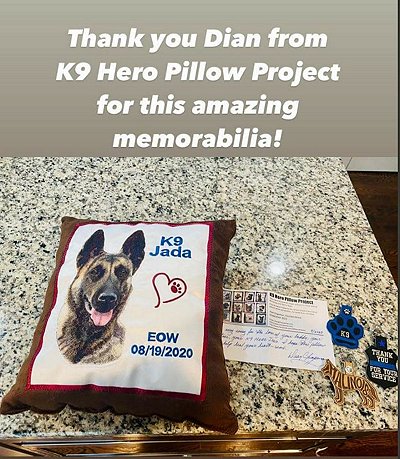 Up to Top
Staci, President of Protecting K9 Heroes, sponsored this K9 Hero Pillow for Indiana State Police K9 Hero, Rykr. Rykr had retired in December 2018 with his partner's family after 10 yrs of service. Sadly, retirement was short as he passed in February, 2020. Staci made sure his passing was acknowledged with memorial events, including honoring his service with this pillow for Rykr's partner, Master Trooper Trammel. Be sure to scroll below for more information about this K9 Hero, LEO K9 Rykr.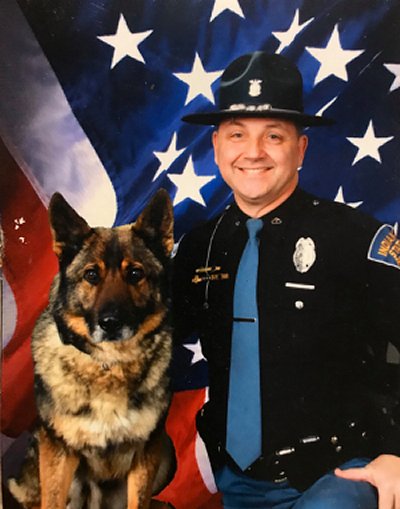 K9 Rykr served with Master Trooper Fred Trammel after they graduated together from Allen County K-9 academy in December 2008.

"Dogs teach us very important lessons in life: obedience, loyalty, and perseverance. But the most important thing I've earned from Rykr is his unconditional love and friendship," said Trammel.

Rykr loved working with children. During his service he performed demonstrations for schools and other organizations, according to police. "Rykr would stay all day if allowed and just let the kids pet him," said Trammel.

Indiana State Police says Rykr has served for 29 tracks with 15 apprehensions, 869 drug searches resulting in 223 drug-related arrests and 77 non-drug related arrests. He also served during the seizure of 1.3 pounds of Methamphetamine, 712 pounds of Marijuana, 8.5 pounds of Cocaine, half a pound of Crack Cocaine, 13 pounds of Heroin, 40 pounds of Khat and over $700,000 in U.S. currency.

Rykr was recognized nationally and given an award from the National Interdiction Conference for the largest Khat seizure in a vehicle (40 pounds) in 2013.

K9 hero Rykr was loved very much by his handler and his family.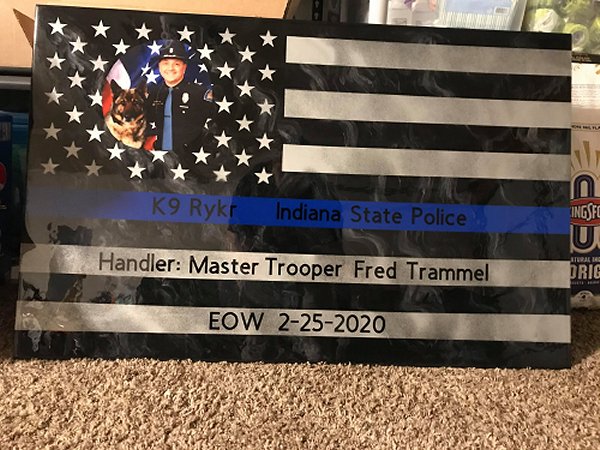 Up to Top
Krystal sponsored this pillow for the Daniels family when their beloved MWD Aura crossed The Rainbow Bridge. Be sure to scroll down to read more and see some wonderful photos of this Marine K9 Hero.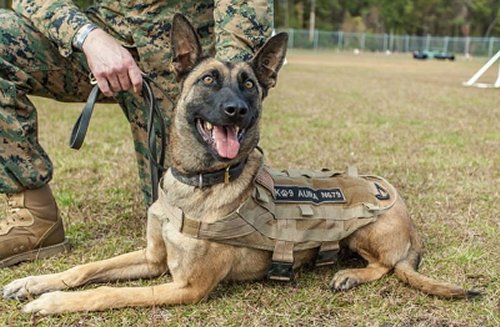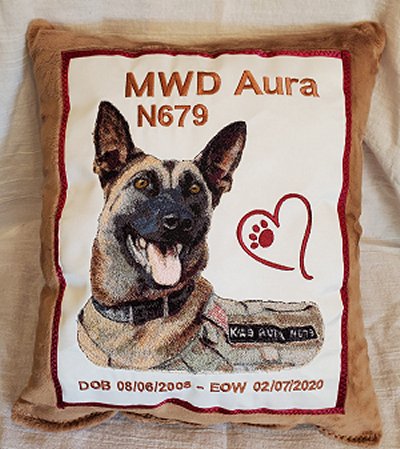 "Died – 2/7/20
"Handler – Mark Daniels

"RMWD Aura N679
It's with a heavy heart that we share the passing of Retired MWD Aura N679. Rmwd Aura served honorably in the US Marine Corps alongside her handler Mark Daniels. Together in 2013, MWD Aura and Mark deployed to Afghanistan, but their tour was cut short when both Aura and Mark fell prey to an IED blast. Both Mark and Aura sustained injuries, but by the grace of God, they survived.

"Shortly after this horrific experience, Mark and Aura were reunited when Aura was officially retired from the Marine Corps. Retired MWD Aura was a beautiful dog inside and out. She loved her family and she loved being an ambassador for Military Working Dog Team Support Association, Inc. alongside her mother Jesca Daniels. RMWD Aura will be missed by so many people. Rest Easy Hero, your time on this earth is over, but you will always and forever be remembered for your beauty and grace."

"From Jesca Daniels

"We just said goodbye to Aura and our hearts are broken.

"Most of you know that Mark was Aura's first and only handler in the Marine Corps. She came into our life in 2010. Mark had been a handler for six years at the time, but she was his first Malinois. And boy was she everything a Malinois should be—smart, energetic, loyal, energetic, determined, energetic…did I mention energetic?

"She gave him a run for his money, but in the end she made him a better handler. They were a beautiful team to see in action. I first fell in love with her love for him. Little did I know I would go on to fall in love with her love for the girls and me."

You can read more about this K9 Hero at this link:
TWO TRIBUTES TO RMWD AURA N679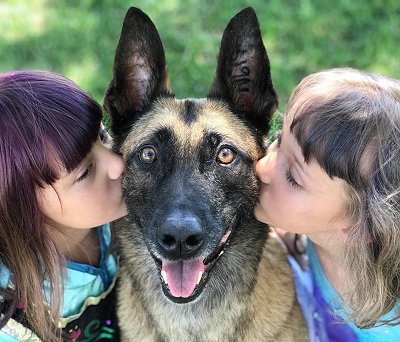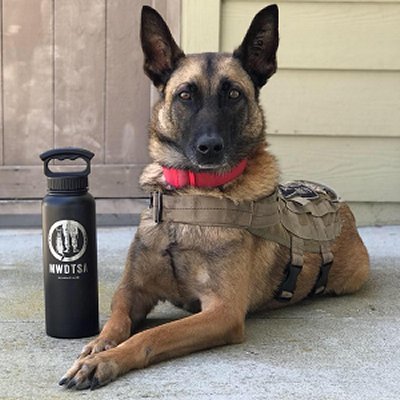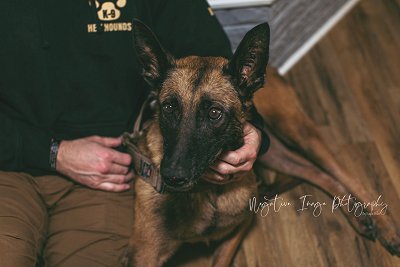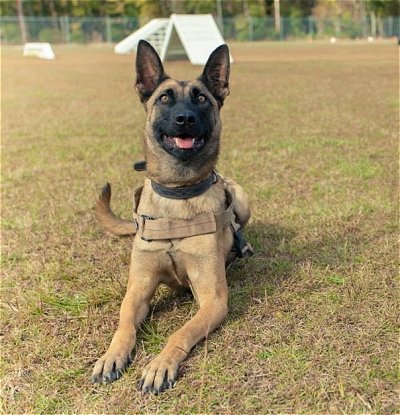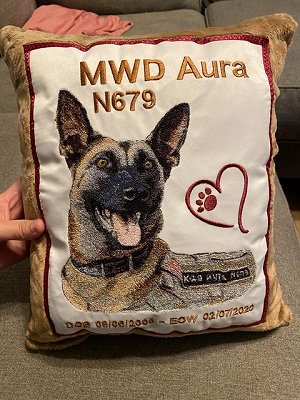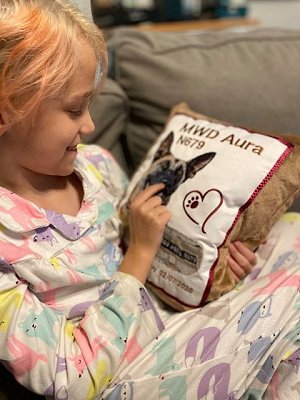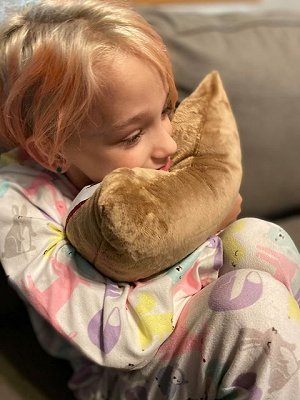 Up to Top
Every pillow I make touches my heart, but this one was particularly hard for me, because Dusty was our neighbor who we'd known since we moved here in 2010. Our dogs always enjoyed playing with him in our joint yards and he would often be our house guest when our neighbors were away. So it was sad to see him aging, but he did make it to 17.5 yrs old before a stroke sent him over The Rainbow Bridge. You were a cool dog and you are missed by many, Dusty. Be sure to scroll down for some words from Tammy and lots more pictures.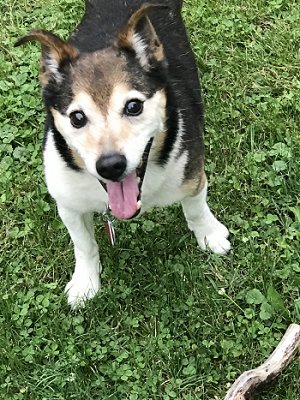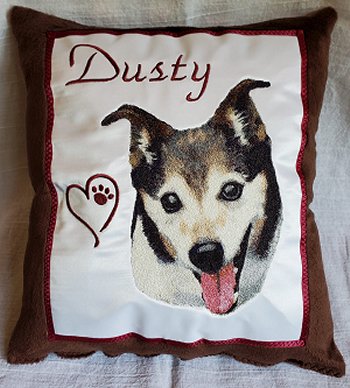 "Dusty joined our family when my son Zak ran in from the bus after school shouting 'mom, there's puppies down the street and they're small and free!' He knew I wanted a small dog. Dusty was so cute we just couldn't resist!

"From a pup all the way into his adult life, Dusty loved to chase the squirrels and play catch with tennis balls. He would play catch for hours if we let him! His favorite thing to do was go down by the beach in our neighborhood and run and swim after tennis balls that I threw into the lake for him to get. He certainly had a lot of spunk!

"We were so sad when it was time to put Dusty down but he lived a nice long life…17 ½ years! The pillow Dian made for me really shows off Dusty's happy, spunky personality. He was with me through some very tough times in my life and he will really be missed!"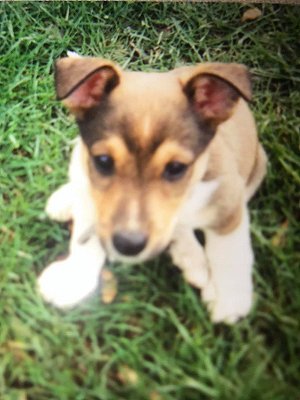 Baby Dusty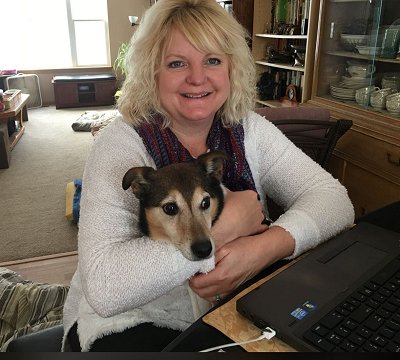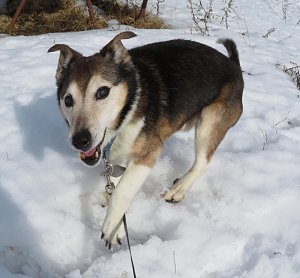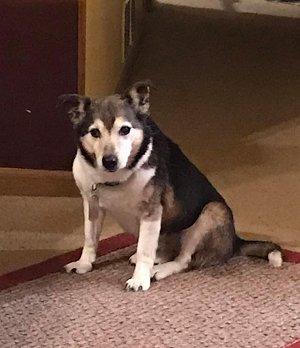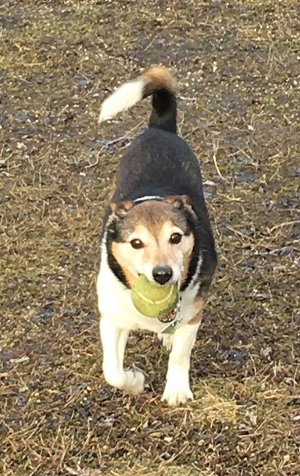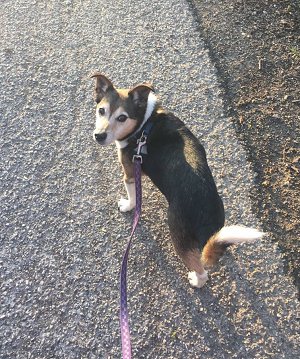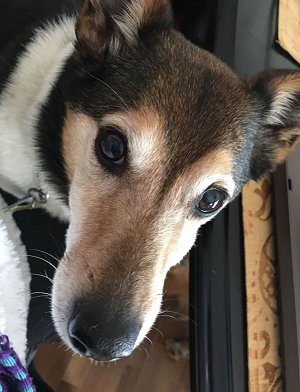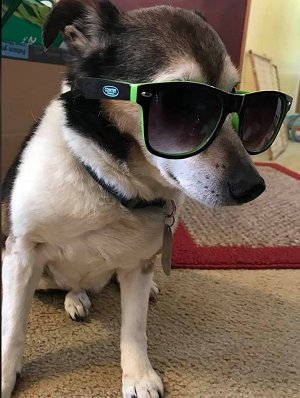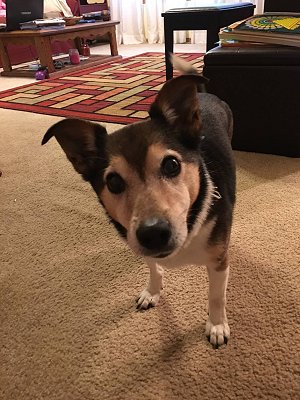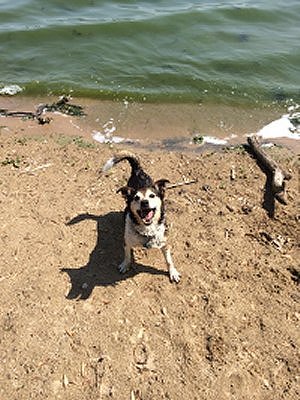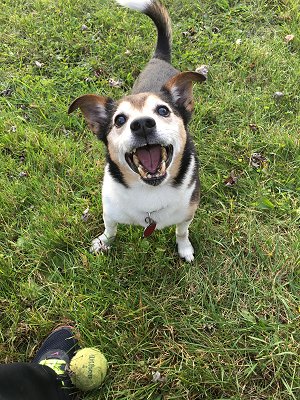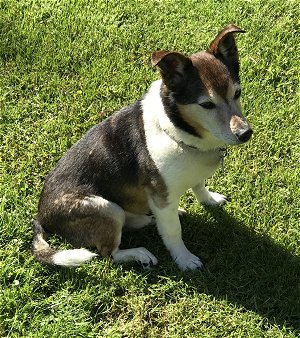 Up to Top
Chris received a K9 Hero Pillow last year to honor his service dog, Bronx, who passed away. He loved it. So when his friend's dog passed, he sponsored a pillow to honor Pie-Pie. He said his friend loved this pillow and cried for nearly an hour and then slept with the pillow. That's why I do this...to try to help heal broken K9/dog lovers' hearts.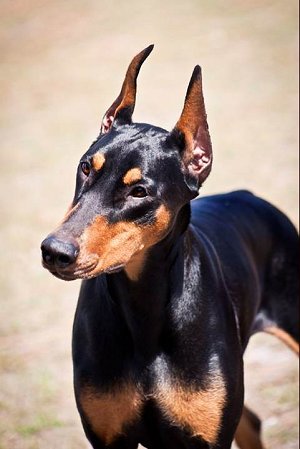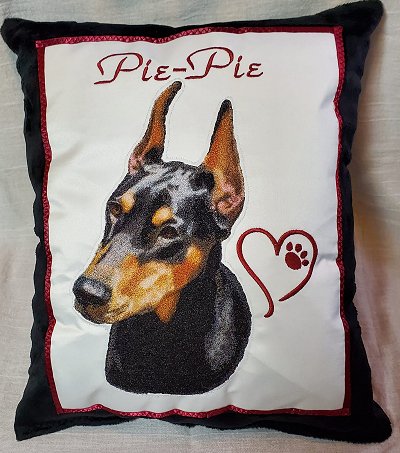 Up to Top
Winter is a member of the K9 Search Midwest Organization and she sponsored this pillow for her friend, Denise, who lost her beloved Search and Rescue K9 Hero, Eva, in January, 2020. Be sure to scroll down for more pictures and info about this K9 Hero.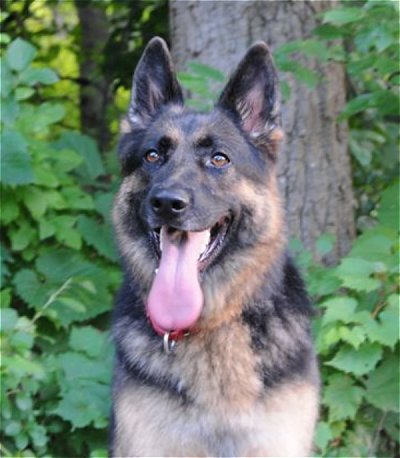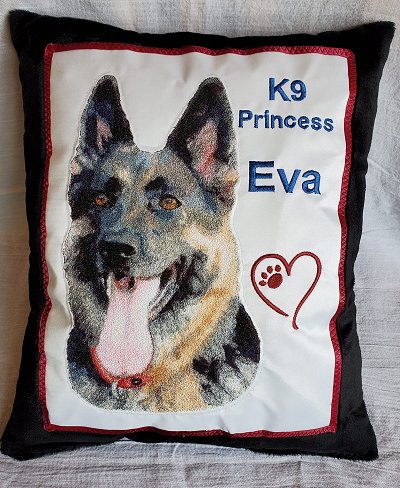 Eva had faithfully served with her Handler, Denise Schultz, as a live find search and rescue K9 until her retirement in 2017. She assisted on many searches to help return loved ones to their families. Eva and Denise were the first certified members of K9 Search Midwest and helped teach all new members the ins and outs of being a search dog/handler team.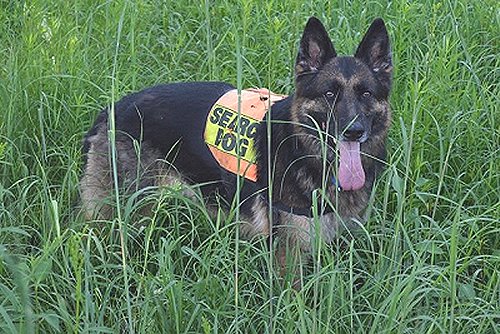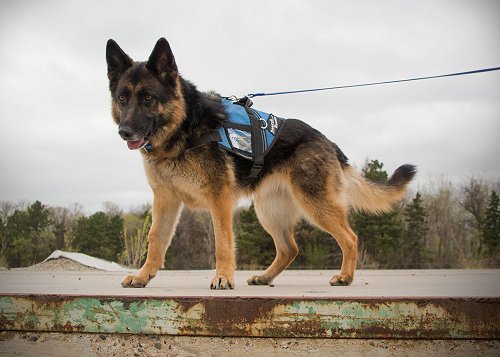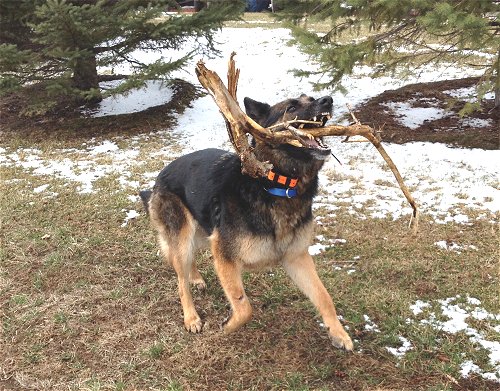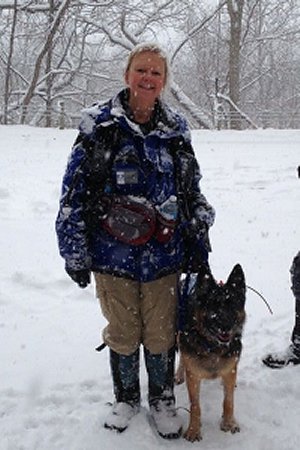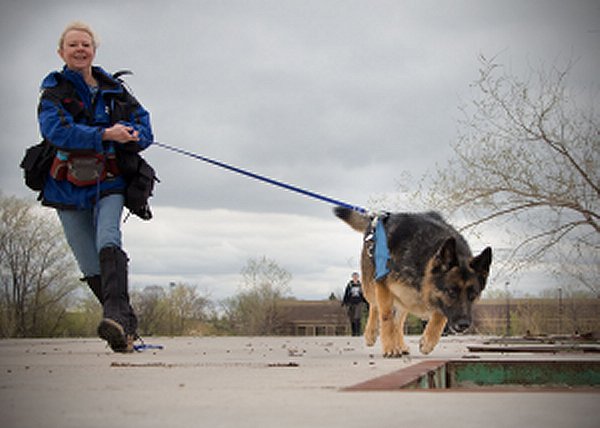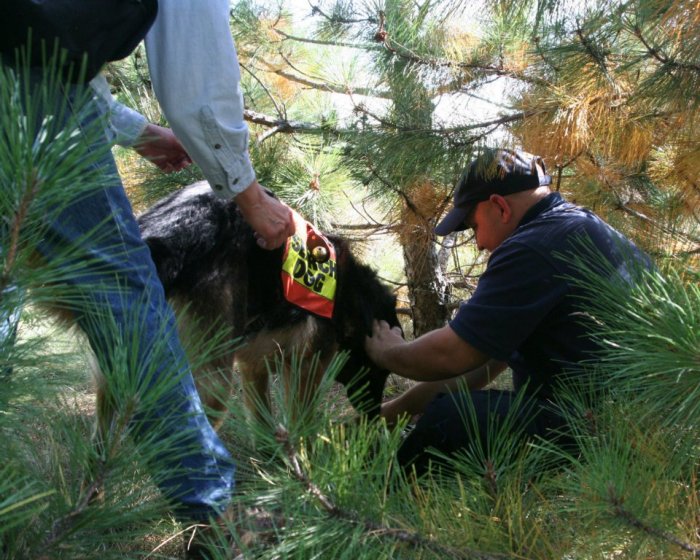 Up to Top
Sgt Amos contacted me to purchase a pillow to honor his retired LEO K9 partner, Ella. Be sure to scroll down to read more about K9 Ella and see more photos.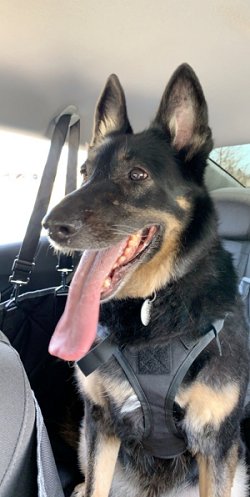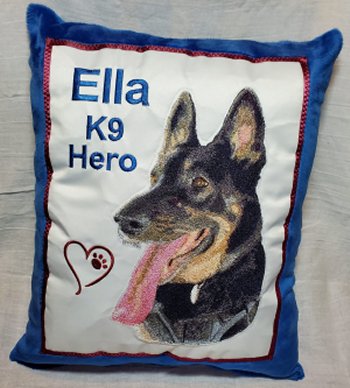 "Retired K-9 Ella served the Bloomingdale Police Department for 6 years, most of which were with her handler, Sgt Mike Amos. During her time as a narcotics K-9, Ella was responsible for hundreds of drug finds, multiple vehicle seizures, and thousands of dollars in seized drug money. Ella also has the distinction of never being beaten or suppressed in court.

"Ella proudly served not only the citizens of Bloomingdale, GA, but also our neighboring agencies and counties.

"Ella retired in September of 2018 after being diagnosed with stenosis in her lower spine that was unfortunately inoperable. Ella is living comfortably with Sgt Amos, who spoils her every chance he gets."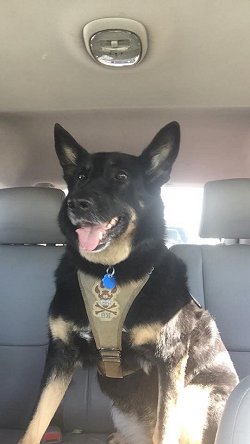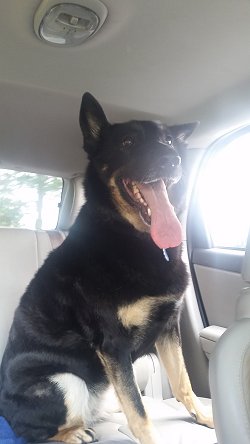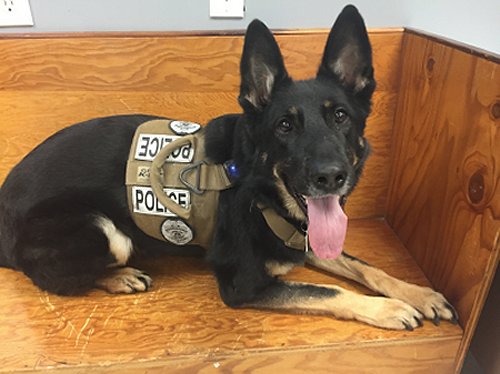 The Sgt says...Ella told him she approves of the pillow! :-)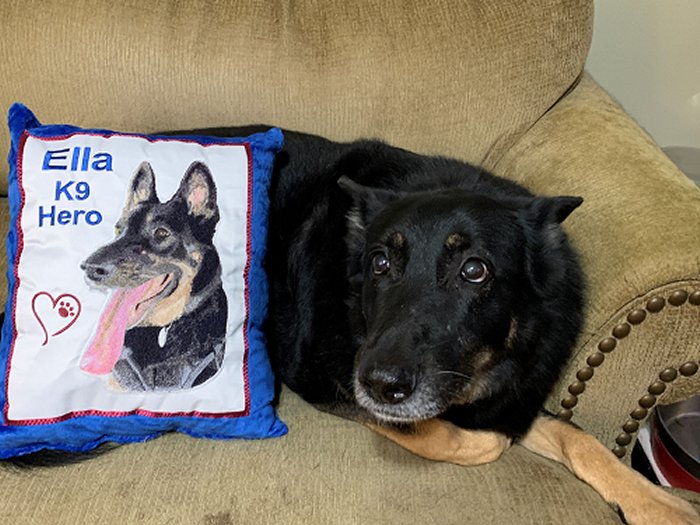 Up to Top
Logan County, OH, Sheriff Deputy, Cole, saw my pillows and contacted me to order a pillow to honor his K9 Partner, LEO K9 Cane, who passed away after a training accident in late 2019. But, of course, I made this pillow for him free of charge...something I offer to any partner of a K9 Hero (Military, LEO or SAR) who passes, for any reason, while still active duty. Be sure to scroll down for more about LEO K9 Hero Cane.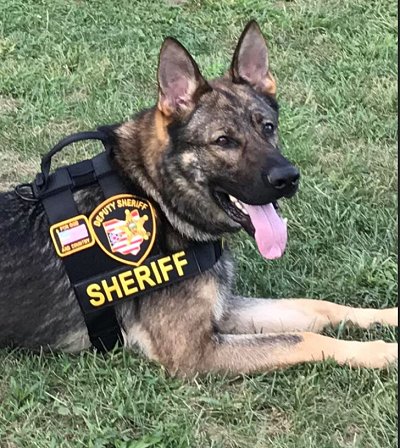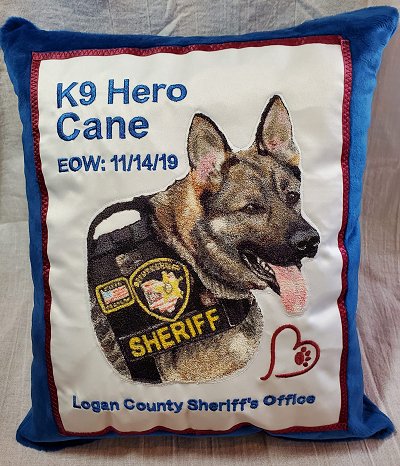 LOGAN COUNTY, Ohio — A K-9 with the Logan County Sheriff's Office has died Thursday after suffering from a minor injury earlier in the week.

According to the sheriff's office, Cane sustained the injury and was placed out of service on Tuesday. His "unknown condition worsened" and was taken to MedVet in Columbus.

Cane died in the arms of his handler on Thursday at around 5:30 a.m. after going into cardiac arrest.

Cane started as a K-9 officer with Deputy Cole Piatt on Aug. 8, the sheriff's office said. The two trained together and became state certified in September.

"The passing of Cane will be a great loss for our agency, but even greater loss for Cane's handler Deputy Piatt," the sheriff's office said on Facebook.

"The Logan County Sheriff's Office, local K9 training partners, and the community mourn the loss of Cane. We are thankful for his service. Rest in peace, K9 Cane."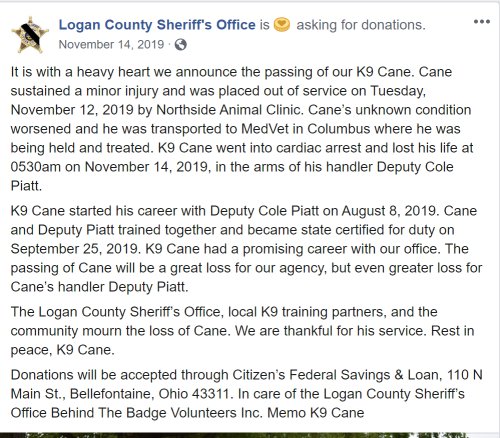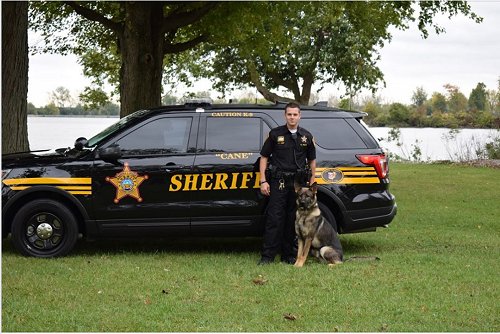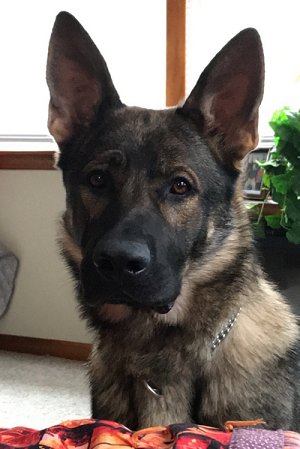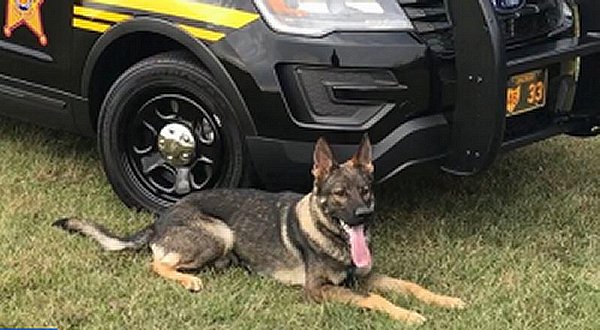 Up to Top
Unfortunately, I don't know much about Abbey. Sandy sponsored this pillow to give to her friend who recently lost their beloved Abbey.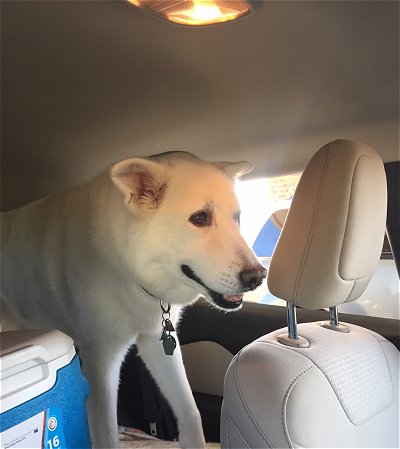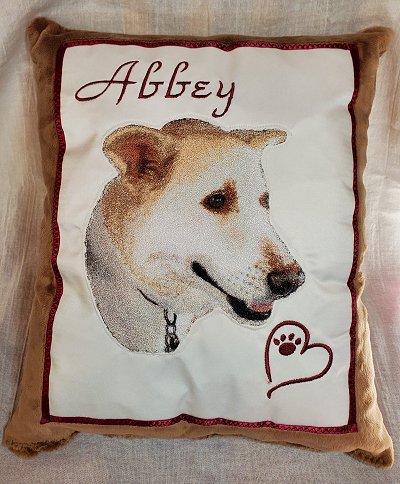 Up to Top
Chris and his good friend are Fire Fighters in Illinois. In the Fall of 2019, his buddy lost his partner, K9 Xiek. K9 Xiek was a Search and Rescue K9 with the Illinois Task Force 1. Chris wanted to honor his friend's partner with a pillow, which he sponsored. Rest easy K9 Hero Xiek and Thank You for your service.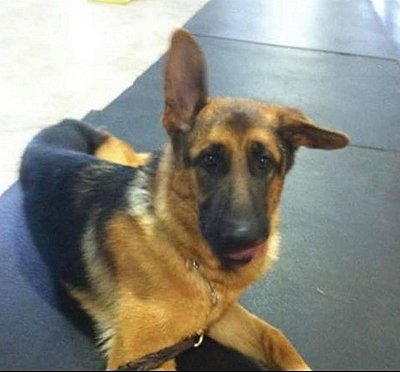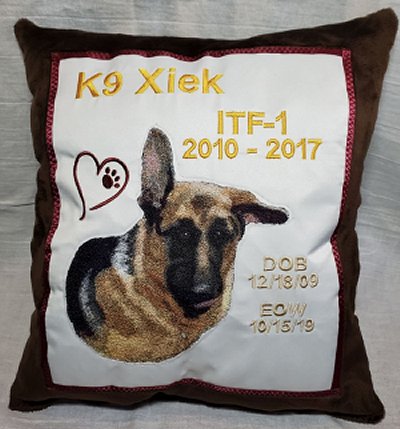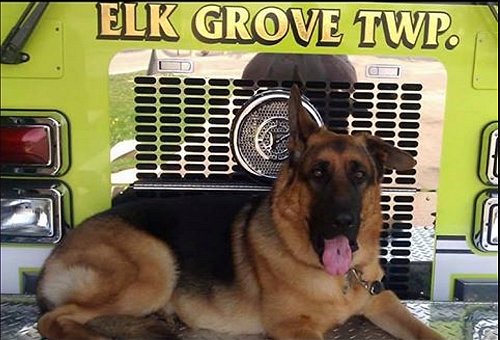 Up to Top
Joy, the wife of a Law Enforcement Officer (LEO), learned that I make free pillows for K9 Heroes who pass, for any reason, while still active duty. Her husband was obviously heartbroken at the loss of his partner. Be sure to scroll down to learn more about K9 Hero Hector and see lots more touching pictures.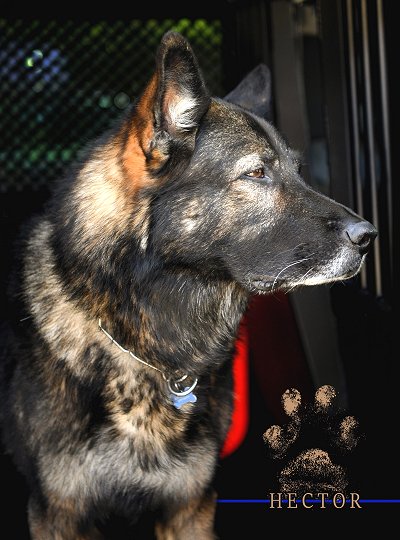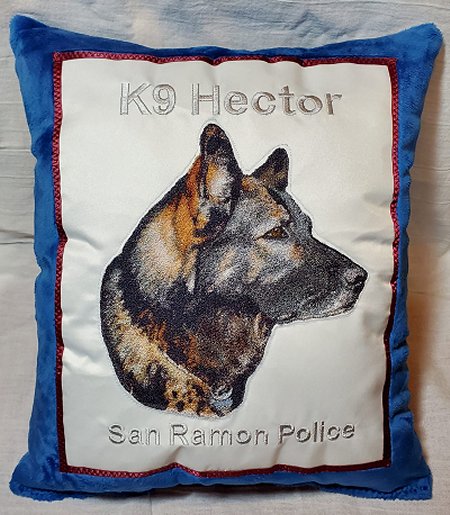 From Joy's email...

My name is Joy Molien, I am a LEO wife. I came across your Facebook page, and would like to request a LODD pillow for my Husband's (Officer Allen Molien) fallen K9 Hector.

Below is an email written by my husband to a local newspaper describing what he went thru and a little about his partnership with Hector, this was after a hard fought battle and 5 months of chemotherapy. Hector was a fantastic K9 and a huge part of our family. He is dearly missed, which is why I feel my husband would love this keepsake.

Please let me say THANK YOU for what you are doing! It is definitely appreciated by the people who miss these HEROES!

Officer Molien's email...

"Back in 2012 when I started my journey as a K-9 handler, I had been told by previous and current K-9 handlers that I was about to venture on a path that was not like any I had experienced before. I was told the bond that is created between a K-9 handler and their K-9 will be like nothing I had experienced before and that could not have been more further from the truth. From day one, all the way to the end, we were inseparable.

"On December 6th my worst fear came true when Dr. Block from Bollinger Canyon Animal Hospital conducted a blood test and saw one of Hector's numbers had dropped, raising a red flag. Dr. Block insisted I take Hector to East Bay Veterinary Specialist to have an ultrasound conducted and read immediately by their specialist. I immediately went to the office and had the ultrasound conducted, which resulted in the worst news I have ever heard in my life. Two large masses discovered on or next to Hector's liver and a fluid pocket observed in his abdomen. Using a needle and syringe they pulled some fluid only to find it was blood. The veterinarian told me the following:

'I am sorry, but you need to understand that there is nothing more we can do for Hector. We have exhausted all of our options and we have done everything we could. It is my opinion that Hector's Hemangiosarcoma has returned and has spread even more than before.'

"It was explained to me that Hector could have anywhere from a couple days to a couple weeks at most.

"I knew from that moment till his last breath that we would not leave each other's side. That weekend Hector went everywhere with me including shopping at Costco. Till his final day, we spent every possible minute together.

"What it was like to work with Hector?

"I can truly say without a doubt that I was blessed to have had the opportunity to work with such a talented partner who never ceased to amaze me with his work ability and personality. He will be missed not only by me, but to the community we served. This was evident the day following Hector's end of watch as signs with a make shift memorial were left at the PD gate.

"Everywhere my coworkers and I went we were approached by our community giving condolences and prayers of comfort through this difficult time.

"It just reaffirmed the utmost thing I wanted to accomplish with Hector. I wanted to bring the community closer to our agency and teach them that K-9s are so much more then apprehension dogs...they can be sociable and teach our children that they are great, invaluable tools for law enforcement. I feel it's a great reflection of our efforts as a K-9 team. Hector touched the hearts of everybody he met and left lasting memories. Hector is gone,but his memory will live on with all those lives he touched as a remarkable ambassador for San Ramon Police Department and its K-9 Unit."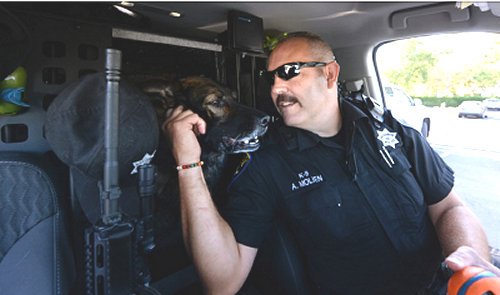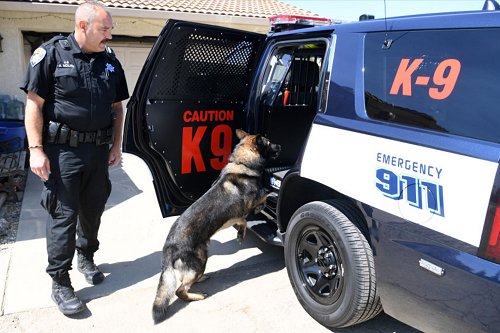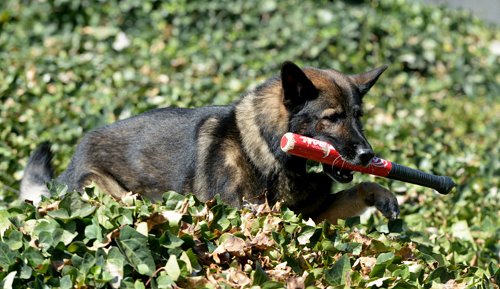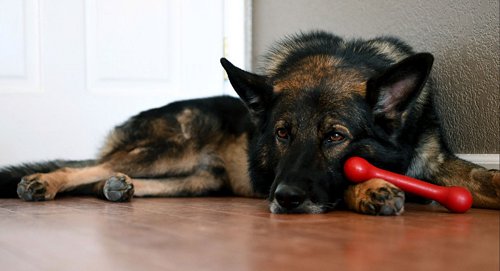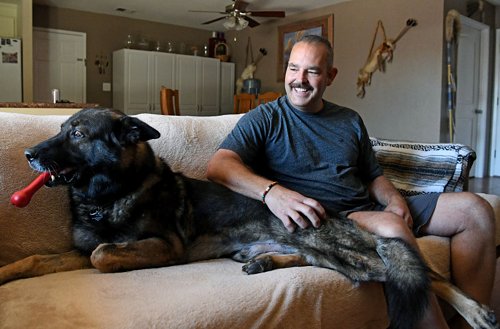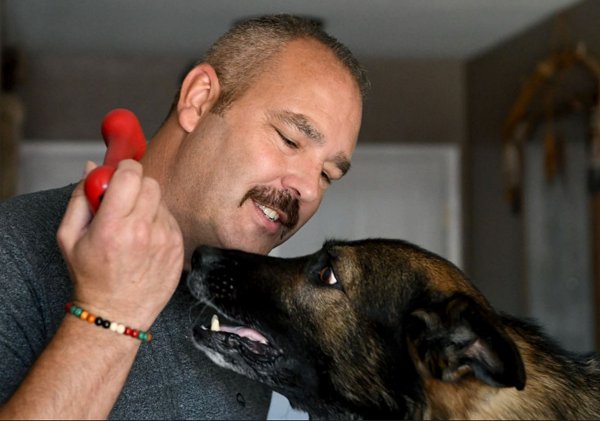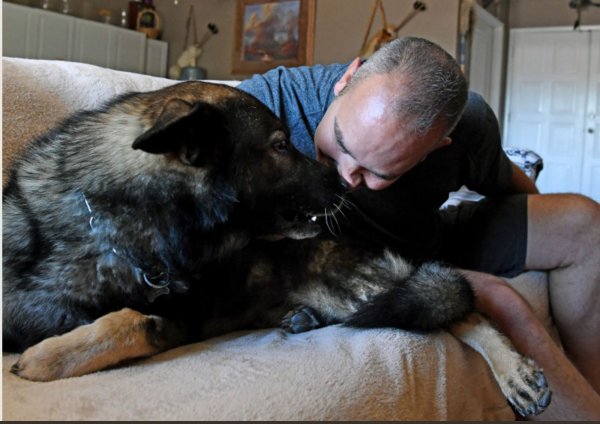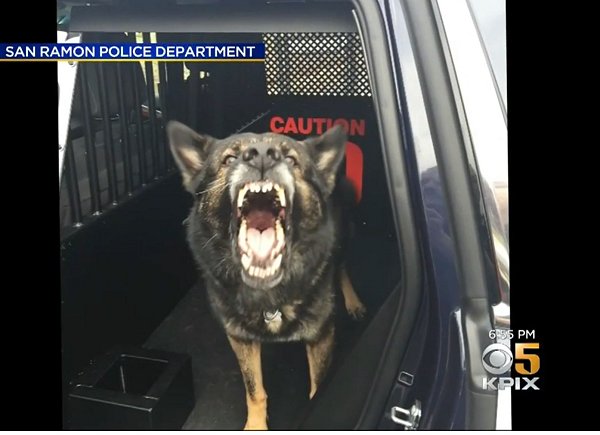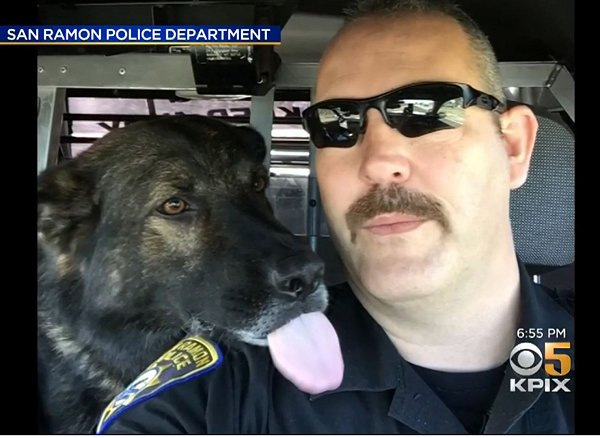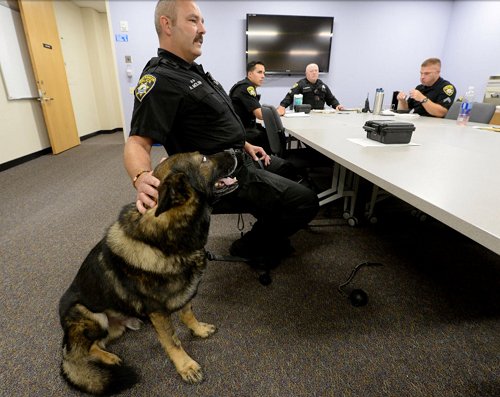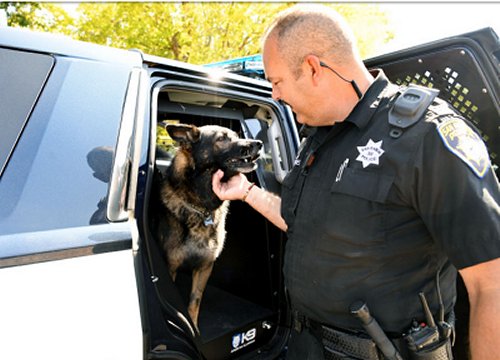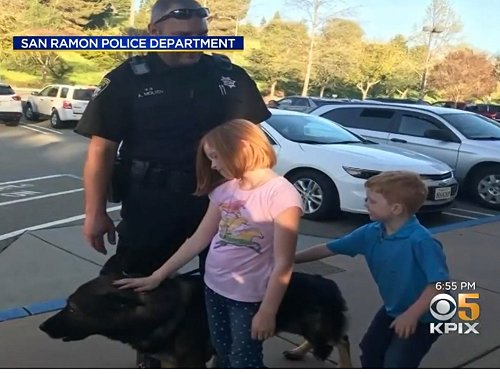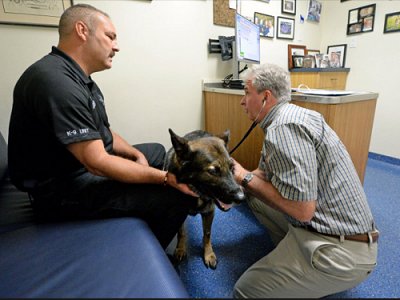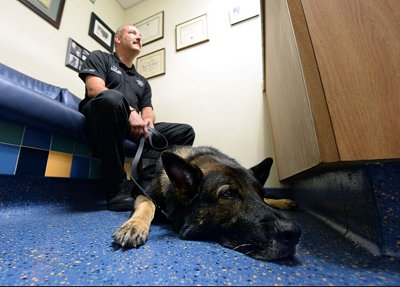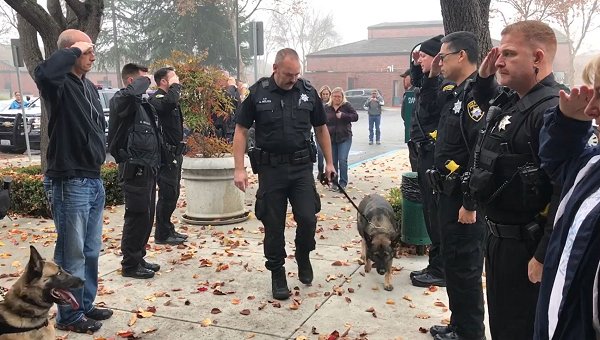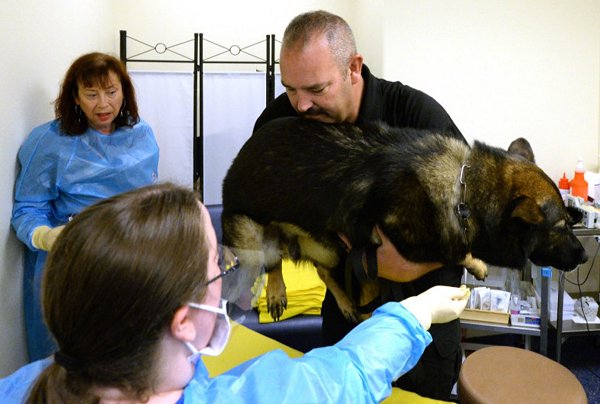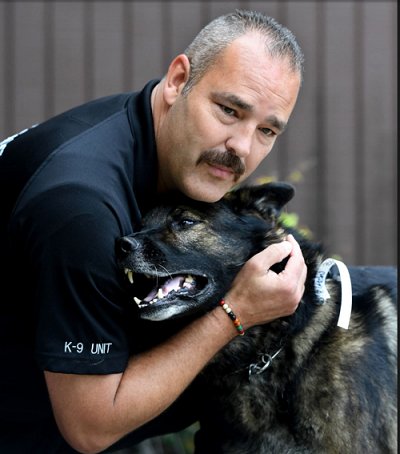 Up to Top
I don't know much about Harley; but if I get more information, I'll update this bio. During the summer of 2019 my dog groomer, Shampooches in Salem, WI, sponsored a tiny dog rescue event. I was a vendor (selling my dog breed key fobs) and I donated a free K9 Pillow for a raffle to benefit the rescue group. Sarah was the winner. She requested that I do a pillow for her friends, Jane and Tim, whose dog, Harley, had previously passed away. Rest easy Harley, you were obviously quite loved.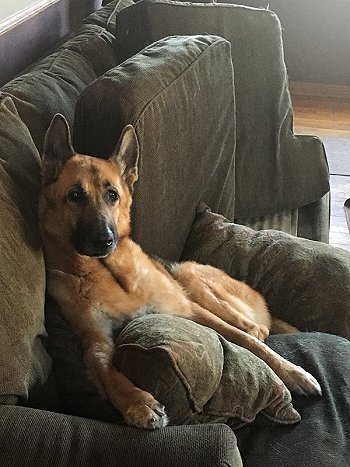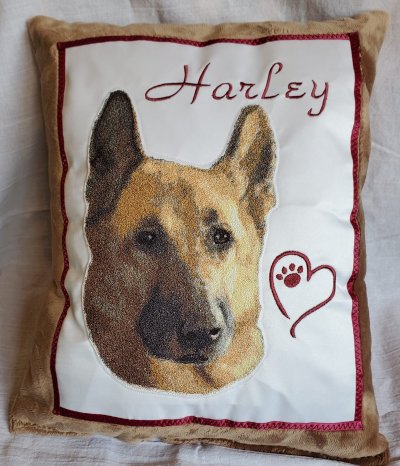 Up to Top
Tracy, founder of K9 Defender Fund (Facebook page: https://www.facebook.com/K9Defender/ and web page: https://www.k9defenderfund.org/) and her husband adopted Marine K9 Hero, Jig. His passing was heartbreaking to many of us who know Tracy and knew Jig. Be sure to scroll down to learn about this K9 Hero and see more photos, as well as a link to the News report of Jig's memorial service.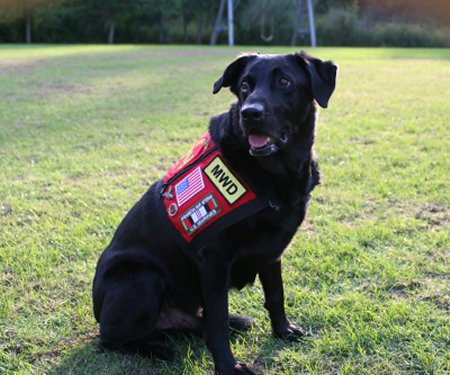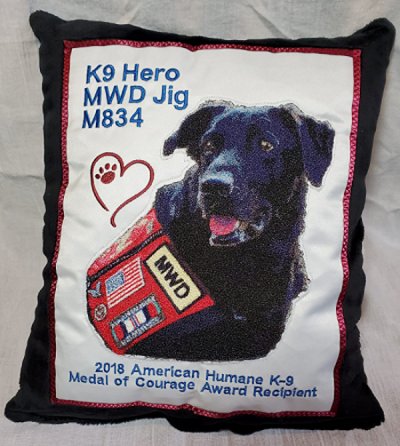 IDD MWD Jig M834

Jig served in the US Marine Corps from 2008-2013, before he was adopted by George and Tracy Spader.

He started his military career out of Norfolk, VA, moving to Camp Pendleton before his deployment, which lasted from 2009-2011. After his return home in 2011, Jig remained at Lackland AFB in Texas. Tracy was told upon her trip to Lackland to sign Jig's adoption papers, that Jig was used for demonstrations to high ranking dignitaries, to help sell the newly formed Marines IDD program. He was good at this job and he made an impression on those who watched him work.

In March of 2012, Jig was given a diagnosis of Oral Melanoma. The surgery to remove the melanoma was performed and Jig was kept on for another 6 months doing demos, before the veterinary staff at Lackland AFB released him from his active duty status to live out his remaining days in a home and with some much needed couch time.

In March of 2013, Tracy was contacted by the Adoption Coordinator at Lackland to enquire if the Spader house might be willing to take in this newly retired hero. The Spader's had also taken in retired Homeland Security K9 EDD MWD Buddy E154, back in 2009 and who lost his fight with cancer in December of 2012. MWD Buddy lays here at the Memorial, among his fallen comrades. Jig was here with the Spader's on that cold April morning when we said goodbye to Buddy as we held his burial ceremony with full military honors. Upon Jig's return to his new family, he had a total of 5 more rounds of chemo to go through to help ensure his melanoma would not return. Through Jigs last days, he was declared cancer free.

In the fall of 2017, Jig started displaying some unusual symptoms and at one point was unable to catch his breath and seemed to be unable to take in any air. Upon visits to his local veterinarian and the veterinary staff at Michigan State University, he was given a diagnosis of Geriatric Onset Laryngeal Paralysis Polyneuropathy. This is a disease that is common in Labrador Retrievers and requires surgery to "tie back" one side of the larynx to allow air to flow in. A complication of this surgery is that the dog will aspirate food or water and thus become sick with pneumonia, which will render the dog in a critical state.

Jig, endured five bouts of aspiration pneumonia, the likes that Michigan State Veterinary staff said that most dogs are unable to battle through more than one bout. Jig, ever the warrior, fought his way through five critical episodes. In his fight for longevity, Jig set new protocols for the use of many different medications that the doctors used to help prolong Jig's time with his family. In doing this, Jig was instrumental in helping future families of K9's with this disease, hold on to their beloved K9's a bit longer.

Due to Jig's amazing spirit for any fight, twice in regards for his life, Tracy nominated Jig for the American Humane 2018 Lois Pope K9 Medal of courage. This award is given to only five retired Military Working Dogs a year, where the dogs are presented with their medals before a session of Congress. Unable to travel due to his illness, Jig received his medal none the less and it is displayed here among his things on his memorial table. Jig was also voted by the people as one of the top three military working dogs in the country, as 2018's American Humane Hero Dog and was featured on the Hallmark Channels Hero Dog Awards. Jig embodied the meaning of "Hero" dog, due to his warrior spirit and the dignity that he showed throughout his many medical battles. He was ever kind, loving and always the very best boy he could be.

Jig leaves a legacy that is larger than life. A legacy that surely will never be attained by another. He embodied a true warrior and he did it all the while with grace, dignity and most of all; heart. He will be more than "missed"; he will be forever with us as we go about our days and our lives. It is Tracy's hope that he comes to visit her often in her dreams and that for the entire family, he remain a constant source of protection and a guiding spirit.

"The guardian angels of life fly so high as to be beyond our sight, but they are always looking down upon us". That was their Jig.

News video covering Jig's memorial service:
https://www.wlns.com/news/community-mourns-loss-of-local-war-dog/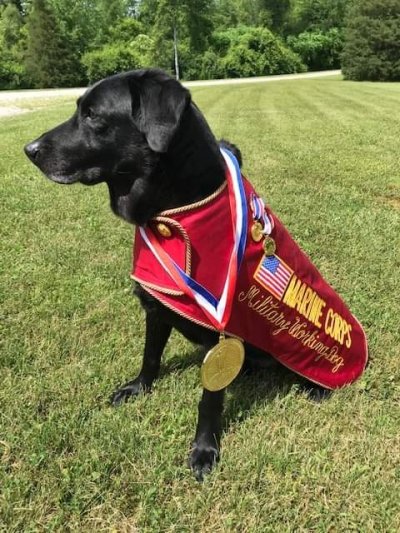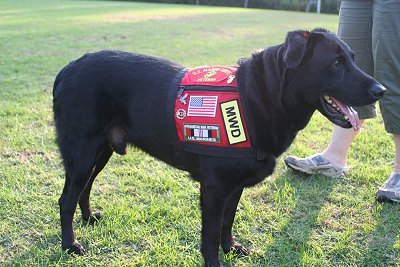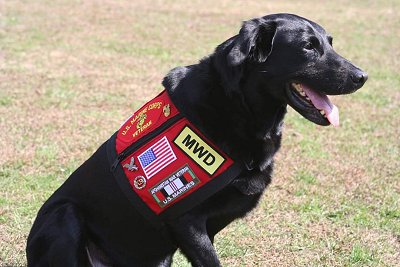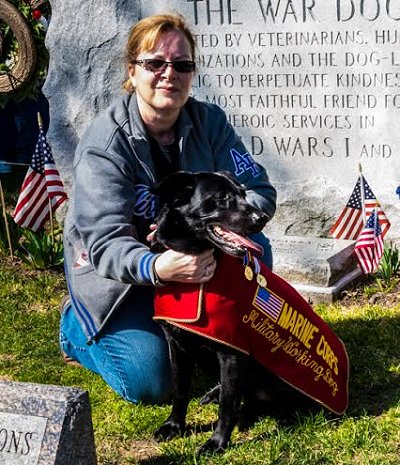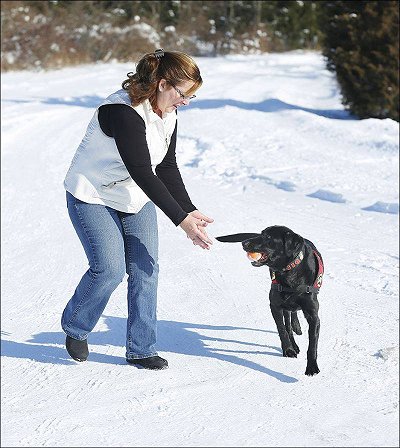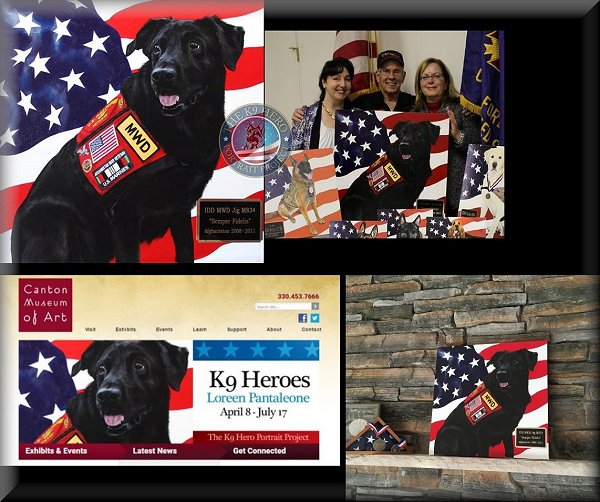 Up to Top
Debbie decided that for Christmas 2019, she wanted to give her loved ones pillows of their doggie loved ones. So she ordered six pillows, five different dogs, and one dog had two different pillows. She then gave her family a pillow of each of their dogs. Below are the comparison photos of each of these beloved doggies.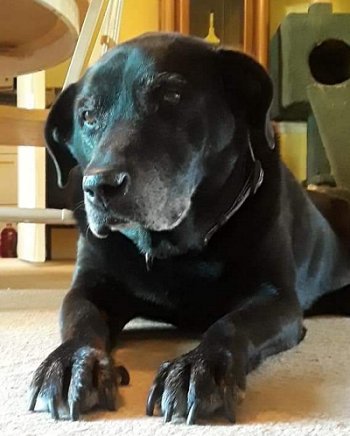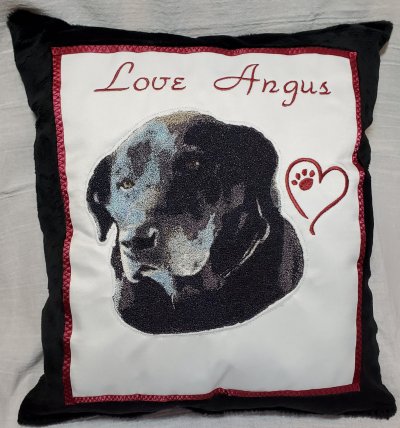 This is Angus. He has passed to the Rainbow Bridge. He was Debbie's middle and youngest grandson's pup while growing up.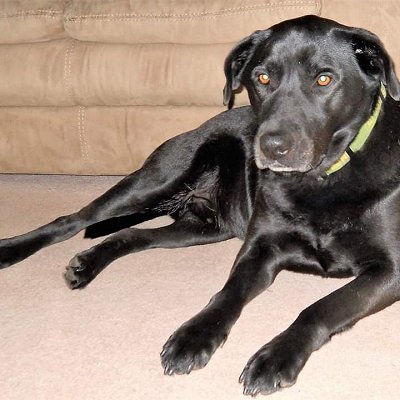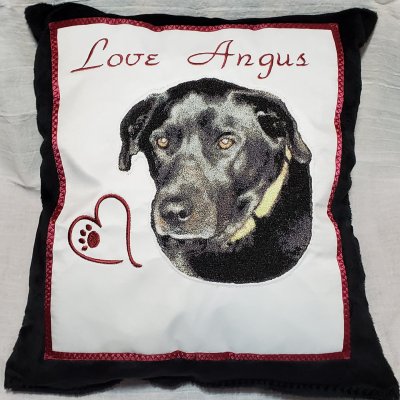 This is also Angus. Since he was both Debbie's grandson's dog, she wanted each of of them to have their own, separate pillow...each with a different photo.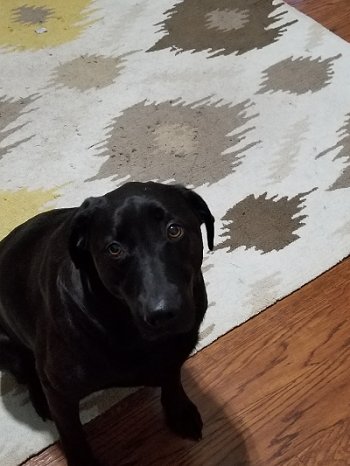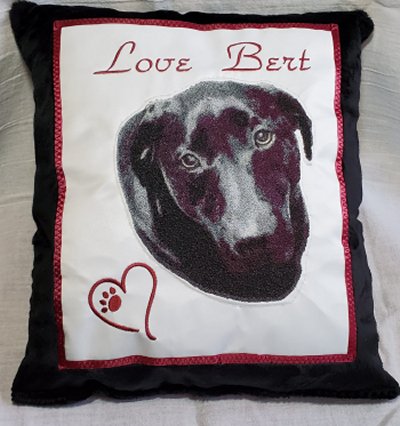 This is Bert. Debbie's oldest grandson and his wife's pup. He is an 85 pound bundle of love. He is very protective of his mom and dad, but as long as you come inside their home, with either his mom or dad, you'll be okay,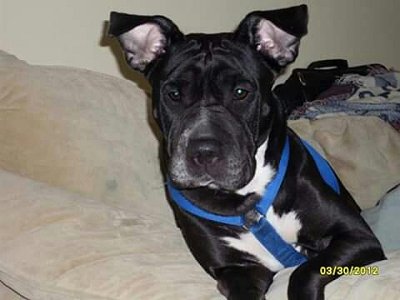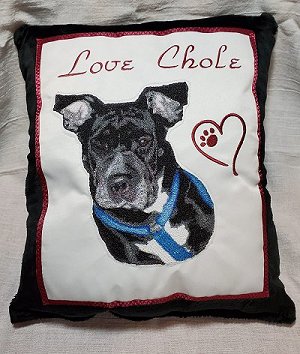 This is Chole. Debbie's oldest son and his wife's pup. She is a pit mix. She loves everyone. She needs to see her mom or she has anxiety issues.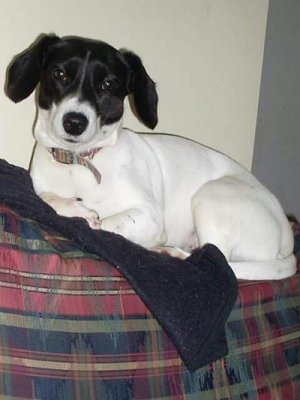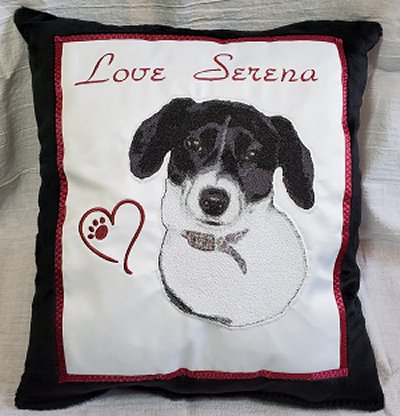 This is Serena. She is one of the two pups that Debbie's son and wife have. She is very sweet, but given a chance, she will run off and give you a good chase.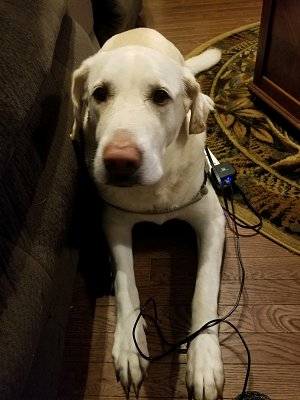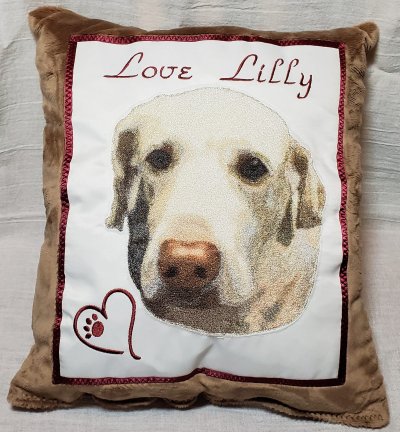 This is Lilly. She is a hundred pounds of yellow lab love. This is the pup that was Debbie's granddaughter's dog while she was living with Debbie's son...until his death.

Up to Top
When I offered free pillows to K9 Heroes, thanks to a few sponsorship donations from people who told me to choose, I tried a drawing. But with few entries, I was able to offer all three entries a free pillow. LEO Athena was one of the K9s getting a free pillow from a sponsor. Helen was one of the sponsors. When I told Polly that she was getting a pillow thanks to donations, including one from Helen...Polly wanted to give her pillow to Helen because Helen had also made donations to help K9 Athena when she needed some medical help. So this pillow went to Helen, which really surprised her! But because I know Polly would love a pillow of her beloved partner...that unselfish act of giving hers away as a thank you...deserved a pillow of her own. I hadn't had time with Christmas orders yet to make Polly her pillow, but she will also be getting a pillow like the one below in the future.
Be sure to scroll down to learn more about K9 Athena and see a lot more great photos.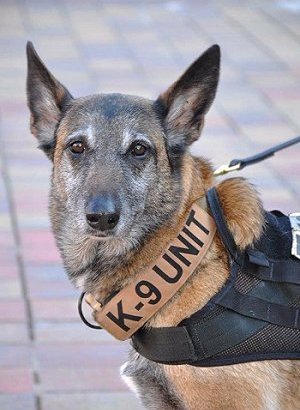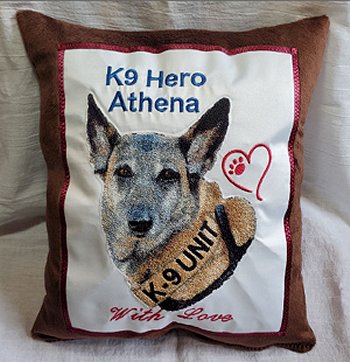 Athena came to us in May of 2011. She was a dark faced young pup who, before meeting, I wasn't sure how our life was going to be changed. But it wasn't long after Athena moving in as my husband Shawn's partner that our lives was changed.

Our son Kagun, who had turned 3 days before Athena moving in, had been explained in many different settings that Athena was not a pet, but that she was trained to bite people and 'whatever you do, we don't run from her.' New to the K9 world we were all young.

Kagun was playing Batman one day while his daddy was getting ready for work. I worked days, Shawn worked nights. A very long story made short…Kagun bit Athena on the butt and she chased him and love tapped him on the arm. Love taps don't leave marks, but they would scare a normal child. Athena received the worst of the deal because her fur was messed up and she had to have a bath.

One night Athena and Shawn caught a guy breaking into cars. She chased the guy over two miles. She was kicked in the face that night and lost her front teeth. That guy went to jail. A few days after this Athena jumped in the bed. Oh yes, I forgot that part…big mean police dog sleeps in the bed with us still to this day.

I took Athena to the vet and we learned that she had hip dysplasia. Athena and Shawn were now no longer a team because she couldn't be a patrol dog anymore. So Athena became my partner.

Athena became an ice breaker with kids that had been abused. We would go to different schools to meet kids taking all the stress of tracking and running out of her life.

One cool September morning Athena couldn't walk. I remember being so upset that I was going to have to have her put down. We were sent to Oklahoma State University where we learned they could replace her hips. Thanks to a big Facebook rally, Athena was able to get the first hip replaced. The vet thought it would be best to let Athena return to work for a little before we did the other hip.

On our first day back together, Athena bailed out of the truck like she was taught to do as I chased after a guy and started to fight him. Once the guy was in cuffs I was more worried about her bailing out the window to help me. I called the vet who quickly reassured me that she was okay. Athena was able to work until 2015.

We were scheduled to go back to Oklahoma State that same week for her second hip surgery, but our vet had moved to Purdue University. At this time, we were put in touch with the top hip replacement vet in the state of Texas. In August 2015, Athena had her surgery to replace her hip again thanks to Facebook. But this time it didn't go as well…Athena's femur broke and she couldn't have the replacement. So she now has no hip on that side.

Athena never returned to work after that surgery. She is living her days out love tapping Kagun when she can, which is daily. She still loves to go after someone in the suit. Athena gets to go on car rides which satisfies her. Athena is my Shadow…never very far from my side.

I have so many different Athena stories, I could go on forever…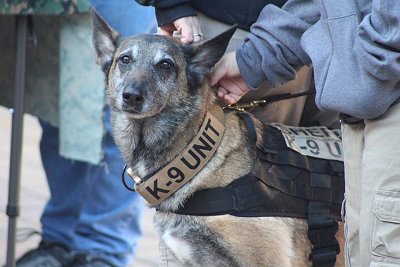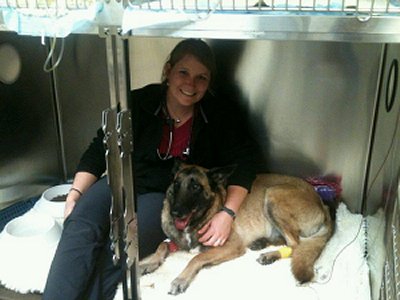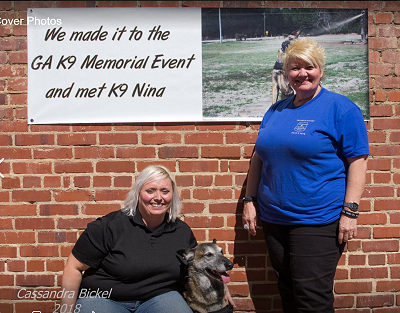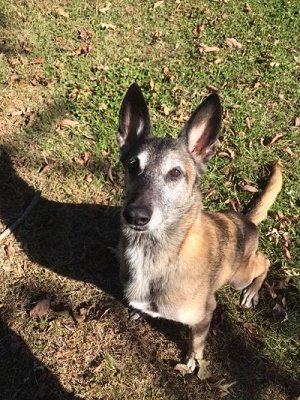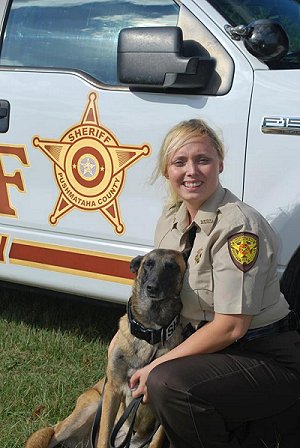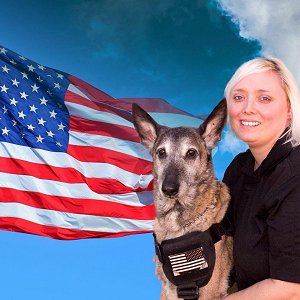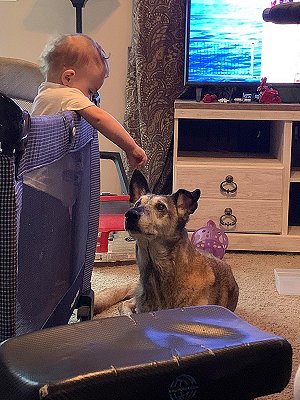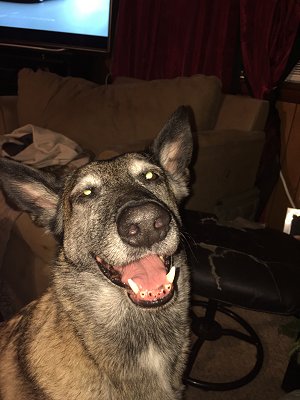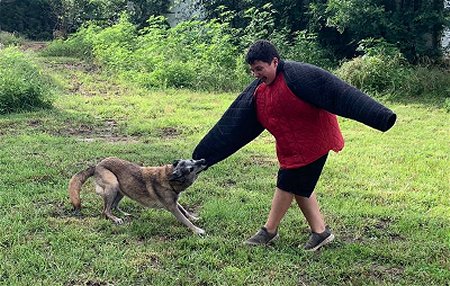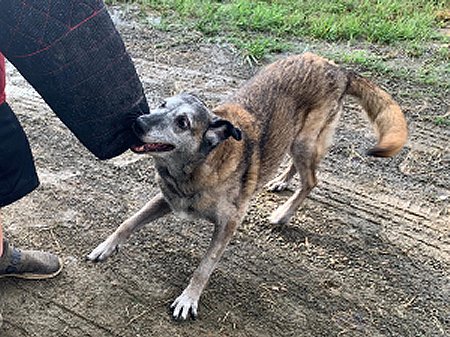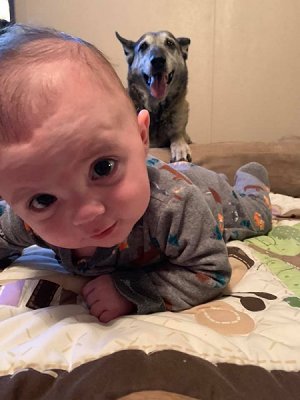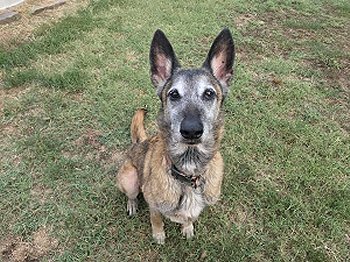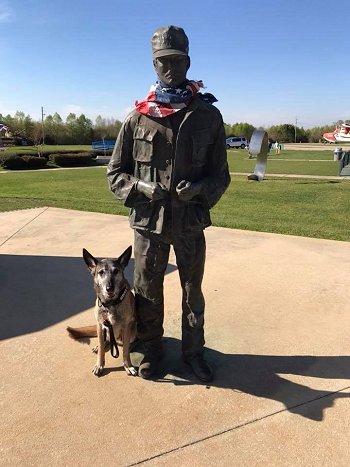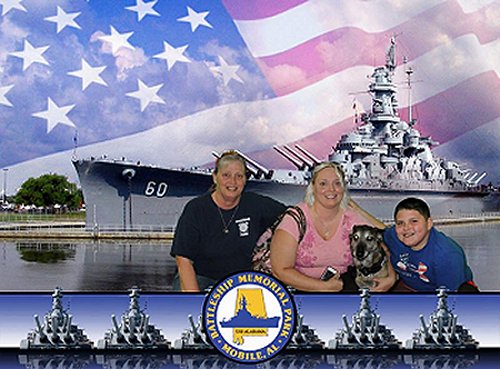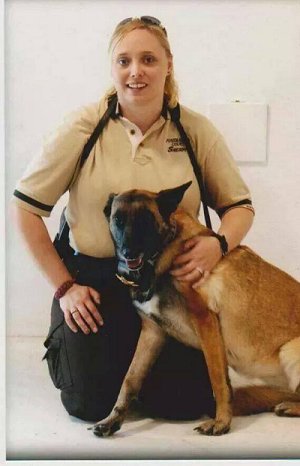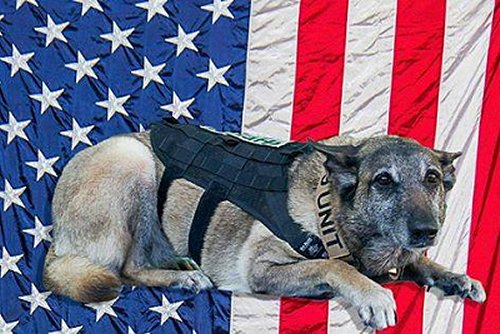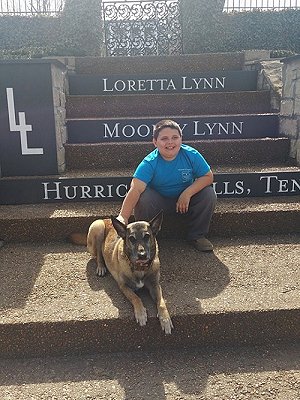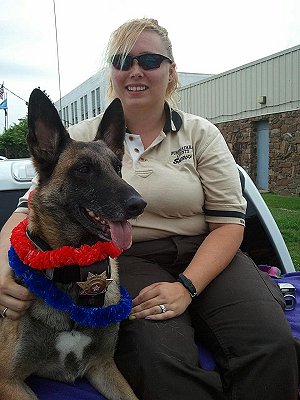 Up to Top
Whenever a Police, Military or Search and Rescue K9 is lost while still active duty, I try to offer a free pillow to honor that K9 Hero. I don't always have my offer accepted, but Ofc. Meyerchick did accept my offer to honor his K9 Partner, LEO K9 Hero Assuan.
K9 Assuan was a seven and a half year old Belgian Malinois who loved his job. From tracking suspects, to finding narcotics, and his multiple apprehensions on the street, he always had the best personality. He will be missed dearly by his handler, as well as the other handlers in Marion's K-9 unit, all of whom he considered his buddies. Thank you for your service K9 Hero Assuan.
Be sure to scroll down to see many more photos, read more details, as well as read the touching post from his partner Ofc. Meyerchick.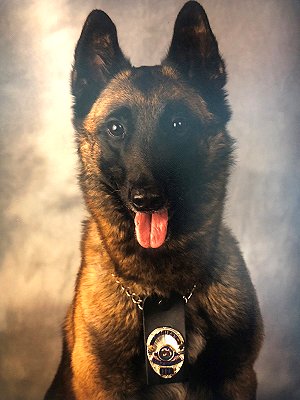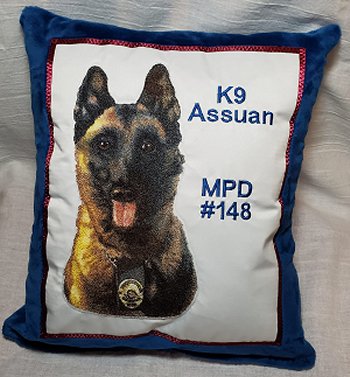 MARION, IN: On Thursday, June 27, 2019 at approximately 10:10 pm, Marion Police Department K9 Units were conducting routine criminal apprehension and fence jumping exercises. The exercises were taking place at the Marion Police Athletic League on one of the baseball diamond outfield fences. K9 Assuan failed to negotiate a jump at high speed and hit his head on the top rail of the fence and suffered a traumatic brain injury. K9 Unit veterinarian, Noel Ratliff, D.V.M. happened to be attending the training at the time and rendered immediate medical attention. Assuan was transported to Comfort Veterinary Hospital but never regained consciousness. Despite all medical aid efforts, K9 Assuan did not survive and was pronounce deceased at 10:38 pm.

Please join the Marion Police Department in offering support to Officer James Meyerchick for his loss. Assuan, a Belgian Malinois, had been with the Marion Police Department for 5 years.

Assuan will be cremated and turned over to Officer Meyerchick.

They say Assuan faltered during a routine exercise he's successfully completed many times before, and there's no explanation for why it happened.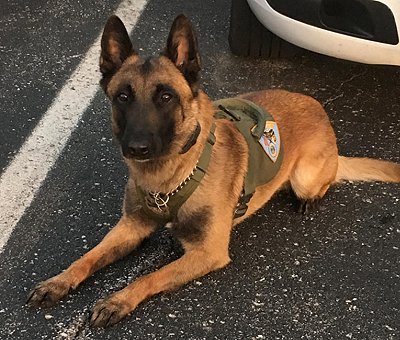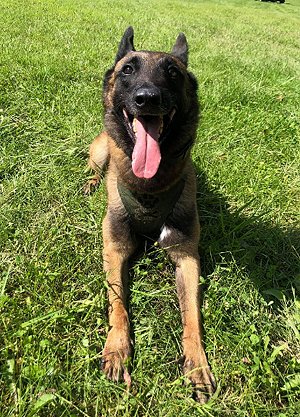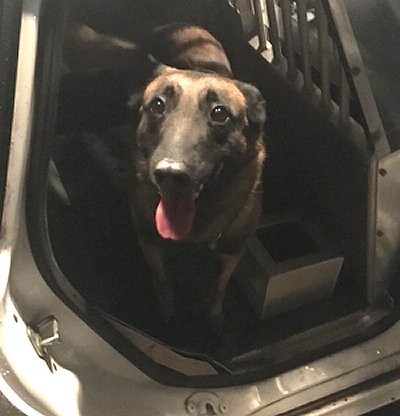 "I lost my best friend this week...Assuan passed away after a fluke training accident Thursday night.

"He made me a better officer, probably a better person. I loved that dog more than almost anything in this world...he loved his job and I know he would of taken a bullet for me and done anything to protect me, I only hope he knows that I would of taken 100 bullets for him without a second thought or one hesitation.

"I always worked and tried to problem solve to make myself a better handler and fine tune him as a dog, but truth be told, he was always the best. The best partner, co-worker, and the very best friend.

"I'm so sorry buddy, I'll never get over this and you'll never truly be replaced for me."

Rest peacefully Assuan.
Your brother,
#146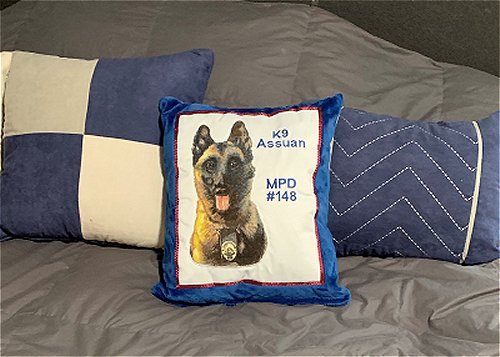 Up to Top
Veteran Lisa sponsored this pillow to give to Deana, the woman who raised Camden from puppyhood to one year. After that, Deana gave Camden back to VetDog.org so she could be further trained to become a service dog for a veteran. Be sure to scroll down for more pictures of Camden's celebration day when she returned to VetDogs for her formal education. And then there's also a video of Camden's graduation when she was placed with Ross, her veteran.
NOTE: The video starts with lots of thanks and introduction of the veterans and their service dogs in that graduating class. But be sure to watch the rest of it to see a very touching additional video they played during the ceremony...showing the veterans meeting their dogs and learning to work with them.
These dogs are amazing...and so are the wonderful people who foster them and train them. I know first hand how it can be very hard to foster a dog, fall in love with it and then have to give that dog away to someone else. These service dogs and the people who foster and train them are very special, as are the veterans who receive these amazing K9s!
It costs $50,000 to train one of these service dogs! If you can help, please make a donation to VetDogs.Org.
Good luck in your new life, Camden! Truly...a Puppy with a Purpose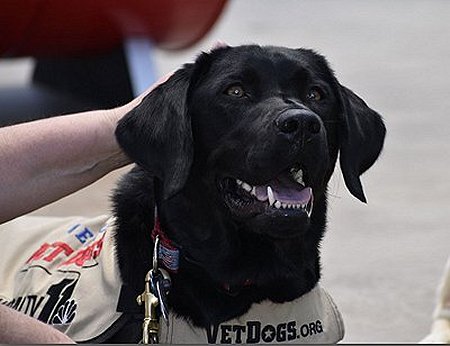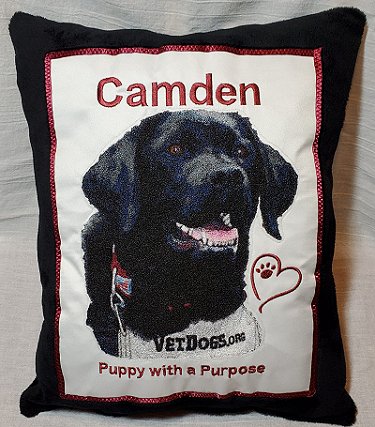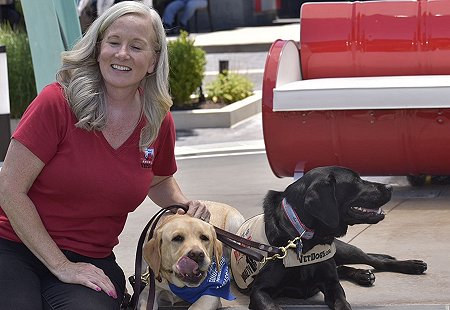 Deana, Camden's foster mom.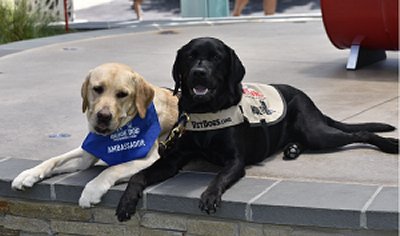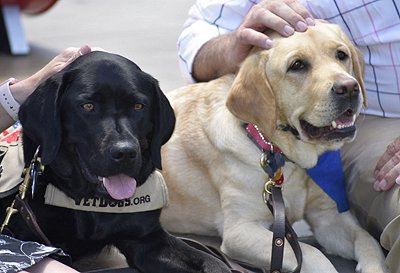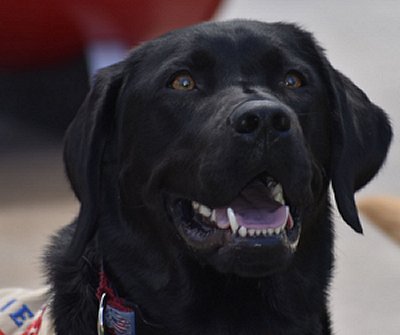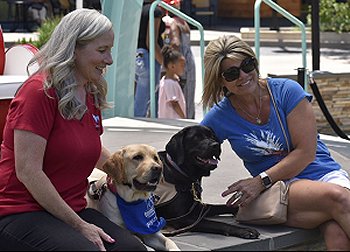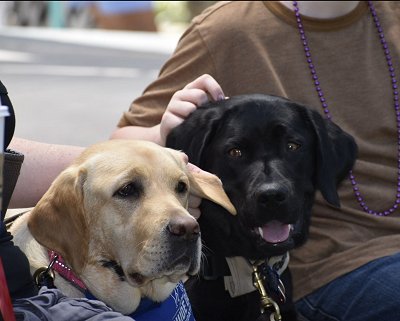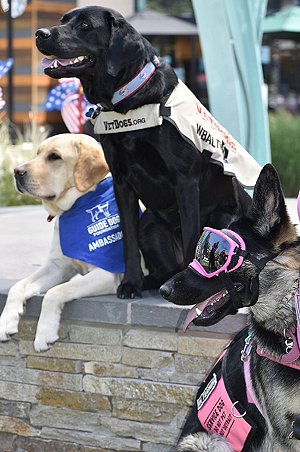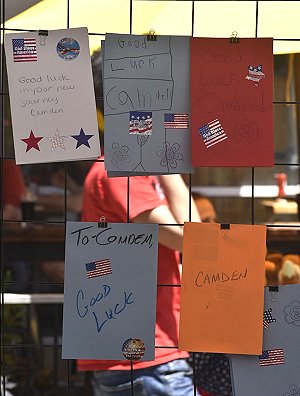 Cards wishing Camden good luck.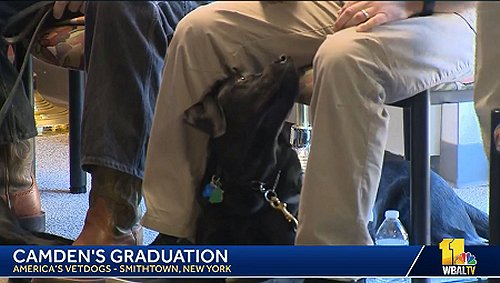 See the full graduation video here:
https://www.facebook.com/wbaltv11/videos/2119157628386174/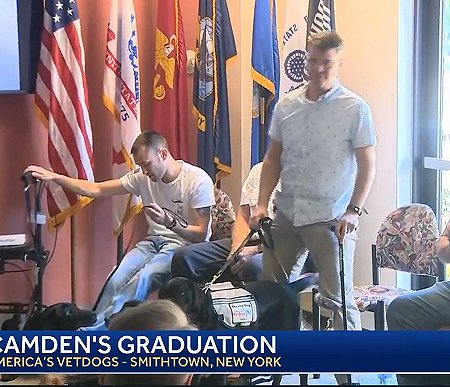 Camden with her Veteran, Ross.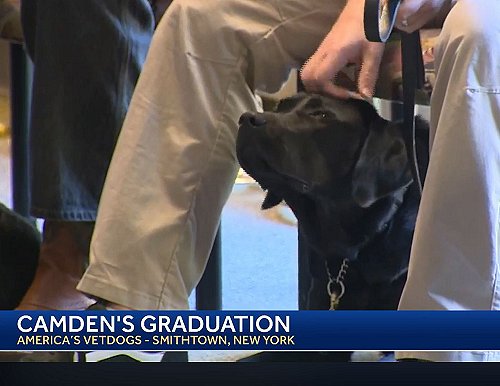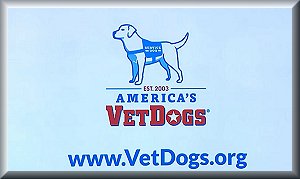 If you can help, please make a donation!
NOTE: President Bush's Service K9, Sully,
was also a graduate from VetDogs.Org!

Up to Top
Earlier in 2019, Helen made a donation and told me to pick a dog to get a pillow. I didn't want to be responsible for picking, so I planned a little contest. I asked for nominations of K9s and hoped to get votes to find our winner. But I only received three nominations. And along the way, Janice also made a donation (in honor of MA2 Johnny Henry Oliver, USN) and then Maryanne made a donation, too. So I decided to give free pillows to all three nominees. Nero was one of them. Yvonne lives in the UK, but her LEO friends live in Florida. She nominated her friend's Police K9, Nero. This was his free pillow, courtesy of the above donations.
Be sure to scroll down for more information about LEO K9 Hero Nero, many more photos and links to two beautiful videos...a news report of his passing and a memorial tribute video. (Have a tissue handy!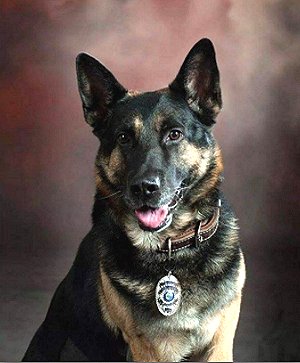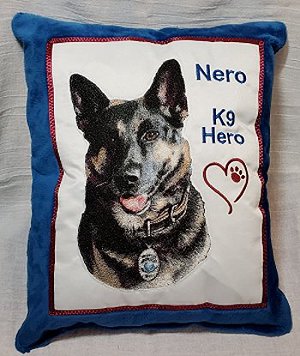 "Oviedo, FL Police K-9 Nero was a 6 year old German Shepherd. He was diagnosed with cancer on his heart and was laid to rest March 20, 2015. He was from Germany and was a sworn member of the Oviedo Police Department for 4 years. He had several apprehensions and was a dual-purpose patrol K-9. He lived at home with his K9 partner Dave Capetillo."
News Video: https://www.youtube.com/watch?v=cYudKNNmjH8
Tribute Video: https://www.youtube.com/watch?v=9UdVQIWHuYU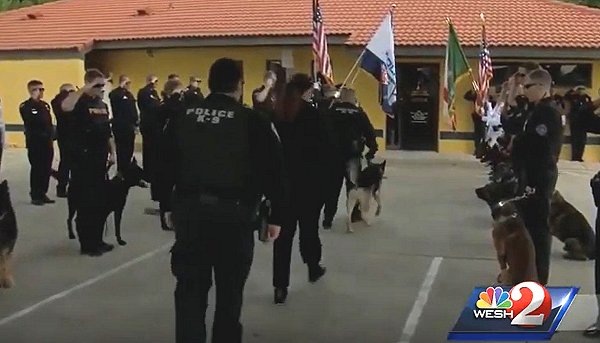 Excerpt from Oviedo Winter Springs LIFE, May/June 2015, by Chip Colandreo
"Nero had this special look he would give you," Oviedo Police Department K-9 Officer David Carpetillo describes. "He would have his head tilted down but still kind of looking up at you. I remember one night in the car when it was really slow and quiet. Nero stuck his head through the gate and gave me that look, like, 'Is anything going to happen tonight?' I turned on the radio and this one song came on, and his look and that song were just so funny together. We both got a big kick out of it. He was really something."

Ofc. Capetillo has many fond memories of Nero, including quiet moments like the one mentioned above and thrilling bursts of action as Nero chased down robbers and eagerly tracked missing children. The memories will persist long after the pain of the past few weeks is gone. Diagnosed with terminal cancer, Nero was recently put down to spare him the misery ahead.

"Anyone who's lost a pet knows what it feels like," Ofc. Capetillo sighs, the emotion of the ordeal still fresh. That's gracious of the veteran policeman to say, but it doesn't do his loss justice.

K-9 officers and their dogs share a bond that can't be understood, even by other officers on the force. They are partners on duty and in life, as each K-9 officer agrees to bring the dog into their home and make the K-9 part of the family. The pair wake up together, dress for duty together (Ofc. Capetillo in his tactical uniform and Nero in his collar with dangling badge), and spend countless hours in the car together on patrol. When Ofc. Capetillo emerged from a local animal hospital after saying his goodbyes, he slid into his squad car without Nero for the first time in four years.

But before Ofc. Capetillo could reach his car, he was greeted by a full complement of Oviedo pollice, all in salute, paying tribute to the fallen member of the force. "Taps" was played and the ceremonial final roll call was broadcast to every radio in the department:

"Oviedo to K-9 Nero...Oviedo to K-9 Nero...Attention all units. K-9 Nero has been laid to rest...He served with honor and distinction...He now guards the gates of Heaven."

Also there to pay respects were K-9s and their officers from nearly every law enforcement organization in Central Florida.

"The support from the people I work with, especially the other K-9 officers, meant everything," Ofc Capetillo says. "That they showed up there -- not just for me, but for Nero -- was amazing. And people who were not in law enforcement were there, too. I'm glad Nero's story has gone out and touched a lot of people, because these dogs need the recognition."

Ofc. Capetillo would know. He handled Nero and the Oviedo Police Department's previous K-9, Flash. Like Nero, Flash lived with Ofc. Capetillo and his wife, Oviedo Police Lieutenant Heather Capetillo, and continues to be integral part of the family after an on-duty injury forced Flash from service.

Up to Top
Mike sponsored this pillow for a friend, Nancy, who he respects very much and felt so bad for her loss. Ash was a Field Trial trained golden retriever who, very sadly passed away in July 2019 at the way too young age of two! Nancy was crushed at his sudden loss.
All pillows deeply touch my heart and each dog becomes special to me...never to be forgotten...but me being a mom of two goldens myself, working on this face was heartbreaking for me. Ash looks very similar to one of my own.
Mike asked if I could add some of the leaves into the image to help remind Nancy of this favorite photo...and Ash's runs through those fields. So I did a little digital trickery and moved some leaves up.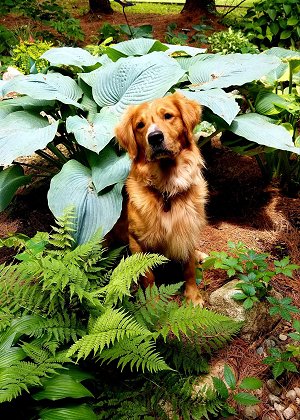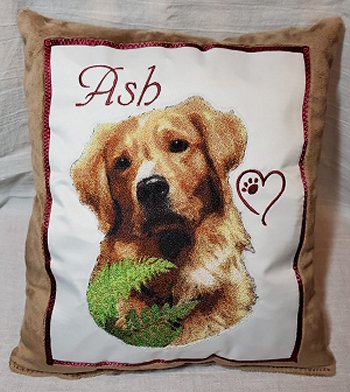 Up to Top
In spring of 2019, I learned that our retired village K9, LEO K9 Justice, had passed away. They said he would be inducted in the Northern Illinois K9 Memorial, located within Highland Memorial Cemetary in Libertyville, IL. However, when I attended the ceremony this September, as I do every year, K9 Justice was not on the list of new K9s being inducted. I was surprised...especially since I'd made this pillow in the hopes of presenting it to Sgt. Smith, Justice's partner.
So on the way home from the memorial, I stopped at our village police dept and left the pillow with a very nice, dog loving lady who promised to pass it on to Sgt Smith. She told me he was 'quite devastated' at Justice's passing. She thought he was only about 5 or 6 yrs old. Rest easy, K9 Hero Justice. See below for the PD's official Facebook comments on LEO K9 Justice's passing, as well as a family photo.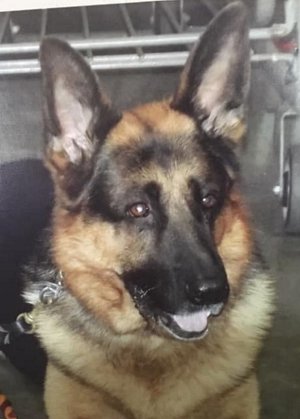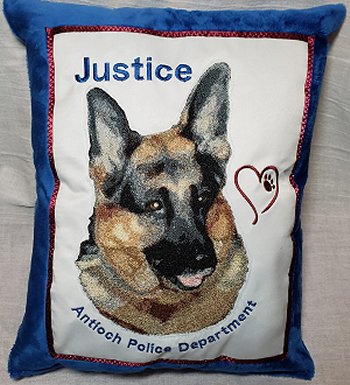 "May 27, 2019
The Antioch Police Department regrets to announce the passing of our retired K9 Justice. Justice was a valued member of our Department from April 4, 2011 until his retirement on August 17, 2015. K9 Justice will be missed by his handler Sergeant Smith and his family and will be added to the Northern Illinois Police K9 Memorial later this year. Thank you for your service Justice, May you rest in peace."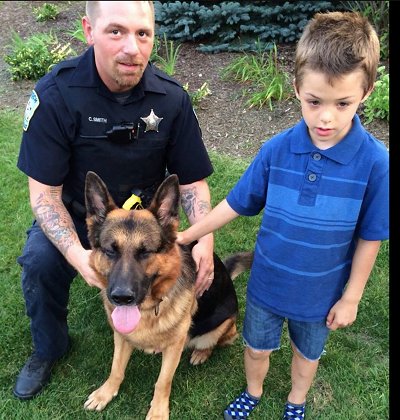 Up to Top
Barbara order this pillow to honor her beloved Newfoundland. Be sure to scroll down to see more pictures and read her comments about her big sweet Juneau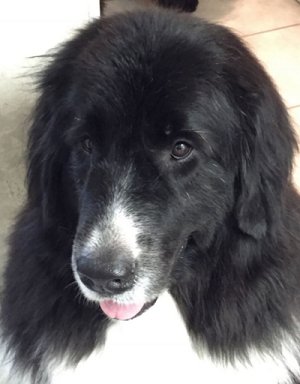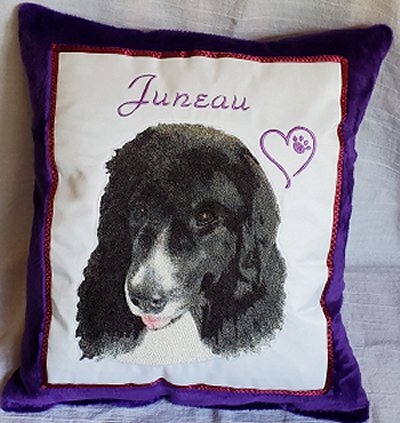 "Juneau was my first Newfoundland. I say she was the love of my life. The absolute perfect dog. She was trained for a therapy dog. She got to visit her friend in a rehab center.

"Unfortunately, her life was cut short. At four years old she was diagnosed with a rare blood disease...Evans Syndrome. Her red blood cells and platelets were being destroyed. My heart was crushed. We lost her 3 weeks after diagnosis and trying everything we could.

"I wear some of her remains in a cremation necklace around my neck. She is always with me. I could go on and on. She was the best. You simply don't understand how much this pillow will mean to me....or maybe you do. Maybe that is why you do what you do."
* * *
"Oh my goodness!!!!!! I can't say thank you enough. The pillow is absolutely gorgeous. Love my key fob. Thank you again. You do fantastic work."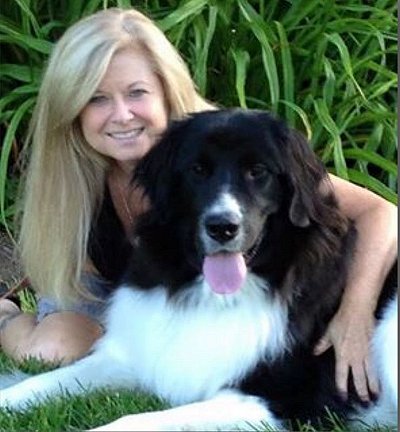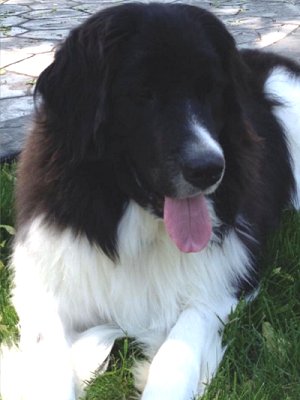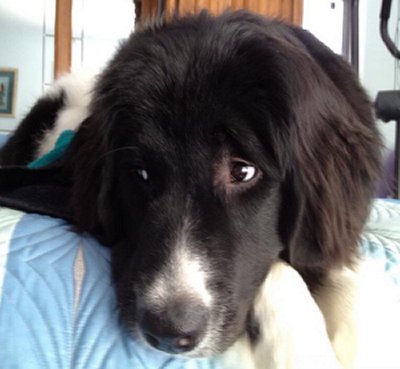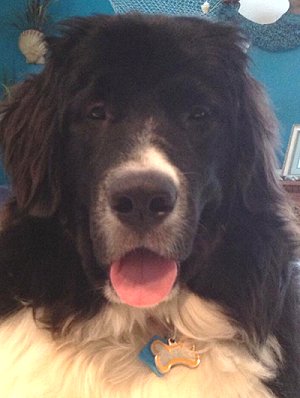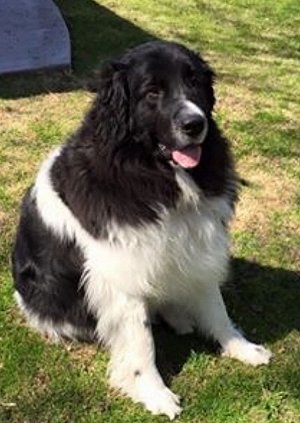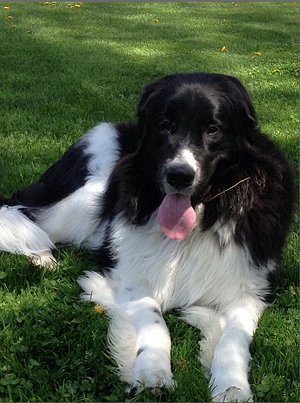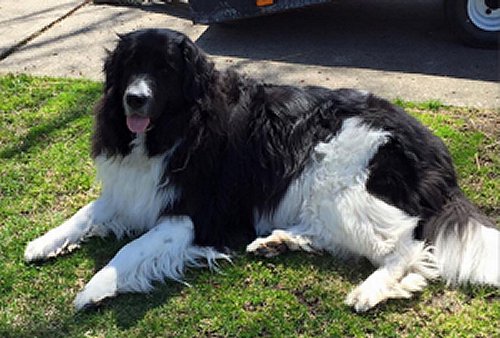 Up to Top
Several years ago when we learned we'd be getting new next-door neighbors, we hoped they'd be dog lovers. They were! They showed up with Zuzu and Bell and they had recently had to help their other golden, Malibu, cross the Rainbow Bridge. They also soon added Brooklyn.
Being close neighbors in the country with no fences, we came to know Zuzu well. She was now 16 yrs old and her health was failing. After Zuzu had a particularly rough night breathing, they knew it was time to say goodbye to their furbaby and let her rest in peace.
I knew they were hurting terribly. Some might say Zuzu lived a good, long life...which she did. But when you've had a buddy in your life for that long...saying goodbye leaves quite a hole in your world. So I made this pillow for Joe and Jen to help them try to heal their hearts.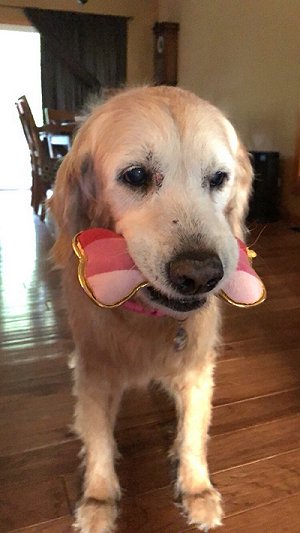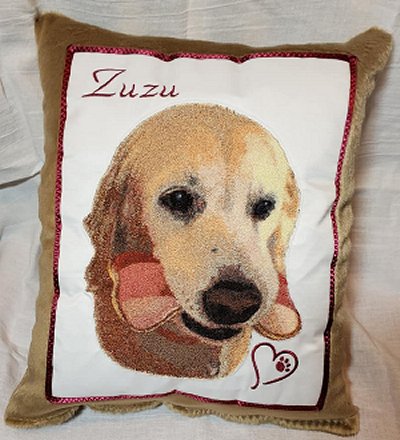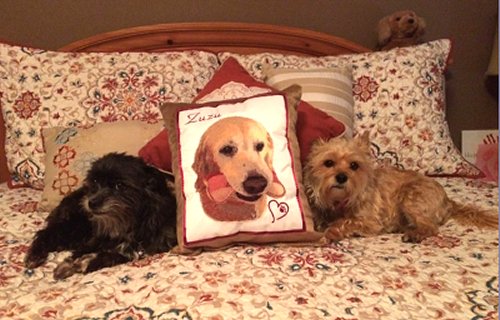 Bell, Zuzu and Brookly

Up to Top
Michele sponsored this pillow for Chris to honor his best friend, Service K9 Bronx, who recently passed away in 2019. Be sure to scroll down to read about Chris and Bronx and see lots of other great pictures, including the video that helped Bronx win Service Dog of the Year. (Tissue alert!)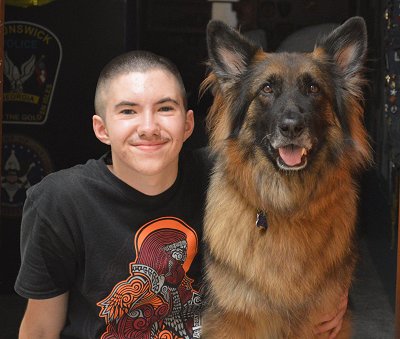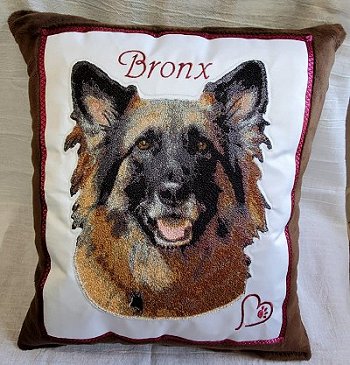 SD Bronx
6/1/08--4/4/19

"Chris Carswell has dealt with multiple health challenges his whole life. He has had birth defects, multiple surgeries, seizures, and strokes. He's legally blind. He has gone to a variety of specialists and had a multitude of tests. On October of 2007 the seizures started. Chris went into both cardiac and respiratory arrest. He actually died and was brought back to life. He was hospitalized for several days as a result. For several years doctors were stumped as to an exact cause for all of this. Chris has since been diagnosed with Loeys-Dietz Syndrome 4. As of now there is no cure.

"In January of 2010, Chris received Bronx as his service dog. Bronx literally gave Chris his life back. When the two met, they hit it off immediately. Chris says it was like two long lost friends reuniting. All Chris' health issues took his childhood away, but Bronx brought his life back.

"Bronx has been trained in trailing, some water rescue, alerting to seizures and guide work. With Bronx by his side, Chris has gone on to create his own non-profit organization, "1BoyForChange" (Web site: http://www.1boy4change.org/ Facebook Link: https://www.facebook.com/1Boy4Change/,) which is a registered 501(c) (3) organization. Chris founded 1BoyForChange in 2011 when he was only 13 years old. Chris has also mentored with the police in K9 training and gone on to become a photographer, as well as a Para Driver (an equestrian sport).

"Throughout all of this, Bronx has steadfastedly remained right by Chris' side...his guardian angel. In 2013, Bronx won Service Dog of the Year in the American Humane Association's Hero Dog Awards. (See his K9 Hero nomination video here: https://www.youtube.com/watch?v=_QKKnm9mEjU)

"In his senior years, Bronx even helped train Chris' new service dog Ama. Bronx was officially retired as a service dog, but he remained a beloved companion to Chris until the very end.

"On April 4, 2019 Bronx suddenly and unexpectedly passed away in his sleep. Even though we cannot see him anymore, I for one, know Bronx still remains right by Chris' side and in his heart. They had a bond that not even death can separate. I believe that without a doubt. I wanted this pillow to be a reminder of that. According to Chris, "I lived life because of you." Keep living your life Chris, with Ama by your side now. It's what Bronx wants for you. He will still be there, every step of the way.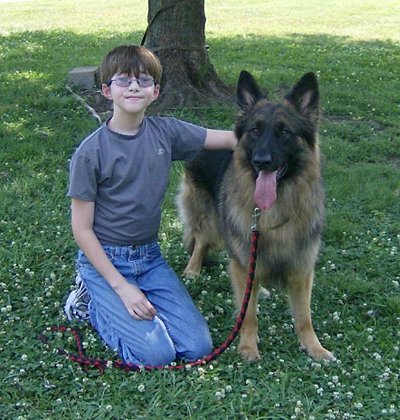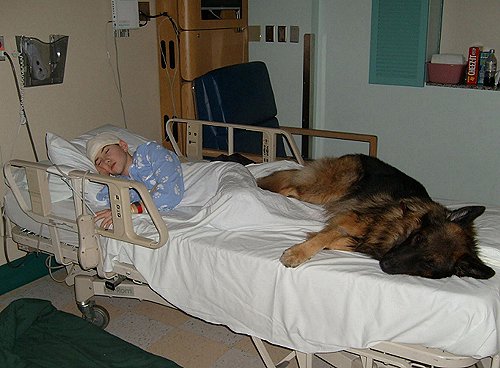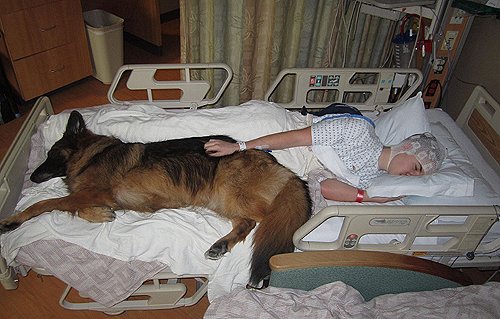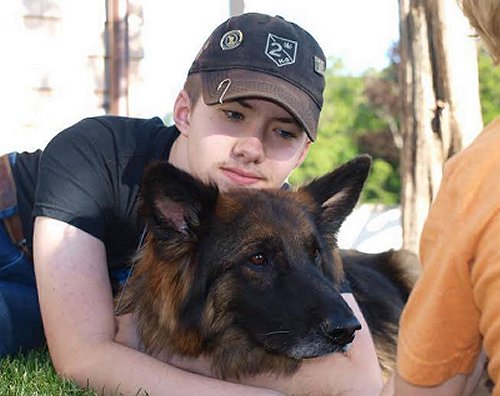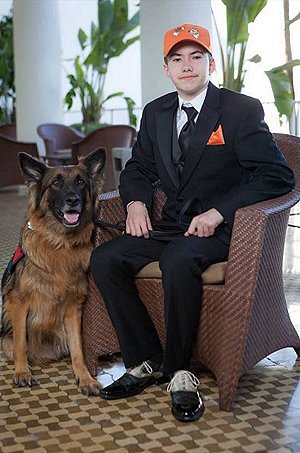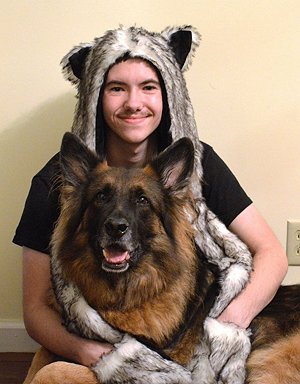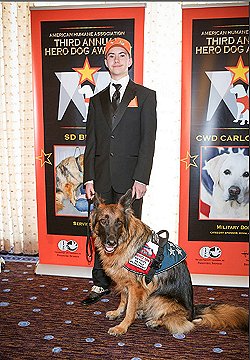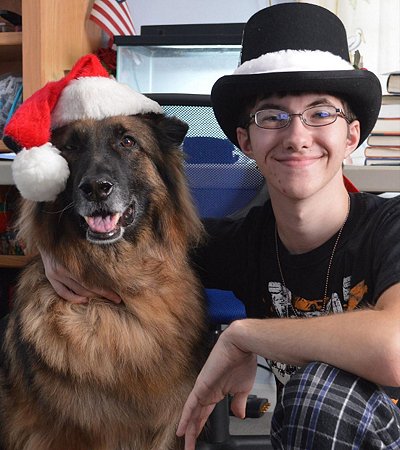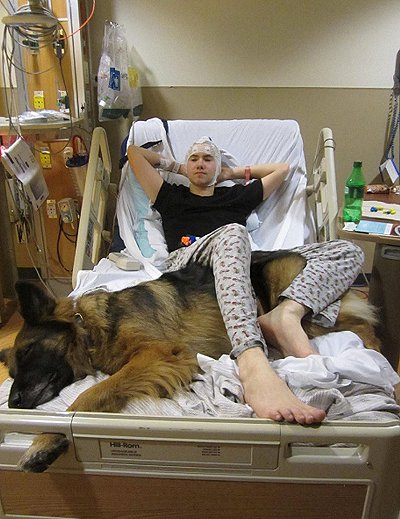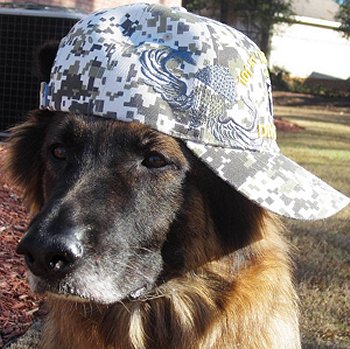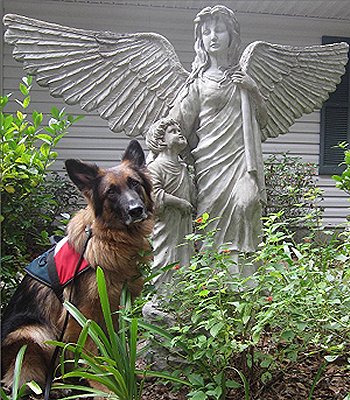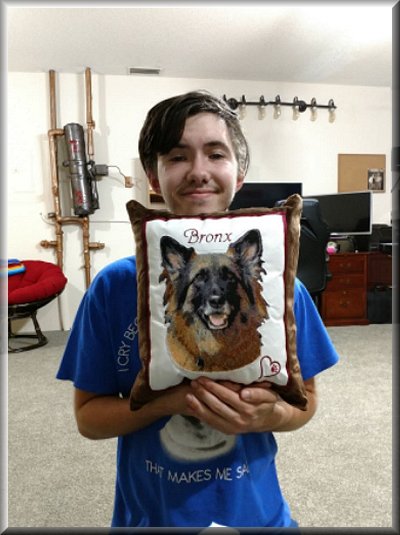 Up to Top
I offered my own sponsored K9 pillows to our own county and town K9s. This is Hank who is alive and well. He's our very own Village K9. I was thrilled to finally get in touch with his partner so I could get Hank his pillow, which Ofc McCameron just loved. Scroll down to learn more about this K9 Hero and see some more pics.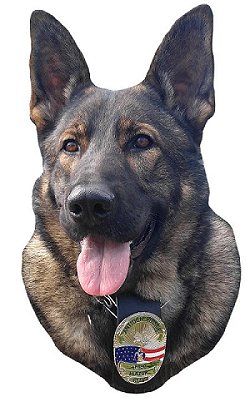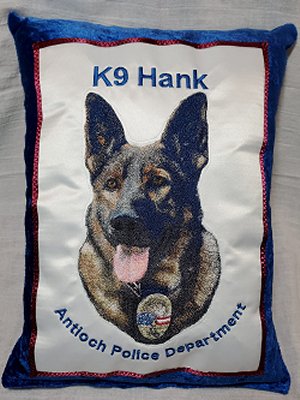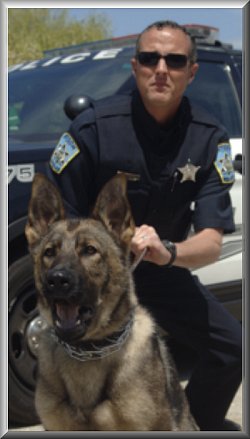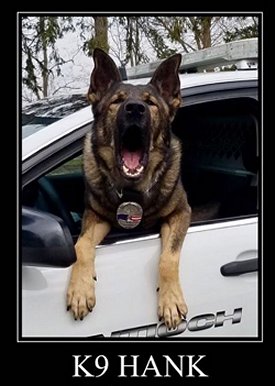 "Hank was born in April, 2015 in the Czech Republic. Hank arrived in the United States in January of 2016 and was immediately paired with the trainers at TOPS Kennels in Grayslake Illinois with the purpose of doing K9 police work.

"Ofc McCameron started his police career in 1995 and he's been partnered with K9 Hank for the last three years.

"This team is trained in narcotics detection, aggression control and handler protection meaning he bites bad guys, gunfire tolerance, article recovery, tracking of human scent, land and water cadaver location, and all other K9 patrol certifications.

"Together, they have had some great finds out on the street including several lost persons, suicidal persons and bad guys who took off from the police. They have recovered a large amount of illegal narcotics and currency associated with drug use and sales. And they have also recovered six guns...guns that were used either in drug sales, as well as three used in armed robberies.

"Ofc McCameron and his partner K9 Hank continue to train several times per week to stay sharp, because Hank gets deployed for police calls and public demonstrations about 70 times per year.

"Hank lives at home with his partner and two other family pets. The family pets are 11 year old twin German Shorthair Pointers and everyone gets along great."

Up to Top
Yes, it's a cat!
This project originally started to honor K9 Heroes. Then people asked if I would also do family dogs. Now, I was asked to do the first feline. (And someone also recently asked if I could do a horse!) Although this project has focused on canines to date...how can I say no to someone who misses their beloved pet. So Buttercup is our first non-canine member of this project. Buttercup recently passed and Sheryl wanted to help her daughter's heart heal...some...by sponsoring this feline pillow for her daughter. Scroll down for more info and photos of Buttercup.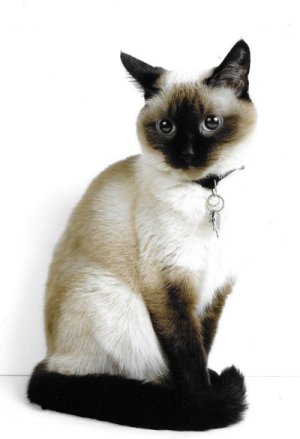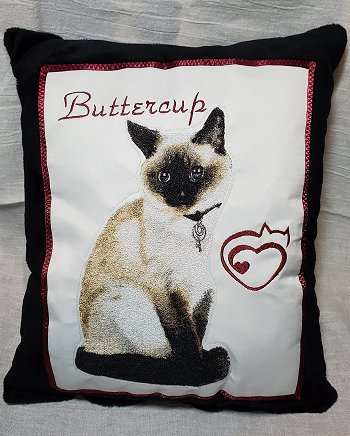 "Buttercup was a beloved family pet who lived almost to her 19th birthday. She was given to Elyse when she was in middle school because she was doing so well and made the National Honor Society. Buttercup was a diva all the way. She always had to sit at the highest point of the room so she could look down at everyone. She was also sweet and lovable."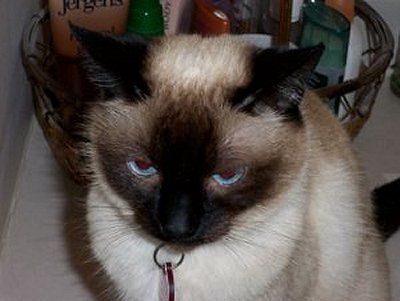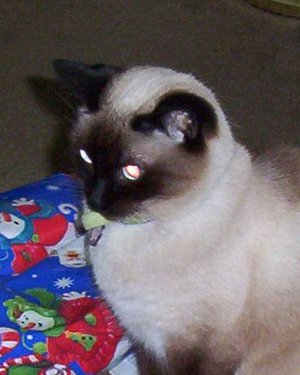 Up to Top
Retired LEO, Cindy, sponsored this pillow for her friend whose beloved Luna passed away. I haven't received any bio details, but if I do, I'll update this link. Rest easy, Luna.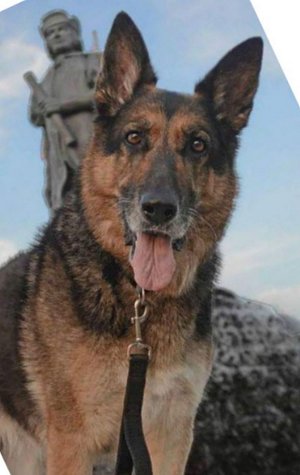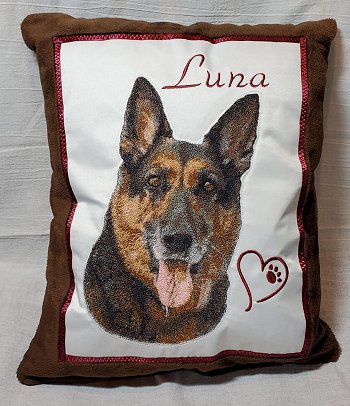 Up to Top
A very touching story of a loving pitbull who endured a lot to love and serve those he looked after. He sadly passed away. Be sure to scroll down to see lots more photos and read Snickers' bio. Maryanne sponsored this pillow for Kim to try to help her heart heal...some.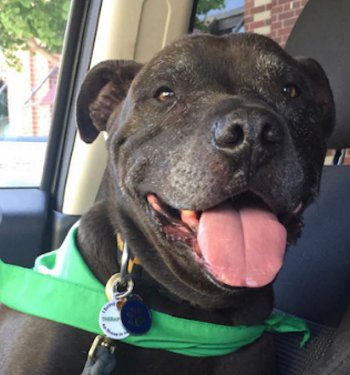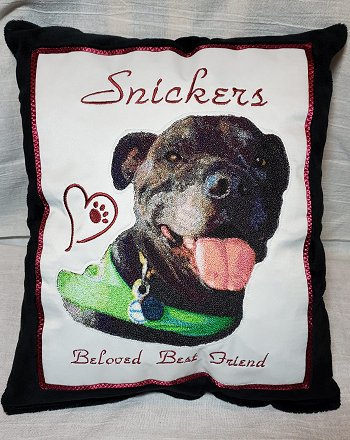 Snickers
Certified Service Dog, Certified Therapy Dog, Pit Bull Ambassador, Beloved Best Friend

"Snickers was a certified service dog to Jim Sak, a Vietnam War veteran and Chicago police officer who retired after 32 year on the force. After suffering a stroke and having brain surgery, Officer Sak relied on Snickers for his safety and independence.

"In 2011, days after moving to the town of Aurelia, Iowa to be closer to a sick family member, the Aurelia town council ordered Officer Sak to relinquish his dog and move him out of the town limits or risk having Snickers confiscated and euthanized in accordance with their "no pit bull law" aka Breed Specific Legislation. The non profit organization Animal Farm Foundation, whose mission is to secure equal treatment and opportunity for "pit bull" dogs and their owners, provided legal assistance to Officer Sak since this violated his rights under the Americans with Disabilities Act. The case went to federal court and justice prevailed. Officer Sak and Snickers were reunited and able to stay together.

"One of the people who worked on this case for Animal Farm Foundation was a young woman named Kim Wolf. She may have summed it best when she said 'This case is a sad example of what happens when cities discriminate against dogs based on breed or appearance.'

"Five years later in 2016, Kim was living and working in Iowa. Officer Sak passed away and she was chosen to adopt Snickers. The dog that she had helped years earlier now became part of her loving family and her best friend. Kim shared Snickers with the community as they went through training to become part of the Animal Rescue League of Iowa's TheraPets program. As a therapy dog team, Kim and Snickers brought comfort, companionship and joy to those in need.

"This past August, Kim moved to Georgia to attend University of Georgia to pursue her master's degree in social work. Around the same time and on her 38th birthday, Kim learned that she had advanced breast cancer. While she underwent chemo and a double mastectomy, Snickers watched over Kim, keeping her company and even attended some of chemotherapy sessions. He provided physical and emotional support just as he had done for Officer Sak.

"Snickers had also had several health battles of his own having several surgeries to remove tumors. Just two months after Kim's breast cancer diagnosis, Snickers was diagnosed with his own cancer, lymphoma and masses in his intestines. He was not a candidate for surgery and Kim did not want to put her sweet old man through chemotherapy. She cared for him lovingly until the end.

"On February 27, 2019 with Kim by side, Snickers passed to the rainbow bridge.

"Snickers lived a life of service. He was a true ambassador for pit bull type dogs changing hearts and minds and fighting for fairness and equal opportunity for dogs like him and the people who love and rely on them. Kim often said that Snickers was the love of her life. He is missed beyond measure and will always be a part of Kim's (and so many others) heart."

Here are the links to a couple of the many articles written about Snickers. The second link has a great video of Snickers and Officer Sak.

https://www.nbcchicago.com/news/local/Pit-Bull-Ban-Keeps-Disabled-Ex-Cop-from-Service-Dog-136145443.html

https://www.nbcchicago.com/news/local/Fight-For-Pit-Bull-Heads-to-Court-150184825.html

https://www.today.com/news/despite-pit-bull-ban-man-reunited-service-dog-wbna45807018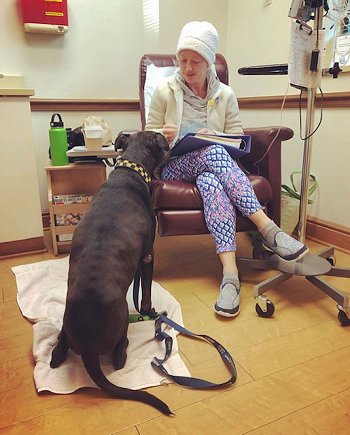 Snickers watching over Kim during Chemo treatment.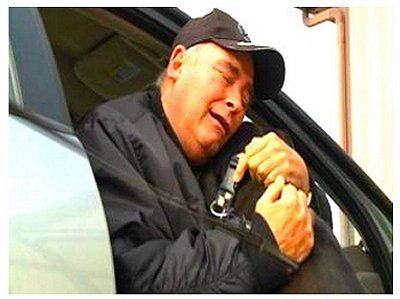 Officer Sak...thrilled to have Snickers back.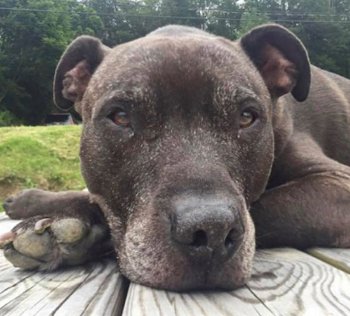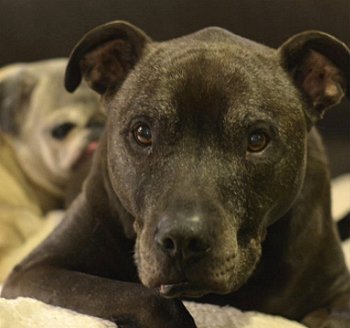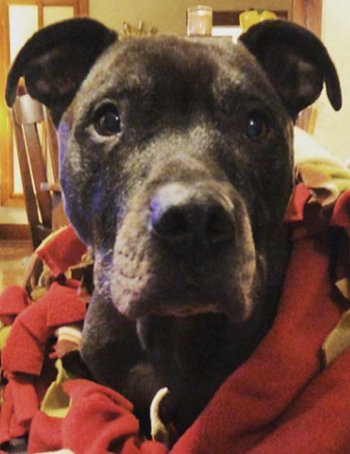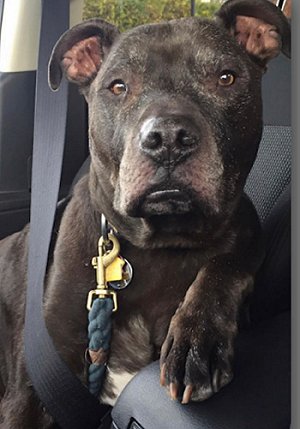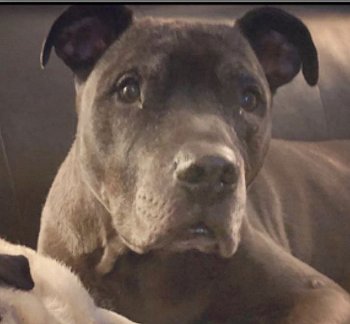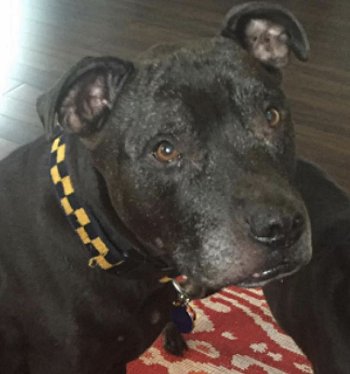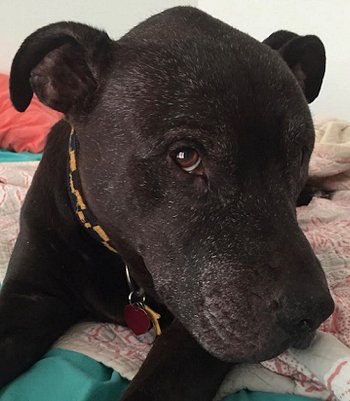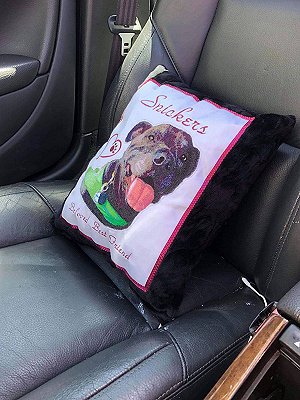 Snickers pillow...riding home from the post office with Kim.

Up to Top
Whenever I see that a K9 Hero has been killed/dies in the line of duty, I do what I can to contact the handler to let them know that a free K9 Hero Pillow is here for the asking, free of charge. Sadly, rarely does that info get to them...or if it does, they do not respond to accept the offer. Thankfully, Bedford, OH did pass along the offer and Ofc Futo replied that he would love a pillow to honor his partner, LEO K9 Mike who died in the line of duty.
He first wanted a photo of Mike with his vest, but, sadly, that photo wasn't good enough for a pillow. So he sent me a great face shot that was perfect. But then I decided to give the smaller photo a shot as an extra small photo along with the face shot. Thankfully, it worked out pretty well. The small photo doesn't have much detail, but it's a nice reminder of that photo with Mike's vest. And the face photo came out nicely for the full pillow.
Below is more info about K9 Hero Mike...including a link to a YouTube video of him showing his stuff to kids. (Which is very sad to watch, knowing that he gave his life in the line of duty.)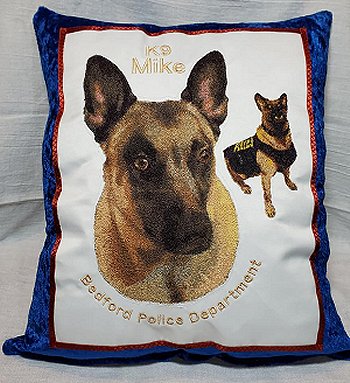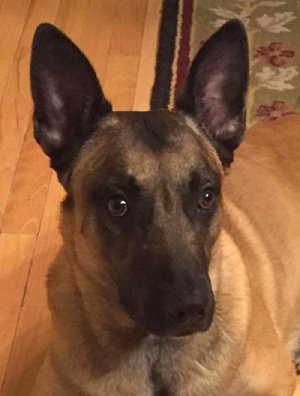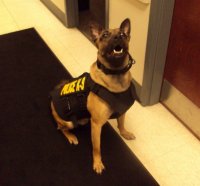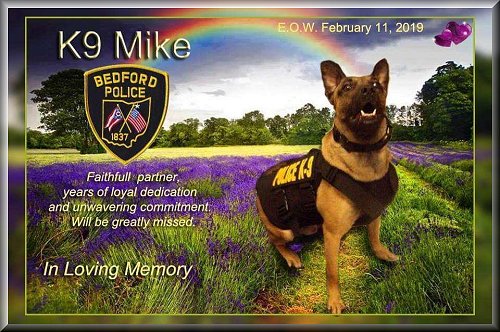 Bedford Automile Association's donated K-9 saves a life

(Article text/photo below from: https://www.cleveland.com/automotive/plaindealer/2015/12/bedford_automile_associations_donated_k-9_saves_a_life.html)

"If you purchased a vehicle from one of the franchised new car dealers along the Bedford Automile recently, you may have helped save a life. A Bedford Police K-9 unit, made possible by a donation from the Bedford Automile Association, saved the life of a young woman after only two weeks on the job.

"'Our Police Department received a 911 call regarding a missing 20-year old female near the Metroparks,' said Michael Mallis, City Manager of Bedford. 'The young woman was mentally handicapped, distressed and had indicated that she was considering harming herself.'

"'I brought Mike over to the neighbor's house because we knew that she had been there,' said Officer Futo. 'The neighbor pointed out areas where the young woman had been standing, so we were able to start to track from there. Mike picked up the scent right away and took us out into the woods.'

"Finding someone in the dense thicket and woods of the Metroparks can be hard, especially at night, when the young woman initially disappeared. It's even harder still when someone doesn't want to be found.
Within ten minutes, 'I shined my flashlight and I saw an arm. She was only about ten feet away from us. Mike was spot on.'

"'The responding officers talked to her and got her to come out of the woods voluntarily,' said Mallis. 'The young woman agreed to be transported to the hospital for help. Having a K-9 on duty in 2015 wouldn't have been possible without the generosity of the dealers on the Bedford Automile.'

"The Bedford Automile Association donated $20,000 to the City of Bedford to help resurrect its K-9 unit, which was discontinued in 2008, said Mallis.

"'We have donated a lot of money to many worthwhile causes,' said Bill Klonaris, dealer principal of Mazda of Bedford and president of the Bedford Automile Association, 'but this is the best donation we have ever made. Usually when you give money, you don't really see it having a direct impact. But this brings it down to a human level.'"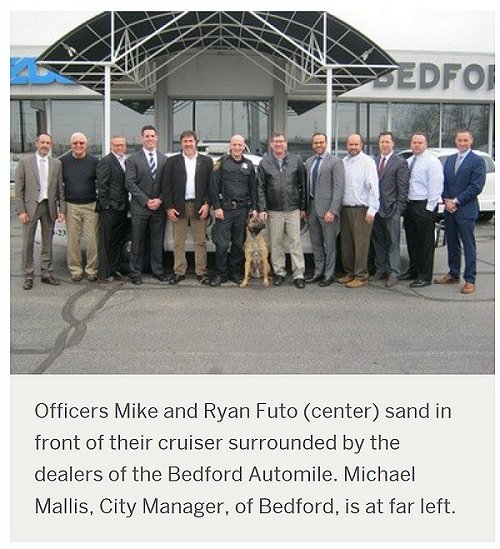 You can watch this video (screenshot below) at this link:
https://youtu.be/kgJrm3NOu74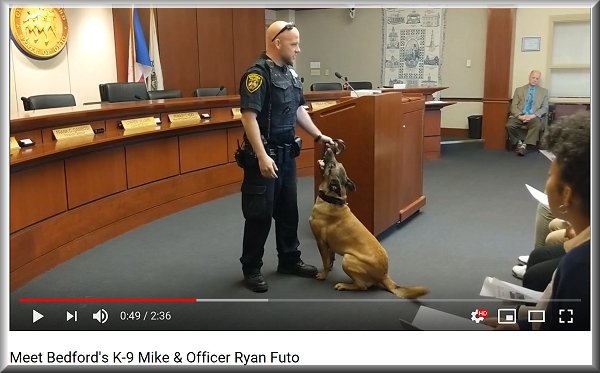 Rest easy K9 Hero Mike!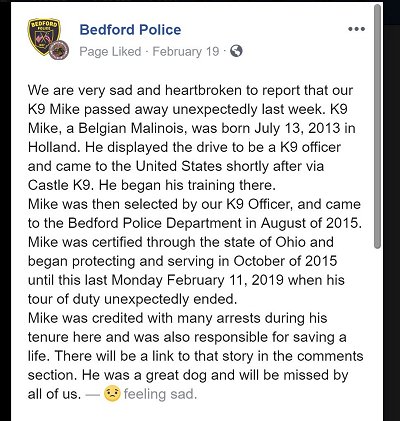 Up to Top
Dawn's friend recently lost his beloved buddy, Charlie, who crossed The Rainbow Bridge. Dawn wanted to honor Charlie's career and help heal Bruce's heart, some, with this sponsored pillow.
I haven't received full bio details about Charlie; but if I get more details, I'll update this link. However, I do know that Charlie was a DEA K9 Hero who was forced to retire due to a cancerous tumor that developed on his side, which is when he came to live with Bruce. Bruce took Charlie to the lake frequently because Charlie loved getting into the water. Since Charlie had been so active in his professional life, Bruce maintained that life style with 2 mile walks both morning and night. Charlie was a very social dog.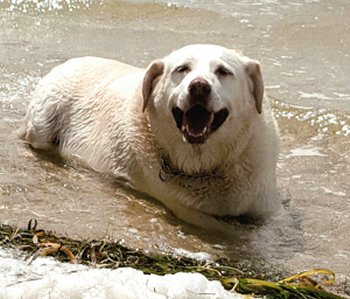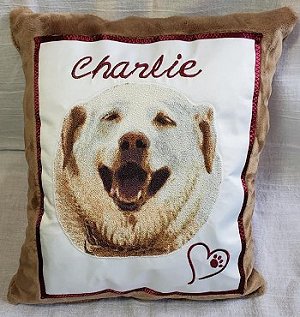 Up to Top
Rondi received a pillow previously of her beloved Sophie, who passed away not long ago. After Sophie passed, Rondi knew she wanted to find another dog who needed her love. She found Sammie.
Rondi had tried to win a pillow of Sammie during an auction and was sad that she missed out. So a friend of hers made a donation, as a Secret Santa, to sponsor a Sammie pillow for Rondi.
It took Rondi a little time to get the perfect photo that she wanted to use and then I had to redo the pillow a few times due to machine issues. But, finally, Rondi and Sammie got their pillow! Be sure to scroll down to read about Sammie and see more photos.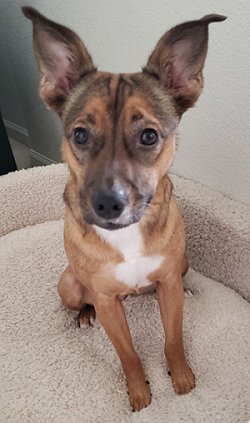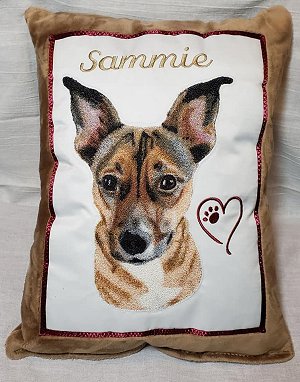 "After Sophie passed away from a long battle with cancer and pneumonia my heart was shattered. She was my heart dog. I knew I would get another dog when the time was right.

"One night I was missing Sophie so much I decided to Google Shepherd mix dogs for adoption. Looking back at me was this little face. She was found abandoned all alone in a shopping cart. The rescue had named her Salsa.

"Was it a coincidence that Salsa was the nickname of my cat who had passed away a year before? I truly believe in signs and this was a sign that was staring me in the face. I knew I had to adopt her. Sammie Salsa was sent to me to help heal my broken heart."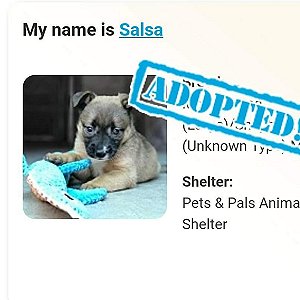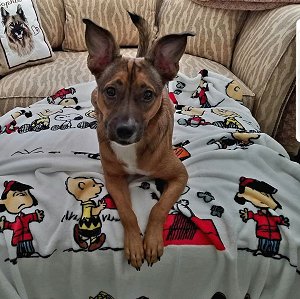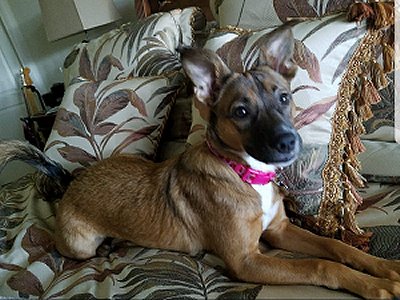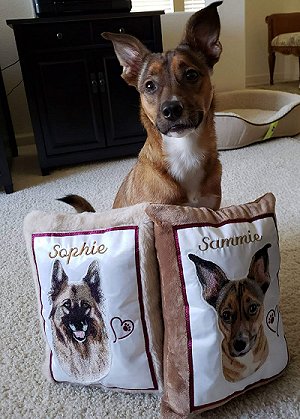 Up to Top
Gary was a K9 Handler in Vietnam. Because of the heartbreaking way the government treated our K9 Heroes in that war, by leaving them there since they were considered "equipment", I have an open offer to all Vietnam K9 Handlers for a free K9 Hero Pillow if they still have a useable photo of their K9. Gary did and he accepted my offer. He got his pillow of his beloved partner, Vietnam K9 Hero Sinner, some time ago (see http://mousetrax.com/#Sinner).
Recently, Gary's mom had a small stoke and had to spend time in a hospital and later doing rehab. She missed her beloved doggie, Lucky, who was home being cared for by family members while she was away and getting better. Gary knew that having a pillow of Lucky with her at the hospital would make her feel much better, so he ordered this one for his mom.
Be sure to scroll down a bit to see Gary's mom with her pillow.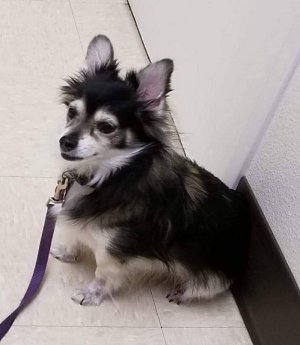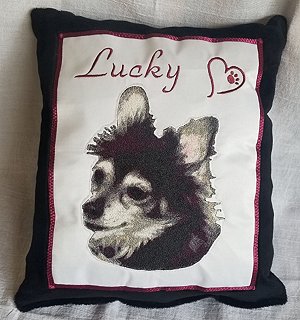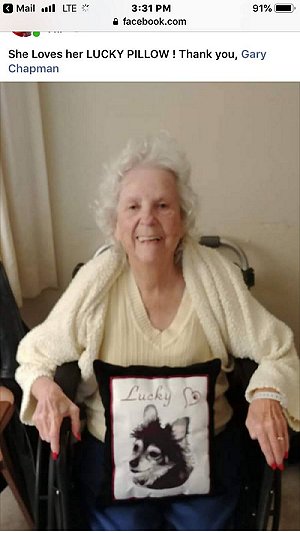 Up to Top
Veteran Luis had previously ordered two pillows for his wife...Cody and Karma (http://mousetrax.com/Index.html#CodyKarma). Then as we corresponded, I learned that at the time he was recovering in Bethesda from wounds along with his service dog Chevy, so I made him a free pillow to honor Chevy's service (http://mousetrax.com/Index.html#Chevy).
Recently, he got in touch with me again to order another pillow for his wife as a Valentine's present. Luis has been busy dealing with life issues, so he hasn't been able to get me any bio details on Jambo, who was born August 2010, passed September 2018, but he did say his wife loved it. So when he has time to update us, I'll update this link. Scroll down for a couple more pics.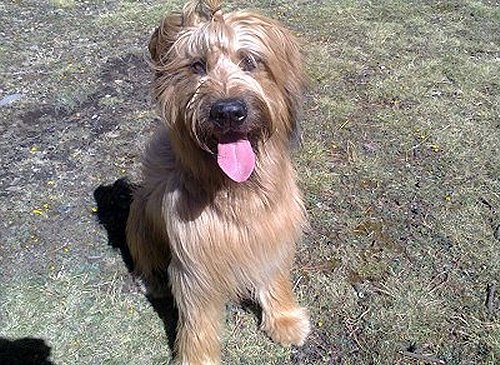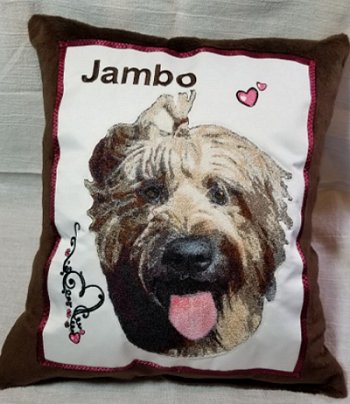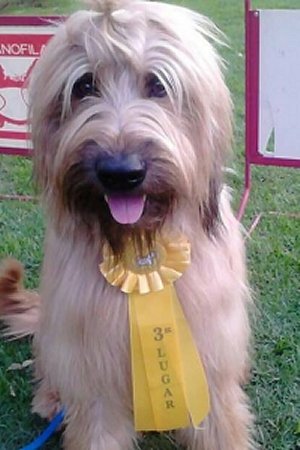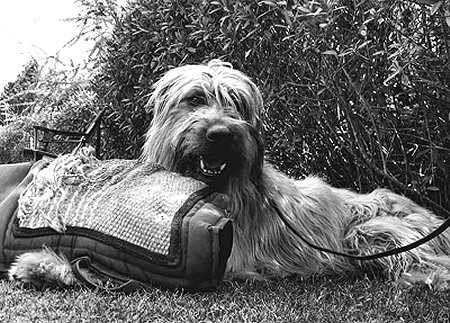 Up to Top
Krystal cares for several K9 Heroes. Doky was a favorite who passed late in 2018. Barbara wanted to make sure Krystal had a pillow to help heal her heart...some...after Doky passed. Krystal hasn't had time to pass a bio yet, but if I get more details, I'll update this link.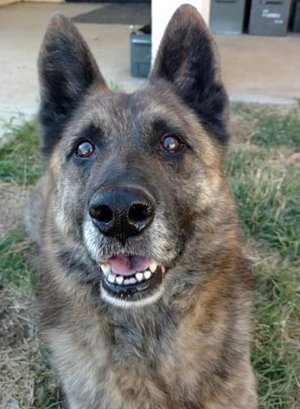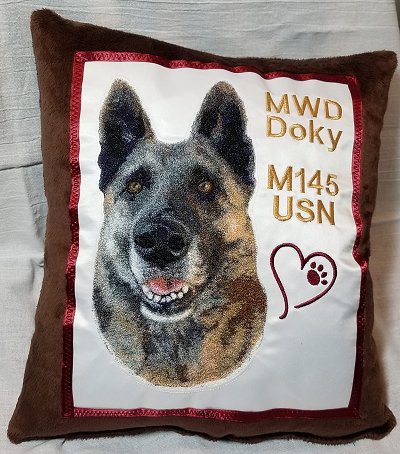 Up to Top
Living in Lake County, IL, I wanted to honor OUR OWN K9 Heroes by personally sponsoring K9 Hero Pillows for each of our K9s. We have K9 Dax, K9 Diesel and K9 Duke on LEO patrol, K9 Boomer is bomb detection and K9 Bone is cadaver detection. (Yes, we love those names, too). I've offered pillow to each of them and so far I've done K9 Diesel and now here's K9 Dax. I hope to get details for the others in the near future. Be sure to scroll down to learn about this amazing 2018 K9 Valor recipient and see lots more great pics.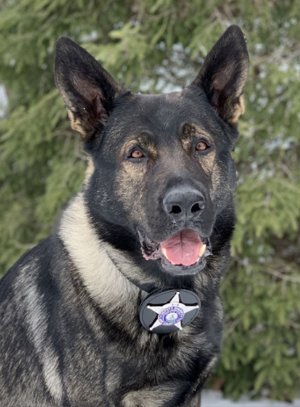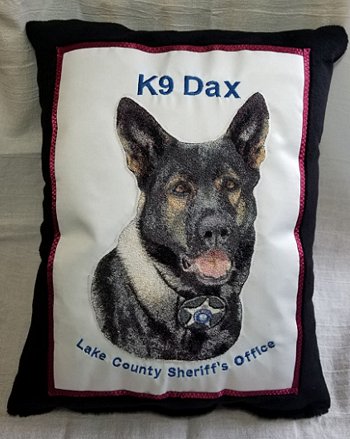 "K9 Deputy Dax would like to say THANK YOU to Dian/K9 Hero Pillow Project for the amazing pillow created for his family!

"Dax is a five year old German Shepherd who began his successful career with the Lake County (Illinois) Sheriff's Office almost four years ago. He has been directly responsible for tracking and successfully apprehending over 70 suspects. Dax has also been accountable for tracking and finding dozens of missing or endangered children and adults. Dax has been used for over 100 narcotic searches resulting in over 17 kilos of cocaine, heroin and other narcotics seized, hundreds of pounds of cannabis, approximately three quarters of a million dollars in currency, dozens of firearms, and seized vehicles.

"Dax's top deployments in 2018 included tracking and locating a dangerous domestic violence offender who forced his way into a home and then battered and choked a woman until she lost consciousness; capturing a robbery suspect even after the offender struck Dax repeatedly; and, apprehending a wanted fugitive (who was allegedly armed) hiding in the attic of a home covered in fiberglass insulation. Dax saved the lives of citizens and deputies in late 2018 when he tracked a fugitive who had allegedly committed a burglary, was in the process of stealing a vehicle from its owner, and then brandished a gun at pursuing deputies. The fugitive was charged with attempted murder and several other felonies after being located by Dax.

"Dax's tireless drive, dedication to training, love for police work, and incredible success stories have gained him thousands of supporters from across the country. Dax was awarded the 2017 Paws of Distinction Award through the Chicago Crime Commission and was recently chosen as K9 of the Year (for 2018) through The K9s of Valor Foundation. Dax is honored to serve Lake County with his fellow K9 heroes, Duke, Diesel, and Boomer!

"Thank you again, K9 Hero Pillow Project, for your support and all you do for dogs and K9s nation-wide!"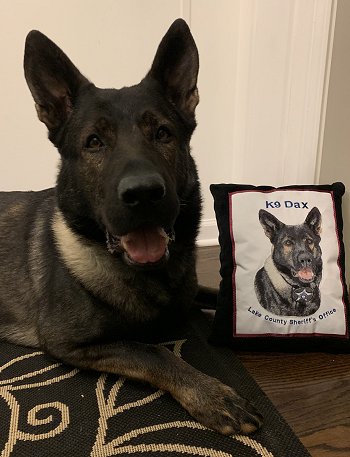 Dax says he loves his pillow!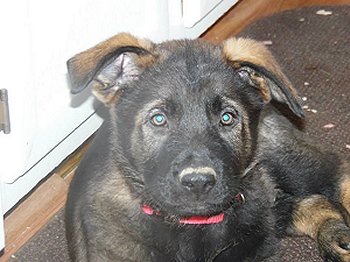 Baby Dax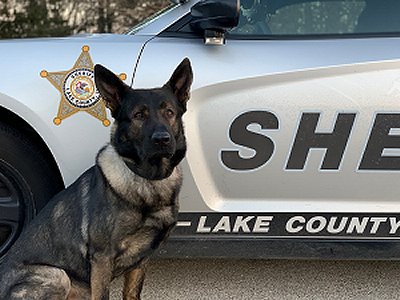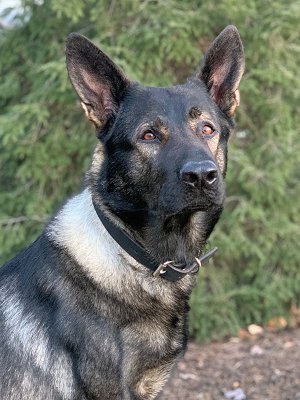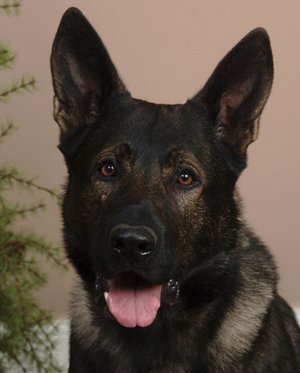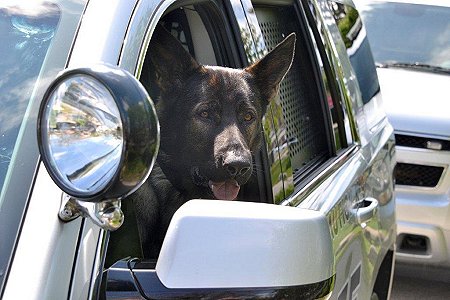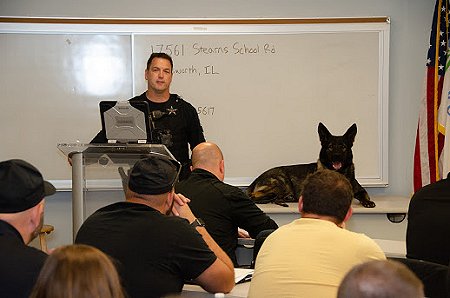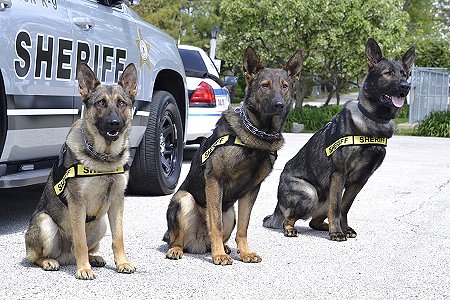 Lake County Sheriff's Office K9s
Duke, Diesel, Dax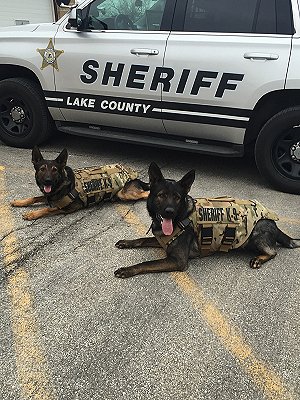 Diesel & Dax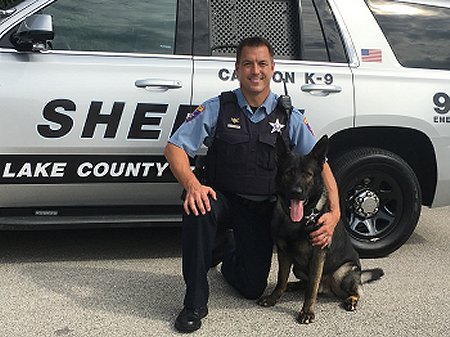 K9 Deputy Dax with his partner Deputy Forlenza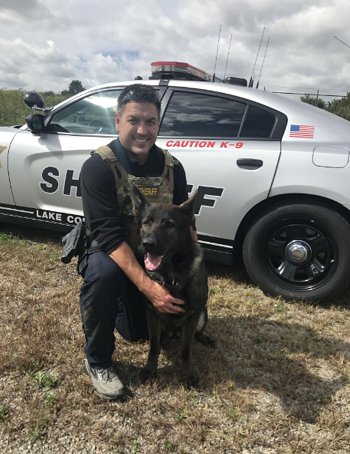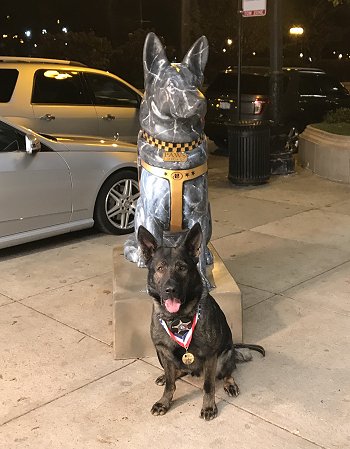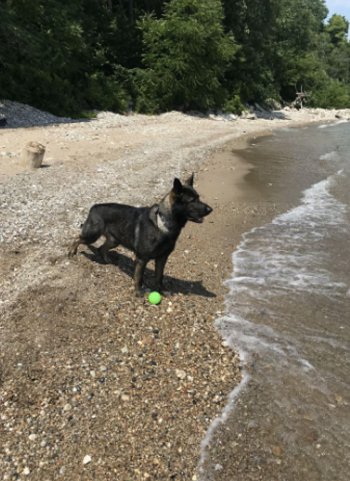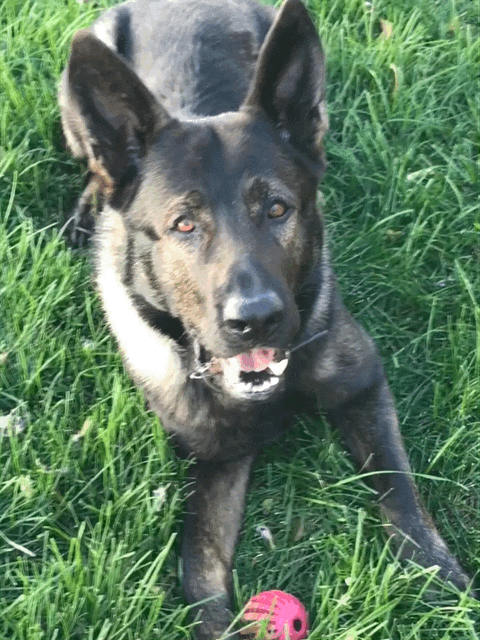 Up to Top
Dee ordered these two pillows for her mother. She wanted them as opposite bookends to put on her mom's dark brown couch as reminders of her beloved doggies. I have not received any details about them, but if I do, I'll update this memorial link.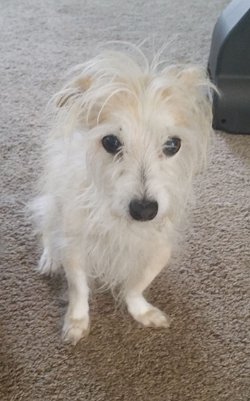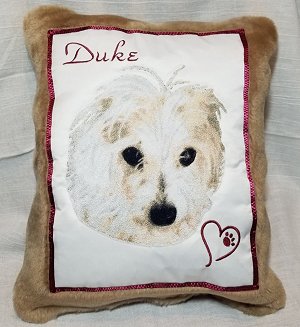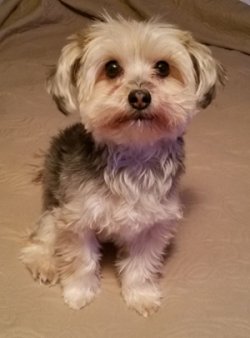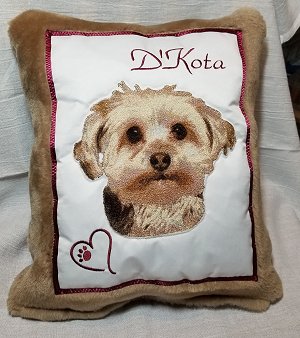 Up to Top
Michelle purchased this pillow for her friends soon after Rico's recent passing. Very sadly, Rico's beloved dad, David, a veteran, passed away before I could finish the pillow. It was given to his widow, who loves it. Be sure to scroll down to read their touching story and see more photos.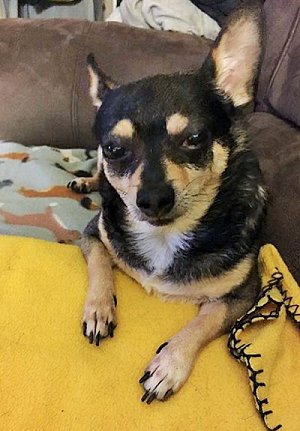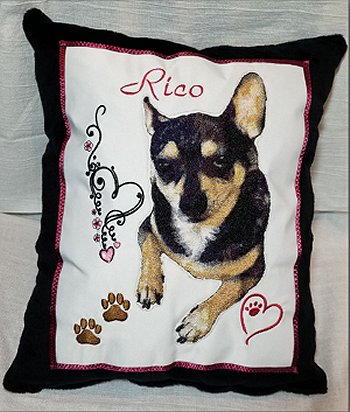 "Rico was found as a stray in a small Eastern Oregon town in the middle of winter in 2015. He had been hanging around a hotel for a few weeks begging for scraps. The hotel wasn't near a residential area, so most likely, Rico had been dumped.

"Shortly after that, he ended up in Salem after a young woman took pity on him. The woman then gave him to her friend and that friend brought Rico to her grandma's house. This grandma is a friend of mine who is not an animal person. She still gave Rico a home for several months. She reached a point where she knew Rico deserved a better life with better care by people who loved him.

"She then came to me, and I got in touch with my friend Frances, who was closely acquainted with a local dog rescue. Frances brought the dog home intending him to be a foster. None of us anticipated the incredible bond Rico would form with Frances's husband Dave, an Air Force veteran. We think that at one time Rico had a man in his life that he loved, because he loved men and he took to David right away. David was proclaiming things on social media like, "I wouldn't give this guy up for a billion bucks!!!"

"Frances first brought Rico home on June 26, 2016 and by July 4th, Frances and David were officially foster failures. It turned out Rico had multiple health problems including a flea infestation, severely rotting teeth that had to be removed, bronchitis, and Collapsed Trachea Syndrome. Rico's primary vet estimated his age to be between 9-12. Despite all his health issues, Rico had a will to live and Frances and David gave him everything. He got the best of veterinary care including a consultation with a cardiologist.

"Rico and David were inseperable. They spent countless hours in David's man cave. This past November, Rico's daddy went to the hospital with an unexpected illness that we all hoped and prayed he'd survive. Then one morning Frances woke up to find Rico had quit breathing. She rushed him to the vet, but a short while later he died of what the vet called congestive heart failure. Rico hadn't had heart problems before, in fact for a senior dog, he had a great heart. Frances says he died of a broken heart, and that he knew something before any of us did.

"One month later, David lost his battle and joined Rico in heaven. This coming weekend (Jan 26, 2019) is David's service with full military honors and a Patriot Guard escort. Rico and David are together now and they will never be forgotten, not for a second."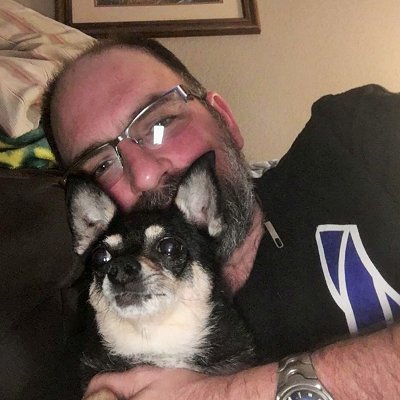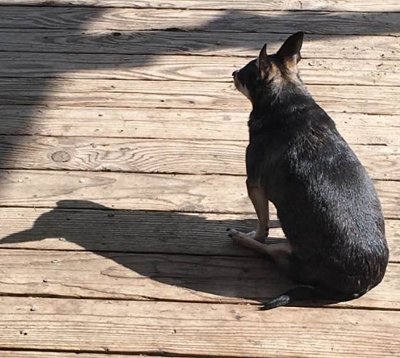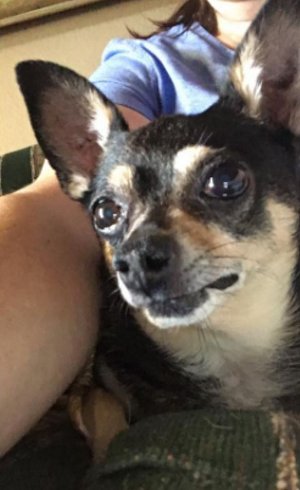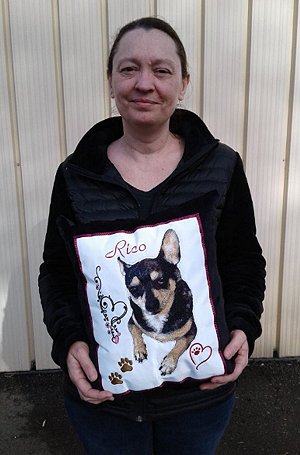 Up to Top
Combat veteran, Carl, received his service K9, Sky, to help him adjust to life after war. I donated a K9 Pillow (and one of my American Flag lapghans) to the Take a Vet Fishing event in 2018 in Northern Illinois. Donated items were raffled off to attending veterans through an end of event free drawing. Carl attended that event with Sky and Carl was the lucky winner of my K9 Hero Pillow.
It took awhile for Carl to get me his favorite photo and then he had to deal with the holidays and recently moving his family to a new home. So he hasn't had time to get back to me with any details about Sky yet. When any updates come in, I'll be sure to update this link and let folks on my Facebook K9 Hero Pillow Project page know any new details.
We're happy Carl and Sky got their pillow, which Carl loved...and hope to meet up with them at the 2019 Take A Vet Fishing event again here in Northern IL.
Be sure to scroll down to see Carl and Sky's winner's photo.
NOTE...IGY6 = I've Got Your Back, which Sky continues to do!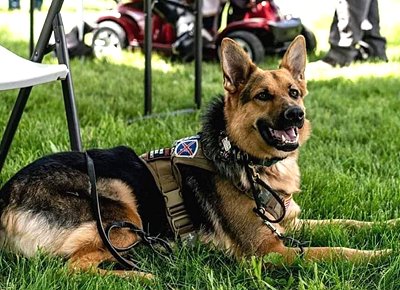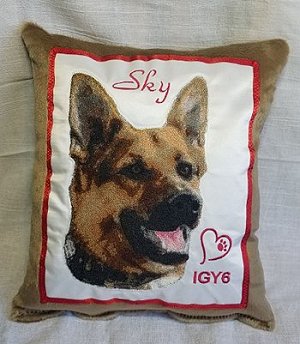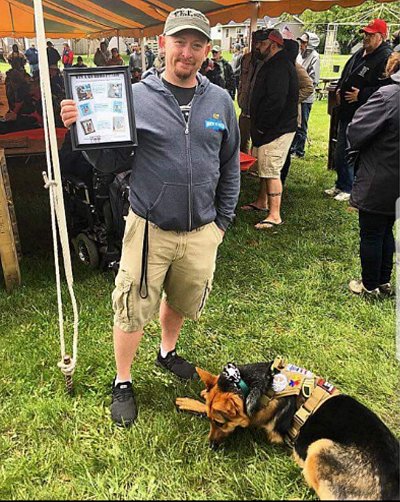 Up to Top
Debbie ordered this pillow for her friend. The only photo she had available was this picture of a painting of Millie, which I believe Debbie did for her friend. I don't have any additional information about Millie at this time, but if I do receive more in the future, I'll update this link.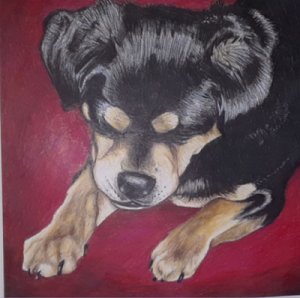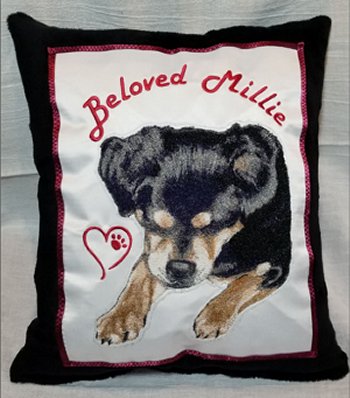 Up to Top
Shaun ordered this pillow for Joan, a police officer friend, whose K9 partner Tracer, a narcotics and take down K9, passed away in November 2018 while in retirement. I haven't received details about Tracer yet. Hopefully, I will in the future. If I do, I will update this memorial so we can learn more about K9 Hero Tracer. I did receive a video from Shaun from when they presented Joan with this pillow during a K9 Christmas party. She was clearly surprised and deeply touched by the pillow. I hope it helps heal her heart, some. Thank you for your service, K9 Hero Tracer.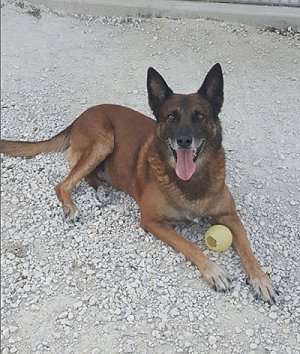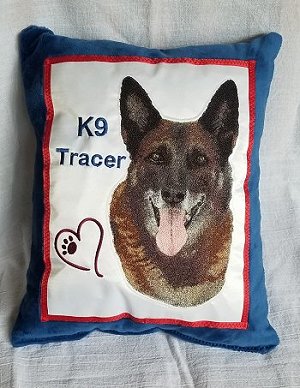 Up to Top
Retired LEO Becki has been a big supporter of my K9 Hero Pillow Project. We've become online friends over the years. And over the years, I've loved seeing her frequent photos of walks with her grandpuppy, Shaydee, more often known as Shay Dog. My own Lexi looked very much like Shaydee and Lexi passed a few years ago. So it was particularly heartwarming for me to see Shay Dog continuing to enjoy life and personally reminding me of my Lexi.
Shaydee lived nearly 17 yrs! That proves she had a wonderful life with a very caring family. When she recently passed at the end of 2018, I knew I had to honor Shaydee by sponsoring a pillow so she's never forgotten.
Rest easy Shaydee...your flower sniffing walks warmed the heart of many as you kept pushing on.
Be sure to scroll down to learn more about Shay Dog and see many more photos.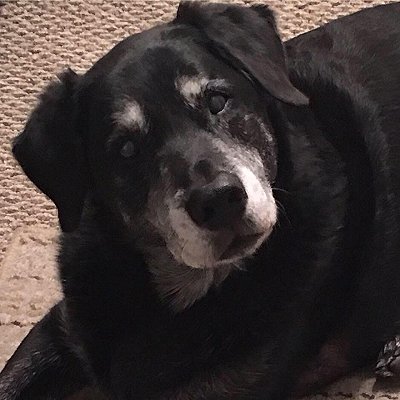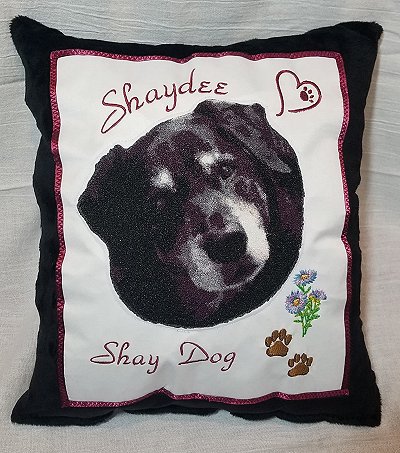 "My son, Patrick, got Shay when she was 8 weeks old. She was with him thru all of life's ups and downs for almost 17 years. She was a total sweetheart and loved all cats, but was very dog selective. She loved her walks, the beach, sniffing flowers, naps and her food. She had us wrapped around her paw for years. She is forever loved and we miss her so much."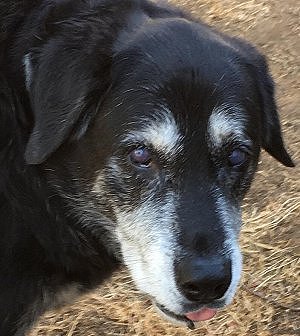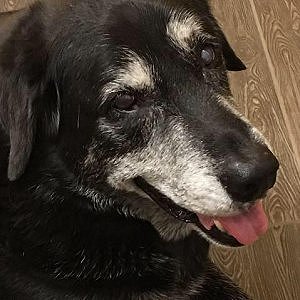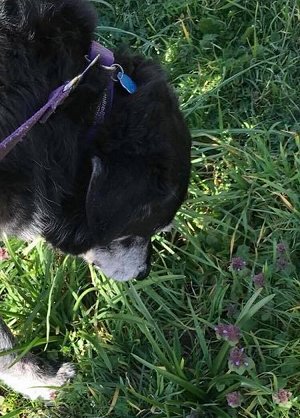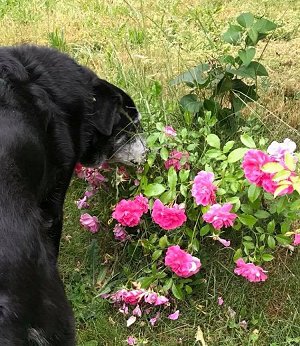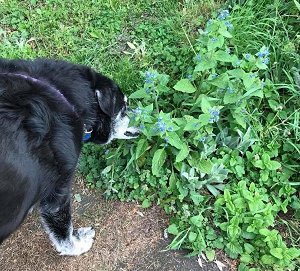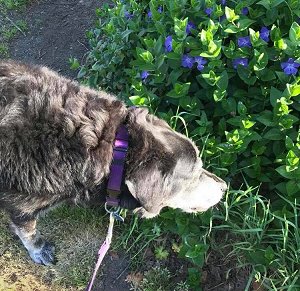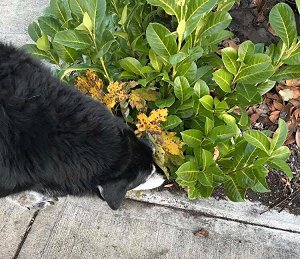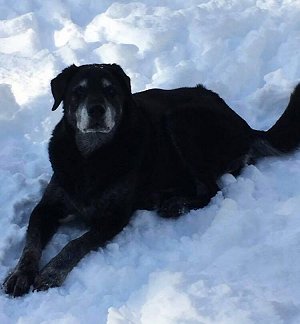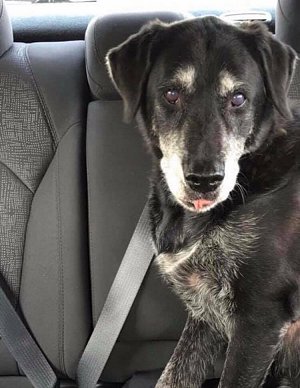 A vet came to their home to help Shaydee pass over
The Rainbow Bridge...when she let her family know
it was time for her to rest.
These last two pics are of her final goodbye.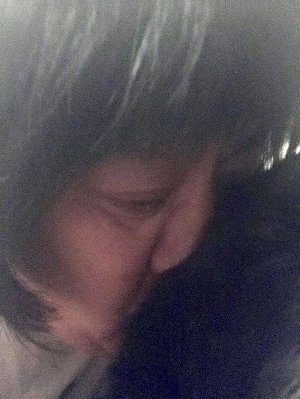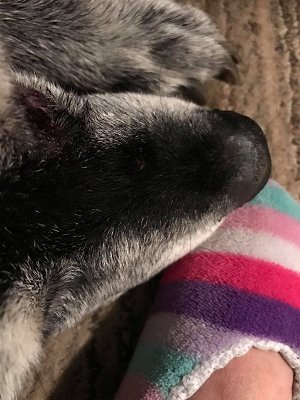 Up to Top
Linda and Jim had already adopted a K9 Hero, Mazzie, who joined their golden, Ruger. Mazzie is alive and well and enjoying retirement. You can see Mazzie's K9 Pillow here: Mazzie. Then in early 2018, they opened their heart and home to another K9 Hero, beautiful Geli. Scroll down to read about her career and see more pictures.
"CWD Geli NDD served in Kuwait for 4 years. She was rescued by Mission K9 Rescue in February 2018, and we drove from Utah to Houston to get her in March. Mazzie went with us to make sure they got along.

"Geli doesn't know that she is retired, so whenever she is away from home, she is working. She is a sweet, confident dog who is friendly with everyone. Geli has taught Mazzie how to play. She loves toys and tends to hoard them. She lets Mazzie have a toy, and he now plays, too. Geli has let her two big brothers know that she is the princess in our home.

"I'm sure that in Kuwait she was an expert at her job, but her biggest accomplishment is helping CWD Mazzie relax and enjoy being a pet."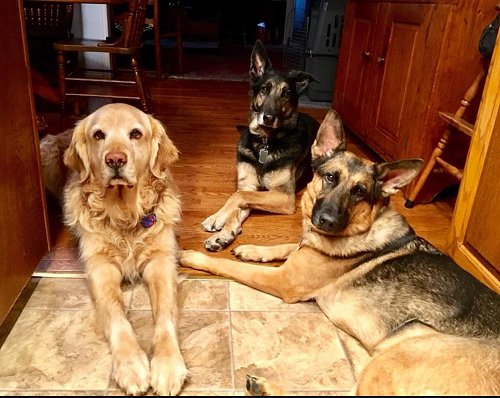 Ruger, Mazzie and Geli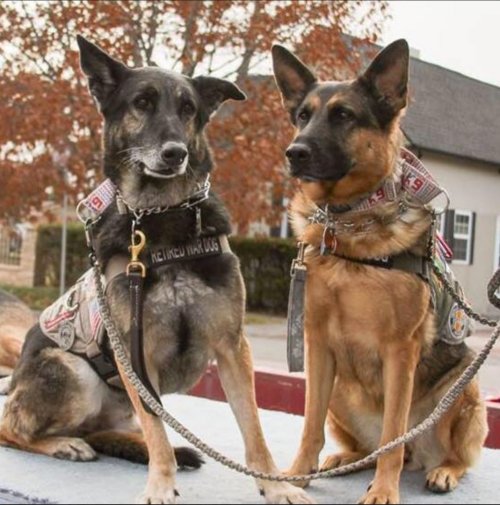 K9 Heroes Mazzie and Geli

Up to Top
Law Enforcement Officer Polly contacted me because she wanted to have a pillow made of her former K9 partner, Reiko, who passed away. She wanted the pillow for her son, who was having a hard time getting over missing his beloved buddy and mom's LEO K9 Hero. Don't miss scrolling down to read what she had to tell us about this much beloved K9 Hero. And see lots of great pictures below of her son with Reiko, who was not only mom's partner, but her son's best friend and also his life saver. A true K9 hero, in more ways than one.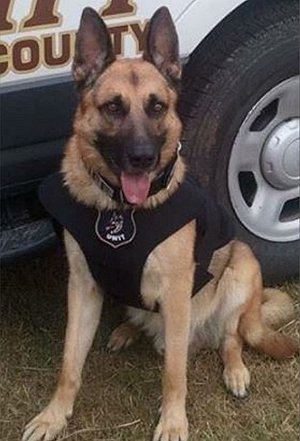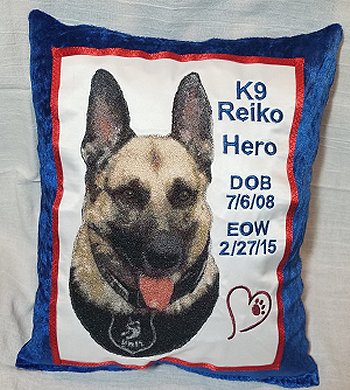 "There is so much to say about K9 Reiko that it's hard for me to put it into a short paragraph.

"K9 Reiko was a military dog once upon a time who lived with his handler. The time Reiko wasn't with us is a mystery. Reiko was pulled from a kill shelter. When Shawn went to pick him up, people were very afraid of Reiko.

"Reiko was very different than K9 Athena (my current K9 partner). And within the first ten minutes of Shawn and Reiko being home, I learned the hard way just how different...Reiko bit me when I went into the house. Oops on my part.

"Kagun, who had just turned 3 at the time, became Reiko's best friend. Reiko and Kagun would lock me out of the house. I called Shawn one night very upset because Kagun and Reiko were standing at the door and I couldn't get in the house. Kagun laughing telling Reiko to 'get momma.'

"While Reiko holds a record for arrest, hundreds of thousands of dollars recovered in drugs and cash, my favorite stories are of Kagun and him. Together the two 'set the house on fire' with Reiko's favorite toys. They played ball together and slept together when Shawn wasn't at work.

"But what Shawn and I came to realize one night changed our lives. You see, Kagun is deaf and has very bad breathing problems. He is deaf caused from trauma when he was born. One night while in bed asleep, Reiko came to me. He grabbed my hand and pulled me, then let go and went to Kagun. Kagun was having problems breathing and Reiko was letting me know! That is when Shawn and I decided Reiko was so much more important to us at home with Kagun.

"Reiko's main job became loving Kagun and letting us know when Kagun was having breathing problems before Kagun even showed signs of problems. The two were always together. They played ball, cleared buildings, and Reiko would watch Kagun swim. When one was in trouble the other was right there. So Reiko became my partner during the day and was still on patrol some, but stayed with Kagun at night.

"On February 26, 2015 Reiko became ill. I called our normal vet who said she could not see him. So I went looking for help. I took Reiko to another vet and eventually found out Reiko had bleeding on his brain. He passed away the next day.

"I lied to Kagun that morning as I dropped him off at school. Kagun's little world was about to be turned upside down. His buddy was gone.

"Reiko...who we found within hours of being lost to death row...changed our lives forever.

"There will never be another Reiko."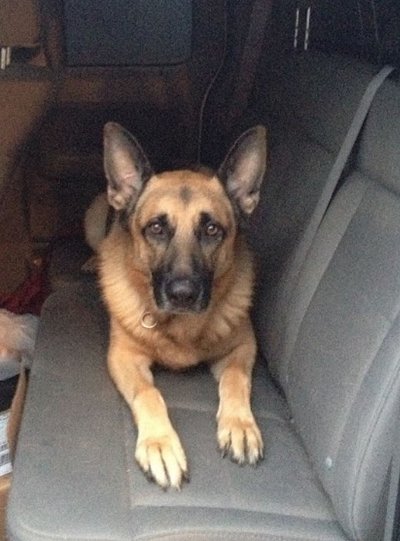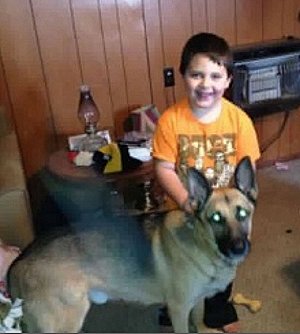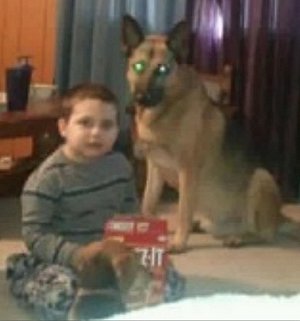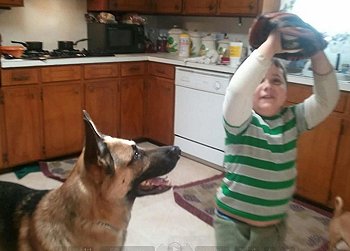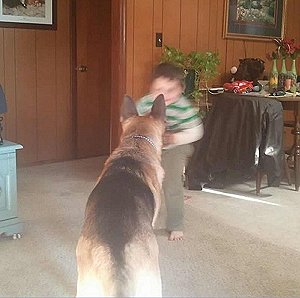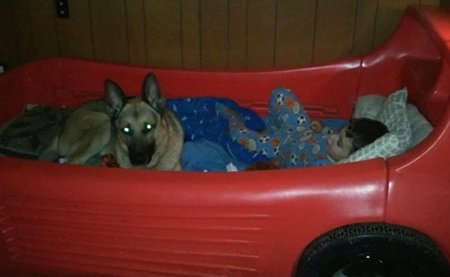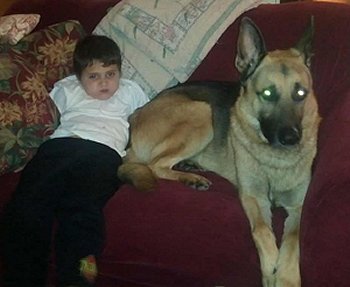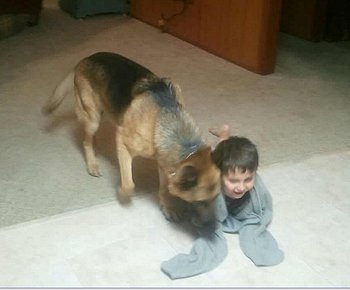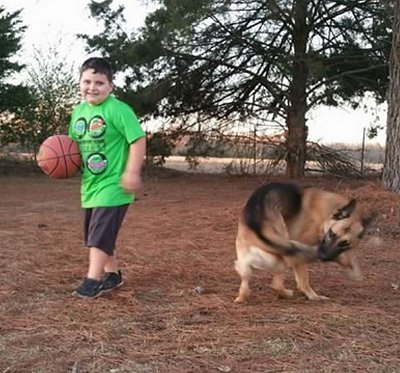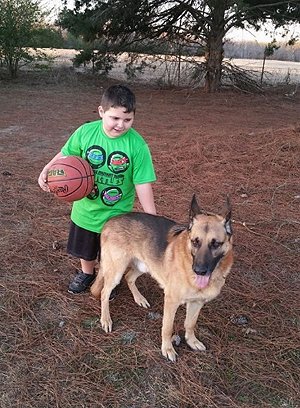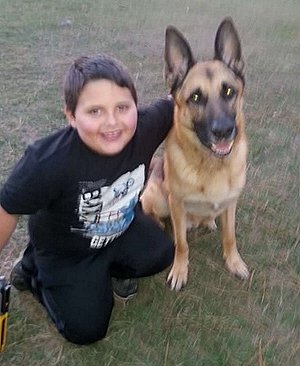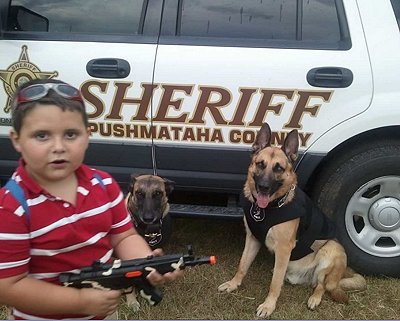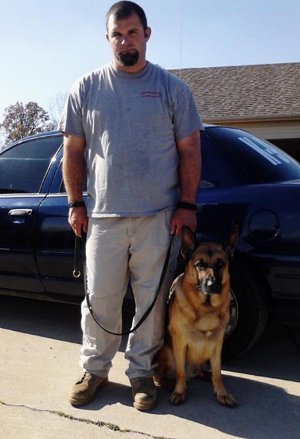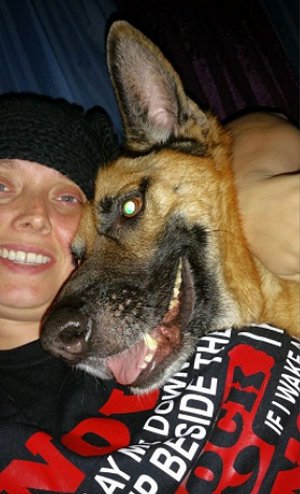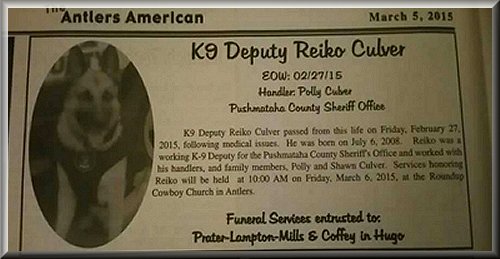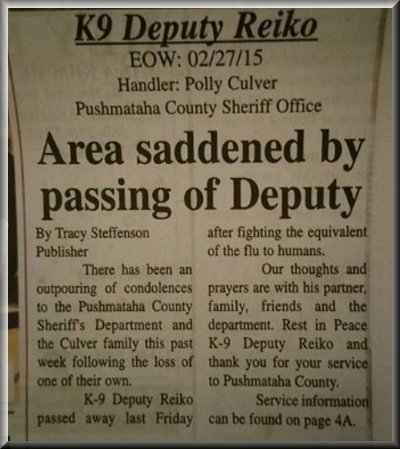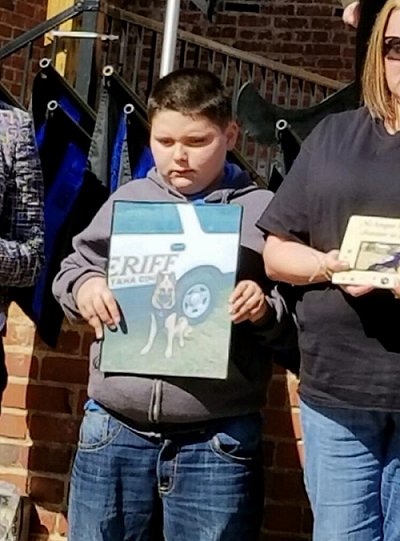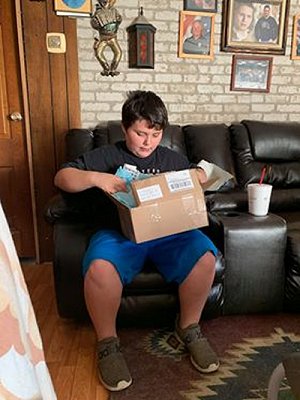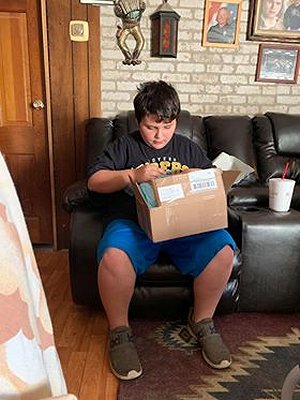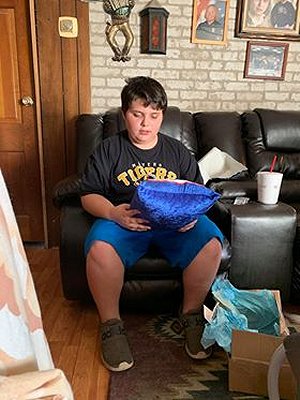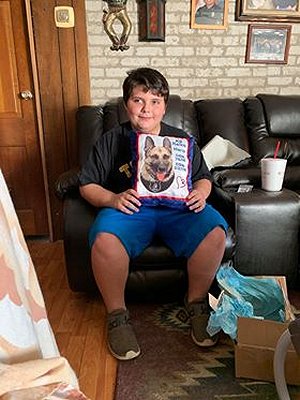 Up to Top
Jasmine and Mark sponsored this pillow for their friends, Susan and Billy, who recently lost their 'Bubby,' formally know as TJ. See below to read what Susan had to tell us about sweet TJ, as well as see a few more photos.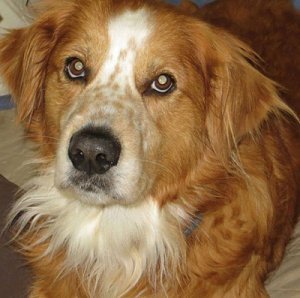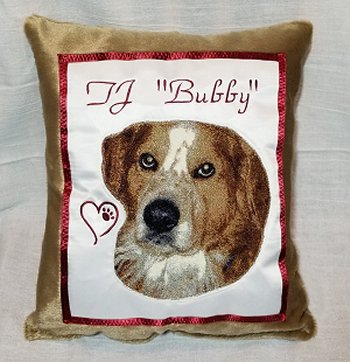 TJ wasn't a K9 hero, but he was a beloved family dog.

We adopted TJ when he was 8 weeks old. A friend mentioned that someone she knew was trying to find him a home. My husband's heart dog, Toby...also a golden, had passed away at 10 yrs old. We already had a black border collie, Bear, about a year old. I thought my husband would like to have another golden. Little did I know TJ would choose me as his human, not my husband. I had never been chosen before. It's the most awesome feeling. TJ would meet me at the door everyday and was my shadow whenever I was at home.

Bear passed in 2016. TJ passed in 2018 at 13 and a half. They were best pals and furbrothers. It has been a hard loss for me.

I am grateful to our good friends like Jasmine for their love and support. Thank you for this beautiful pillow. You do wonderful work and bring great comfort.

Sincerely, Susan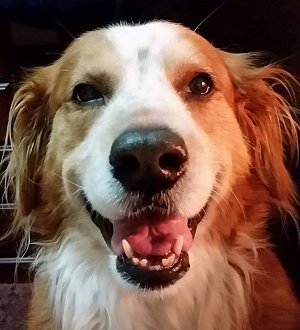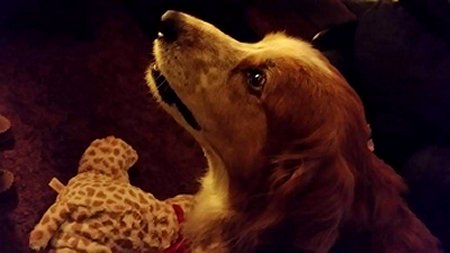 Up to Top
Staci, President & Founder of Protecting K9 Heroes, providing protective equipment for K9 Heroes, sponsored this pillow to honor LEO K9 Hero Nemo, who passed away in November, 2018 due to a rare medical episode. Nemo and his partner Ofc Peska worked in Monroe County, OH.
Nemo was 7 years old. He was imported from Frankfort, Germany. Nemo was trained as a dual purpose K9. He started training at approximately 1 year old with Azzi International. K9 Nemo began working the roads in Monroe County a short time later. Nemo was certified in narcotics, apprehension, tracking and social exposure, as well as handler protection. Nemo worked alongside K9 Ax and K9 Eric, who are also members of the county K9 unit.
He was a huge asset to Monroe County and the Sheriff's office and is greatly missed.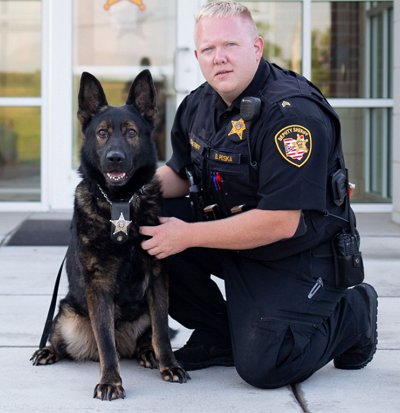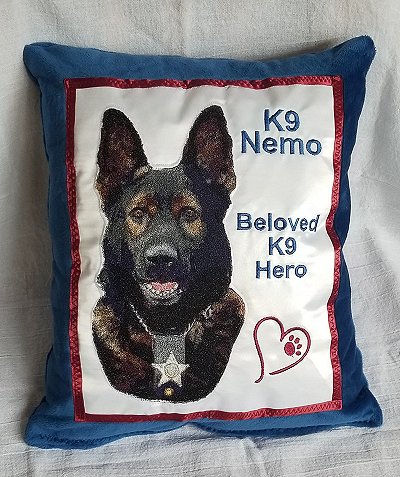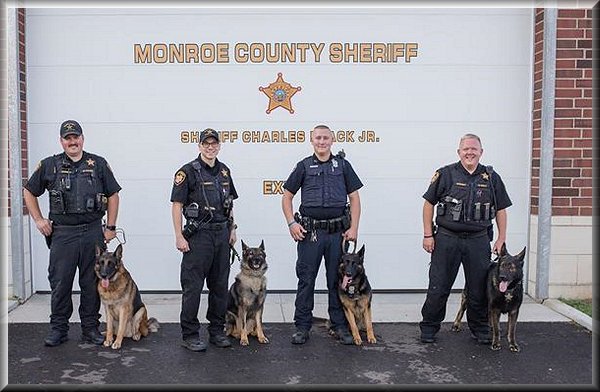 Up to Top
Anthony purchased this pillow to honor his beloved Sandi. He also made a generous donation to cover the cost of a free pillow for a K9 Hero lost in the line of duty. Be sure to scroll down to read more about Sandi and see more photos.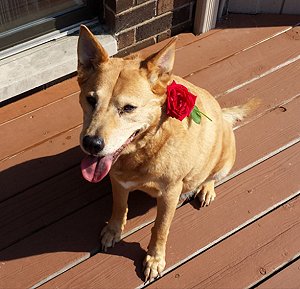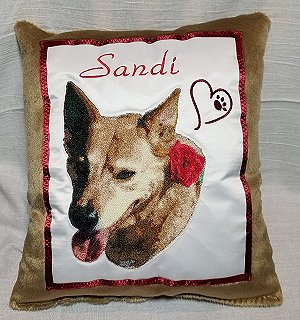 "I used to shoot pool on a league in Lapeer. A friend of one of my teammates stopped in one Monday in December back in 1999. His dad had been diagnosed with cancer and he was moving home to Traverse City to help take care of him. His brother was already there. His dad had 2 dogs. His brother had 2 dogs. They told him he could only bring one dog. He had two. One was six and the other was Sandi. She was 8 months old. He was finding her a home that night or she was going to the pound on his way out of town. She went home with me and has always been the best lady I ever took home from the bar.

"When she was 2 she got hit by a truck. Cost me $400 to save her. My friend at the time had bought a long haired black german shepherd and spent $800 on it. She was twice the dog he was. I can't count the number of people that have told me that she was the best dog they ever met. I can't argue with them. She was the best dog I ever met.

"I did not know here real birthday so I chose the ides of March. She lived a month past her 19th birthday. She was pretty rare being a lab/dingo mix. She loved everyone (except squirrels) she ever met. When she got older, she did not have any patience for young dogs. However, when I started fostering Bart, who was to become Ludo, she looked after him and played with him. She was an excellent judge of character. He is 3 now and adopted officially into the family a couple years ago. He took care of her in her final months often curling up on the same dog bed with her.

"She was with me 18 years. Sometimes she was my only friend, but she was always my best friend."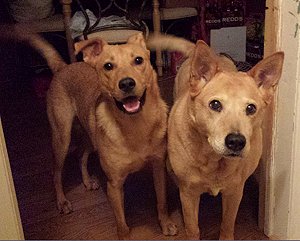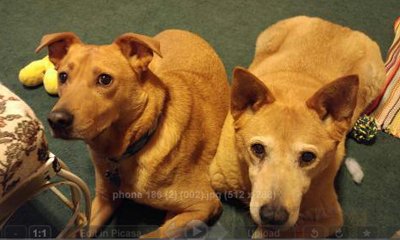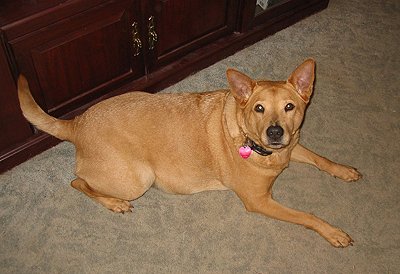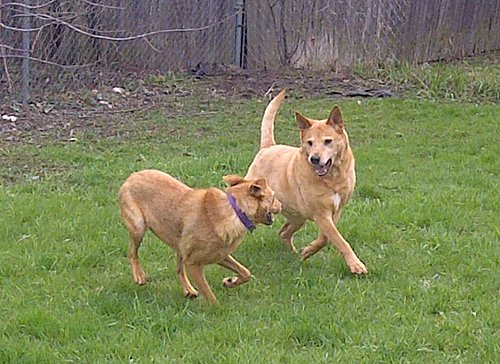 Up to Top
Karen ordered two pillow to surprise her husband for Christmas. And since he's a Police Officer who will be working during Christmas, he received his presents a little early. Ferro is still enjoying retirement with his family. His 'brother' MWD Sammie has sadly passed over The Rainbow Bridge. Be sure to scroll down to see more great photos and read about Ferro's career.
NOTE: Karen told me a cute story that...once at a K9 event, she thought her husband had handed Ferro off to someone else to watch him for a moment. Then she realized that that dog was not Ferro, but a dog that looked just like him. It turned out that it was CWD Mazzie, who they also soon discovered is actually Ferro's littermate! And Mazzie has a K9 Hero Pillow on this site, too!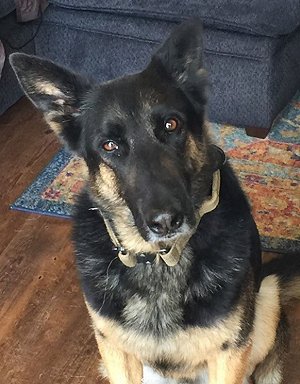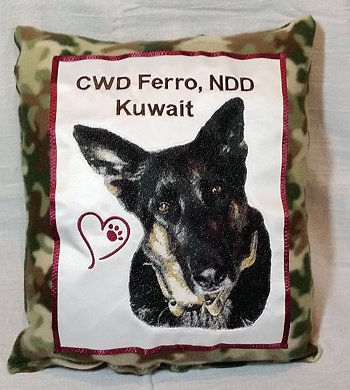 CWD Ferro, NDD (Retired) served in Kuwait working boarder control for five and a half years. Ferro was born 20 July 2010.

Once he retired, Mission K9 Rescue brought him back to the US and he was adopted into his forever family. He served as a K9 Ambassador with War Dog Memorial Colorado.

Ferro currently lives in Oklahoma, where he keeps his pack of six and family safe and enjoys traveling with mom anytime he can.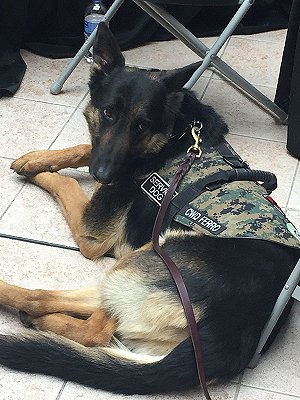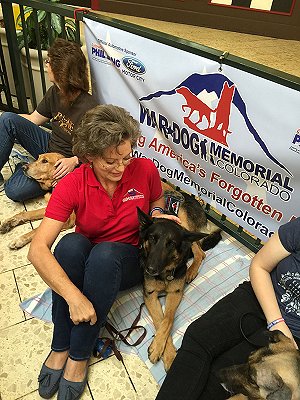 War dog run at Ft Carson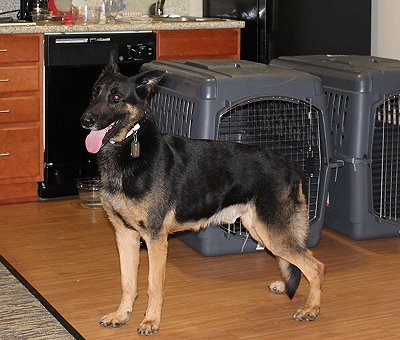 The day we got Ferro from Mission K9 Rescue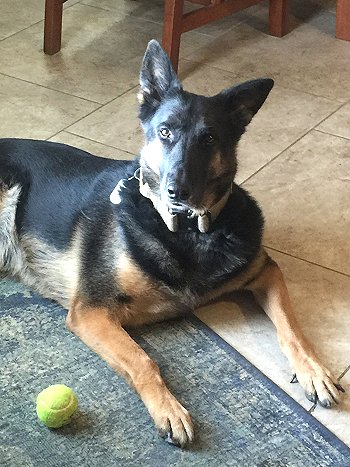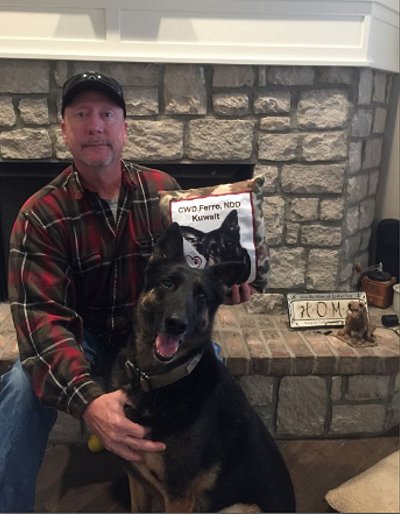 Up to Top
Karen had two pillows made as Christmas presents for her hubby. And since he's a Police Officer who will be away working for Christmas, they had a little early gift giving event so he could received the pillow for Sammie, who sadly has passed over The Rainbow Bridge and also one of CWD Ferro, who is happily living with them. Be sure to scroll down to see lots more great pics and learn more details about Sammie's career.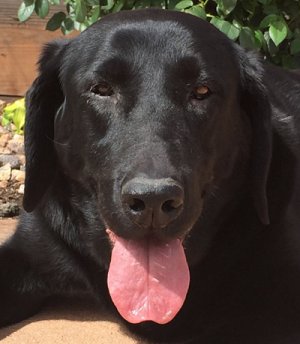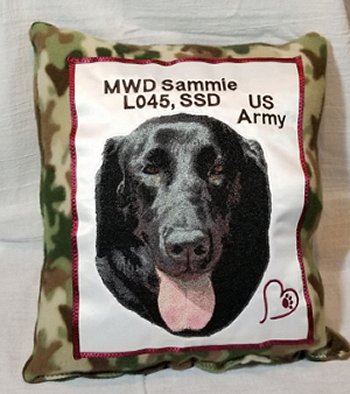 MWD Sammie L045 SSD US Army (ret.) was born April 1, 2005. Duty End Nov 16, 2015.

She was born at Lackland AFB and started working at 1 1/2 years old. Sammie was deployed to Afghanistan as well as completing numerous missions stateside during her career. Sammie was retired at the age of 9 in 2014 Fort Carson.

In retirement she continued to joyfully serve as an Ambassador for the War Dog Memorial Colorado and thoroughly enjoyed her time as a loved family member chasing balls and playing with her "pack". She was adopted in August, 2015 and joyfully lived out her retirement in a loving and happy home.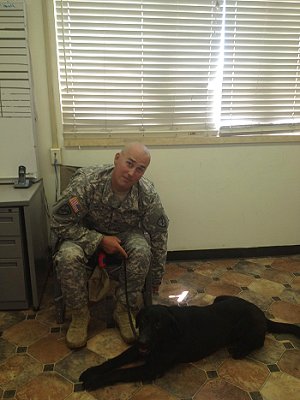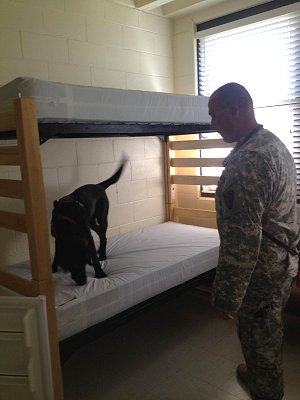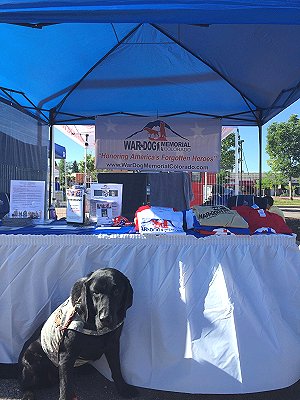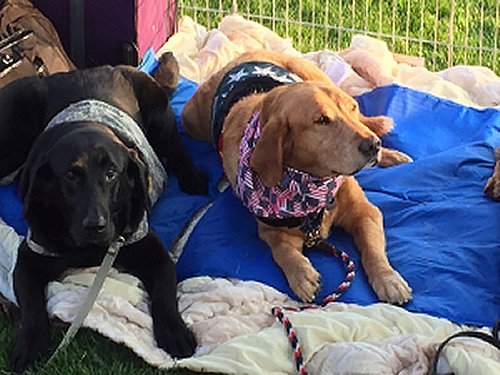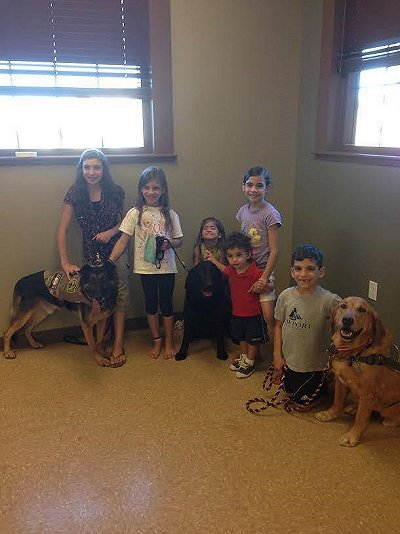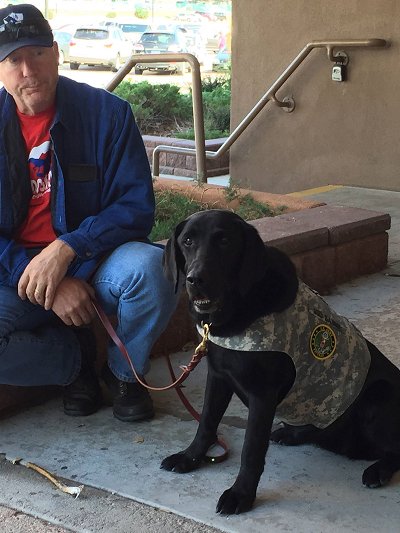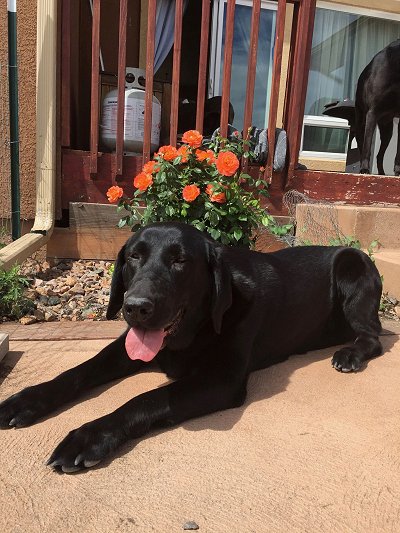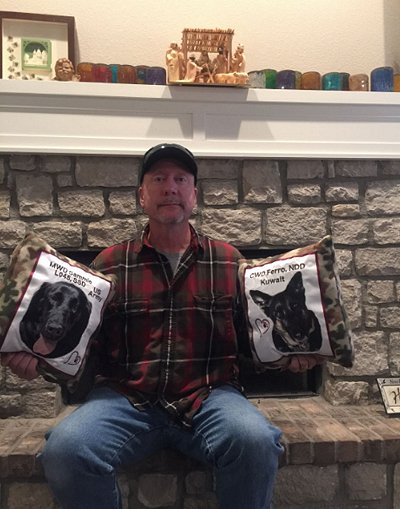 Up to Top
Carol's son, Erik, asked his mom if she could get his buddy, Jeremy, a pillow of his MWD Fito that he recently lost while in retirement, just like the pillow of his own MWD Tasli, that Carol had gotten for him. Carol and Erik sponsored this pillow for Erik's buddy, Jeremy, as a surprise. He recently received it and loves it. Be sure to scroll down to see more photos and read Jeremy's own words about his time with his Military partner, his K9 Hero MWD Fito.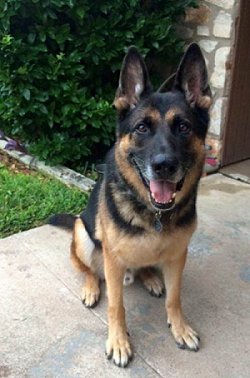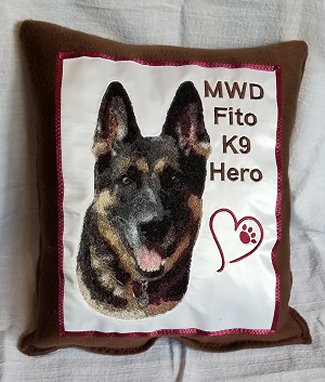 "Fito was a combat tracking dog (CTD) in the Marine Corps. I was initially paired up with him when I went to combat tracker school in the Fall of 2008. From the jump, he and I shared an instant bond. We trained together in 29 Palms, California until January 2010 when we deployed to Afghanistan in support of Operation Enduring Freedom.

"We spent approximately six months in Afghanistan and were a part of Operation Moshtarak, which took place in Marjah, Helmand Province. After we came back home, Fito was sent to Lackland AFB to be a training dog down there for new handlers. I separated from the Marines in 2012 while Fito was still at Lackland.

"In 2014, I received a phone call asking if I was interested in adopting Fito because he was getting ready for retirement. Without hesitation, I said absolutely. He and I spent the next four years together enjoying his retirement and my civilian status.

"He is, without question, one of the best friends I will ever have. This pillow will remind me of him daily as it sits on the couch beside me—just like Fito used to do."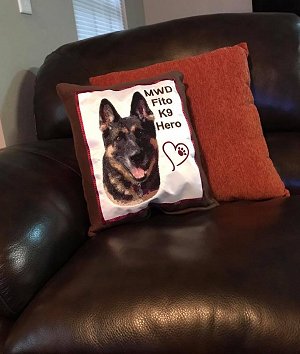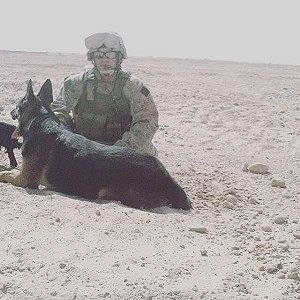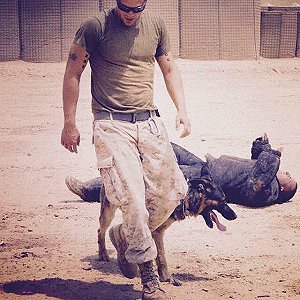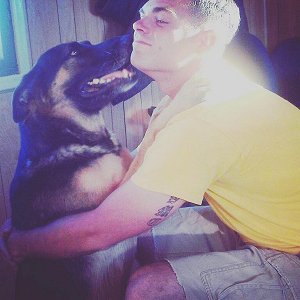 Up to Top
Retired Police Officer, Becki, sponsored this pillow to honor LEO K9 Hero Enzo with the Vancouver, WA PD. Enzo retired in April 2018 after an illustrious service record that started in 2012. Sadly, he only got to enjoy a few months of retirement, with his partner and his family, before he passed away. Be sure to scroll down to see more information and photos of this K9 Hero...LEO Enzo.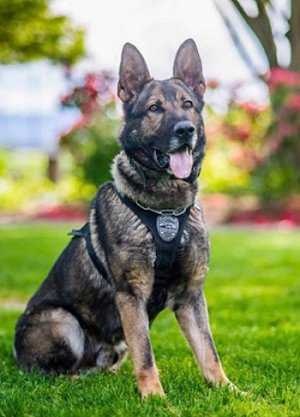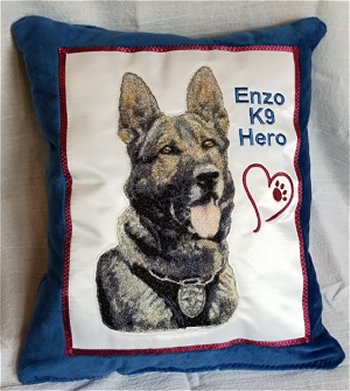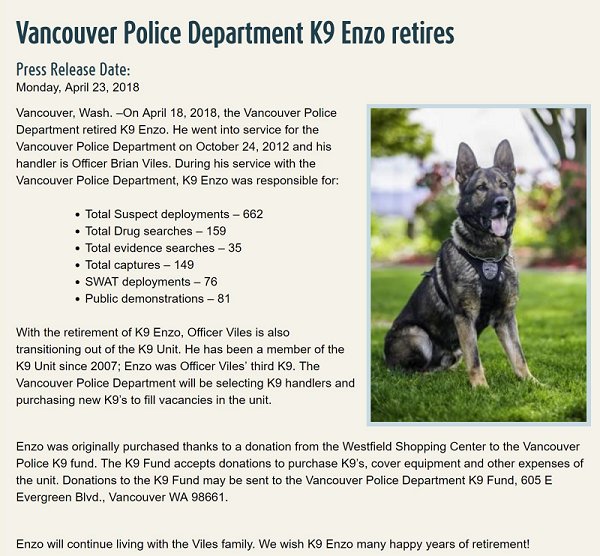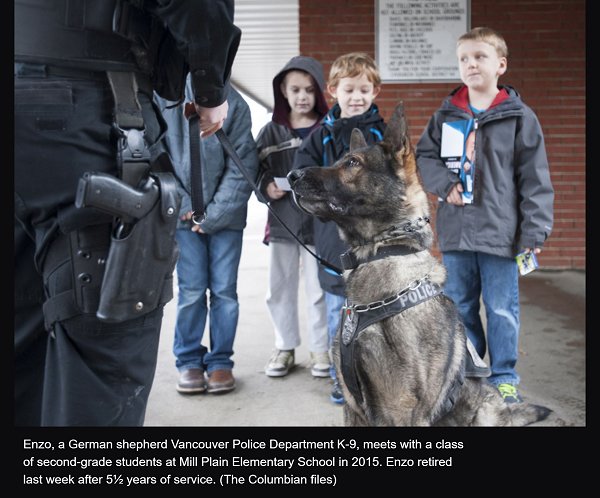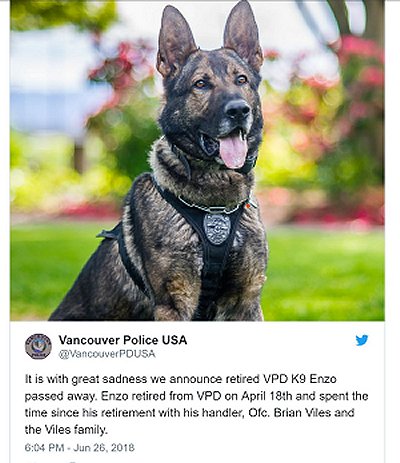 Up to Top
I created Charlie's pillow earlier in 2018 and have been waiting for a bio, but that hasn't yet arrived. So I needed to post his photos before I forgot to post them and I will update details whenever more information arrives. He was a gift from a friend to his family who was concerned for this old gentleman's health.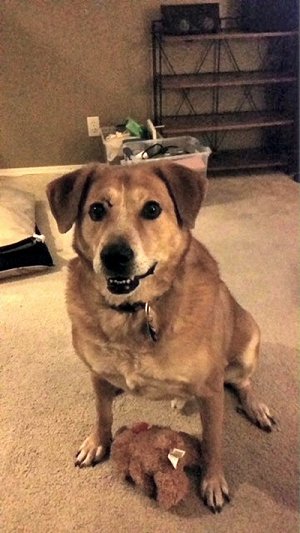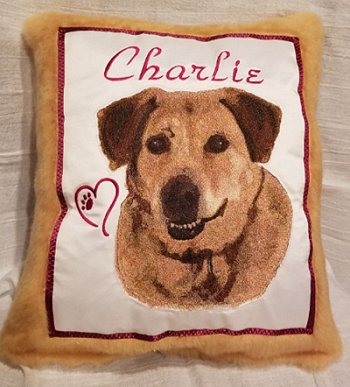 Up to Top
I signed up as a volunteer to help with the Take a Vet Fishing local event. Through that, I met Michael, who learned about my K9 Hero Pillows when I offered to donate one to an attending veteran at the event. Michael's mom recently lost her beloved dog, so Michael sponsored a pillow for her (See Scooter below).
Michael would be attending the event as a fishing guide with his friend, Shaun, who is a veteran. Like too many service wo/men who have endured combat, Shaun had some trouble readjusting to life after war. So Shaun now has a service K9, Sig, who watches his back. Michael sponsored a K9 Hero Pillow for Shaun. I TRY not to include humans in my pillow images, because I'm not very good with human facial features; but this photo touched me so much, it was the one I felt I had to try to do.
Michael presented the pillow to Shaun and Sig during the May 20th, 2018 Take a Vet Fishing event. Then they also drew the name of another veteran who will HOPEFULLY contact me so I can make him the K9 pillow he won during the event. I also donated one of my hand crocheted American Flag Lapghans. Be sure to scroll down to see many more photos, as well as an explanation of the lettering meaning on the pillow.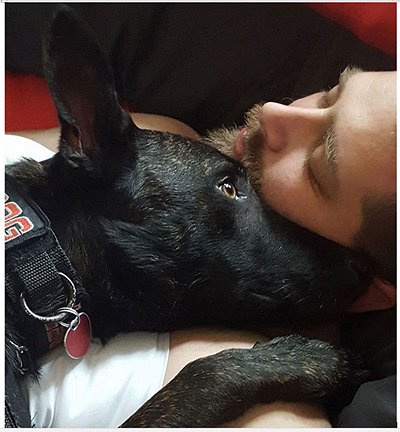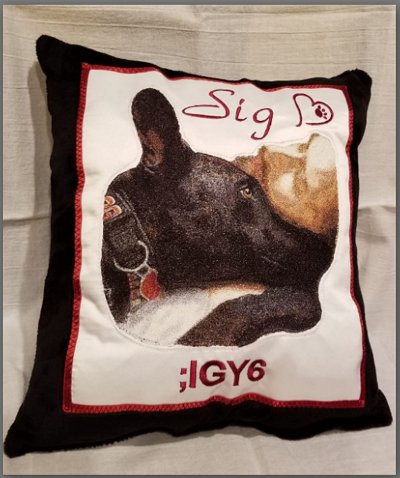 About the lettering on Sig's pillow...

Just as a semi-colon separates two complete sentences with regards to English grammar, the semi-colon has now also become a logo of sorts for those who have been through troubling times and are now looking forward to a better second part of their lives. (Google 'Semi colon for life' for more info.) So Sig's pillow has a semi-colon as a way to show Shaun that this is the new, second part of his life, after enduring tough times.

As for the IGY6, anyone who is familiar with pilots or aircraft movies has probably heard someone say something like "bogey (or bogie) at 3 o'clock." This would mean that an apparent enemy plane is at someone's 3 o'clock position, i.e., their right. This goes back to WWII pilots who used clock positions as locators. These terms are still used today with pilots, in the Military and also law enforcement. Whereas the 12 o'clock position would be in front of you, the 6 o'clock position would be behind you...your back. Over time, these terms have been used often, as in "I've got your 6" or rather "I've got your back." So the lettering on the pillow...IGY6...is Sig's way of assuring Shaun "IGY6" or "I've Got Your 6" or "I've got your back."

You can follow along with Sig (and Shaun) on Sig's own Facebook page here: https://www.facebook.com/sigtheservicedog/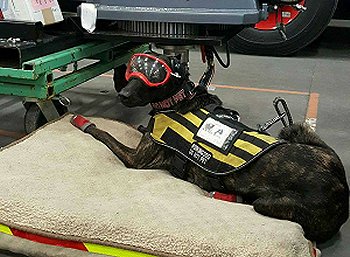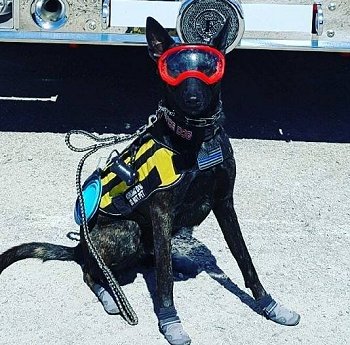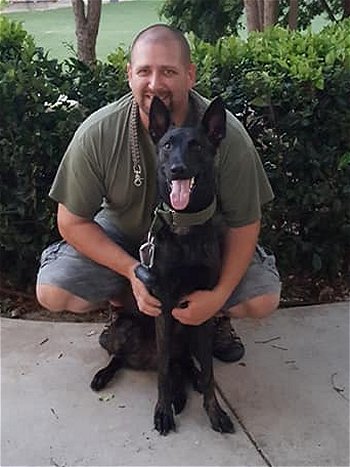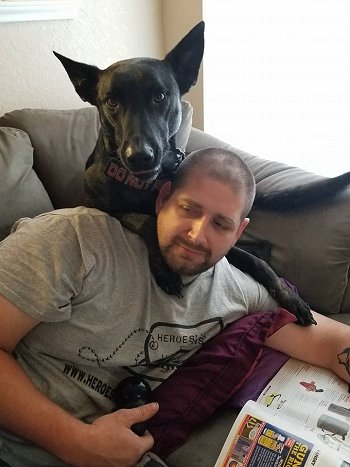 Shaun & Sig during the
Take a Vet Fishing event
May 20, 2018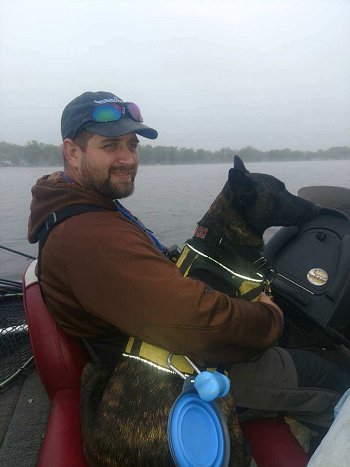 Michael presenting Shaun with Sig's K9 Hero Pillow
and explaining to everyone that someone will
win one of these K9 Hero Pillows of their own K9/dog
in the free veteran drawing.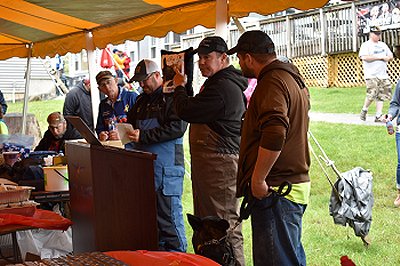 Unfortunately, I don't know the name of the winning veteran,
but this is him...along with his own service K9.
Hopefully, he'll be in touch with me soon so I can make
him his own K9 Hero Pillow as his prize.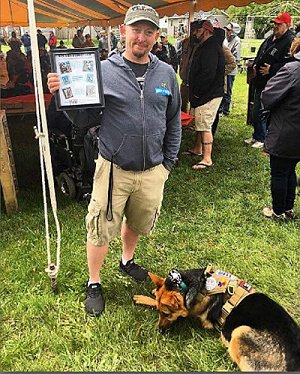 I also donated one of the hand crocheted American Flag Lapghans that I make.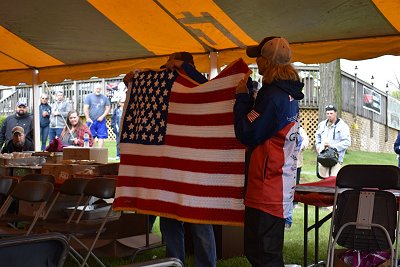 Again, sadly, I don't know the winner's name, but this is who won my flag.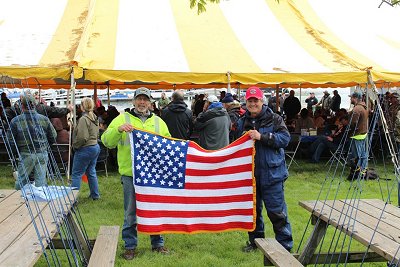 Congrats to the winners!

Up to Top
It's hard to know what to say about Piper. MANY of us knew of him and were fans on his page. And I had the wonderful honor of meeting and petting Piper at a Police K9 Memorial when Loreen presented LEO K9 Hero Jethro's portrait to his family. Although Brian did not see Piper as a Hero, many of us did...as he kept his airport safe from bird strikes and kept those in many planes safe...including the Coast Guard and Blue Angels! This pillow was a sponsored gift from Loreen Pantaleone. Be sure to scroll through several additional photos below and read Brian's final remarks about Piper after this K9 Hero passed.
And you can learn more about Piper at this page: https://www.facebook.com/airportk9/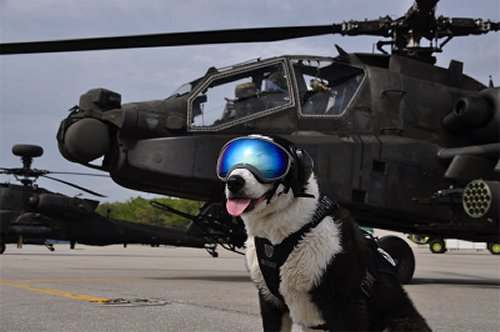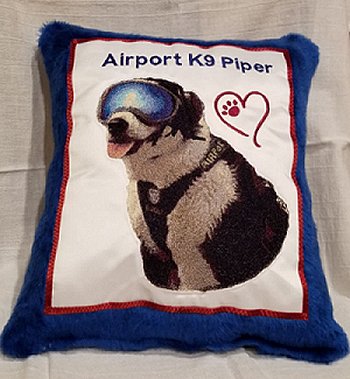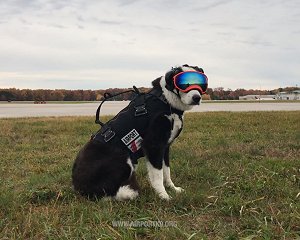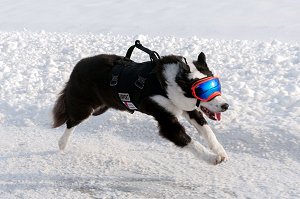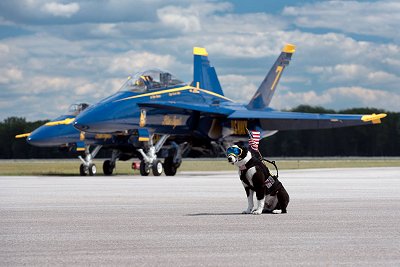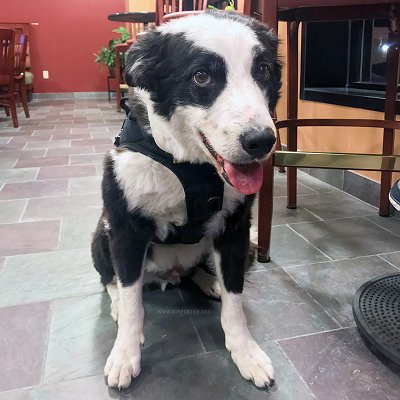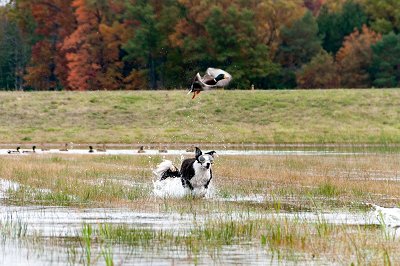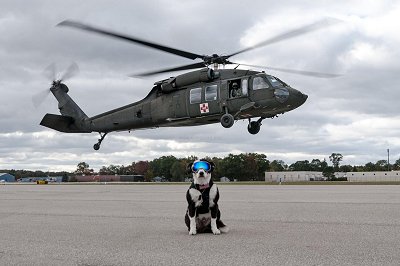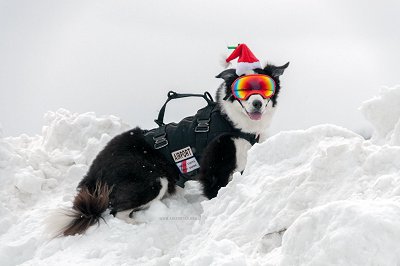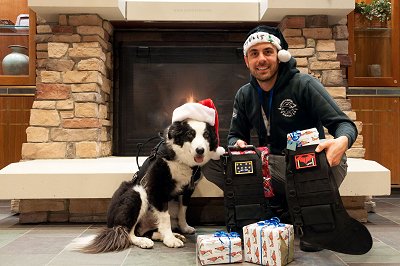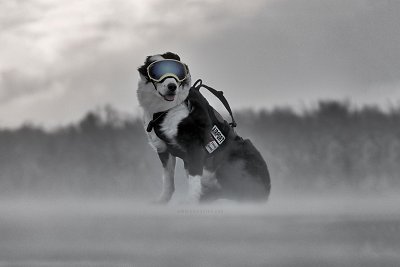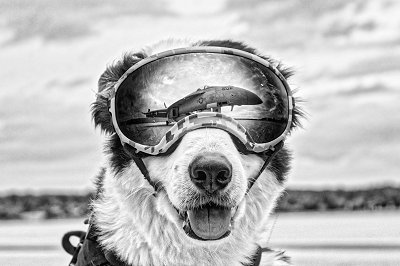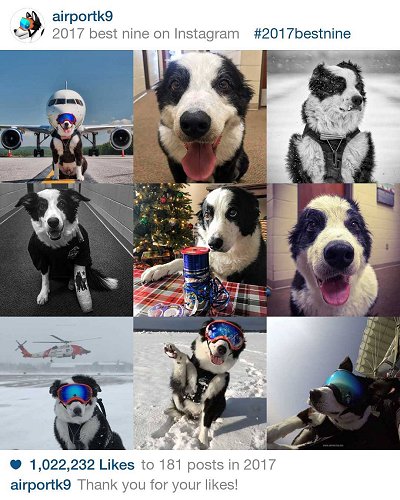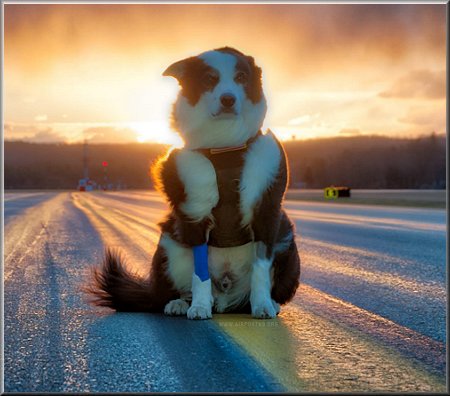 From Brian, after Piper crossed The Rainbow Bridge...

"The fear of death follows from the fear of life. A man who lives fully is prepared to die at any time." ~ Mark Twain

This is perhaps my favorite quote to sum up how Piper and I chose to live, not only his last year, but all of our years together.

It was not an easy year. Learning of the cancer was hard, but we both remained hopeful. Piper began chemotherapy in March and we never looked back. We chose to continue to live life as normal. We were doing what we could and remained positive.

There was no need to tell anyone, save for close friends and family, because nothing changed. Piper continued to work his butt off and be the same pup everyone, including you all, knew and loved. We didn't want any sympathy or to be treated differently. We were no different than countless others dealing with this disease. That being sad, I felt an obligation to those of you who've donated over the years. The financial burden of chemo was lifted because of donations and for that, we will be forever grateful. So while the decision to not say anything didn't come lightly, I'd do it again in a heartbeat.

I won't lie, it was tough smiling through the pain sometimes. There are images/posts that take on a different meaning knowing he had cancer, but looking back, I'm glad we made those posts and had such a positive outlet in our social media.

This image was one I would loved to have posted. Taken days after his first chemo treatment, with his shaved legs and a bandage, Piper showed me the true meaning of courage. He was not going to let cancer, chemo or anything else define who he was.

That is what I hope part of Piper's legacy will be. Whether it's cancer or anything else crappy going on in your life, don't let it define you. Stay positive, smile, be courageous... be you.

Up to Top
Unfortunately, I don't have much information about Scooter, except for the fact that Michael saw my pillows and sponsored this one for his elderly mother as a birthday present...to honor her much beloved dog who recently left her to cross The Rainbow Bridge. On the back of his mom's photo that he sent me for the pillow, it say "Scooter - not very big, but sure is a lot of fun." When his mom received the pillow recently, she called him up...in tears...to thank him. She loved her pillow.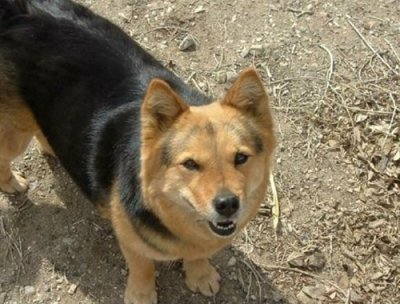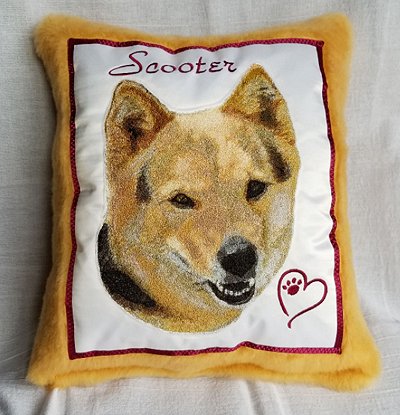 Up to Top
Occasionally, I can use a little help purchasing the supplies I need to make these pillows, since I don't charge for my time nor do I charge the full cost of making these pillows, so I pay for a lot of my sewing items for these pillows on my own. In February, I ran a raffle to raise a little extra cash to reload some supplies. Big thanks to all who donated! Darlene was one of my supporters who made a donation in the hopes of winning the raffle...and she did win! Her prize was one of my K9 Hero Pillows. She has a sweet dog, Gabrielle, or Gabbie Girl as they like to call her, who is alive and well. She sent me her favorite photo of Gabbie and this is the photo and resulting machine embroidered pillow. Be sure to scroll down to read what Darlene had to say about Gabbie Girl, as well as see more of her favorite photos.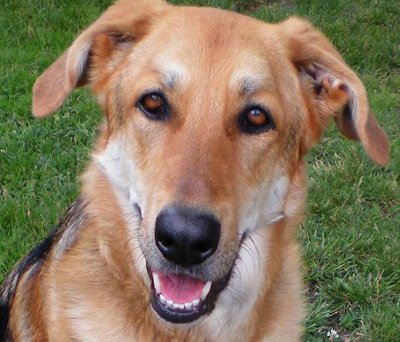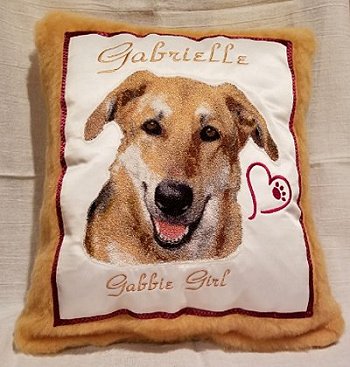 "We lost our beloved soul dog Oscar at the age of 14 on Dec.1, 2010. The pain was crushing. That evening we got a call from a friend telling us that her dog had fathered 5 puppies and they wanted us to have one of them. We turned her down because of the horrible loss we had just gone through.

"The depression over the next week was overwhelming, so my husband told me to call our friend to let her know we'd at least like to look at the puppies. When this precious baby girl looked up at us, we knew she was meant to be ours.

"The puppies weren't supposed to leave their mother until January, but on Christmas Day we got a call that the owner of the mother dog wanted all of the puppies gone that day. Our friend brought our girl, two girls for themselves and another one for a friend to their house. We really scrambled to get everything ready for the new arrival. She was only 4 weeks old (born on 11-23-10) when we brought her home.

"She has been the most loving, loyal and protective angel in the world. She is definitely our heart dog. She may not be a K9 Hero; but to us, she is definitely our hero of love. (I could go on forever about her.)"

Gabbie is a bit obsessed with sticks! LOL!

Up to Top
I live in Lake County, IL so I offered to sponsor pillows for each of our Sheriff's K9s, Diesel, Duke and Dax. So far, Diesel's handler has gotten back to me to take me up on my offer. Diesel is alive and well and busy protecting our community. Hopefully I'll soon get to do Duke and Dax, as well as our own town's K9, Hank. See more details and photos below.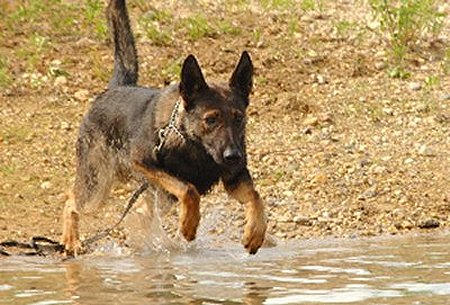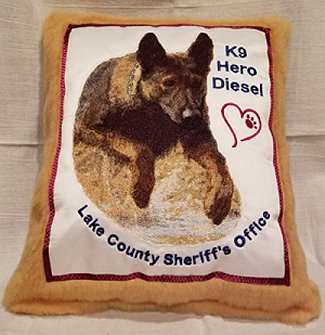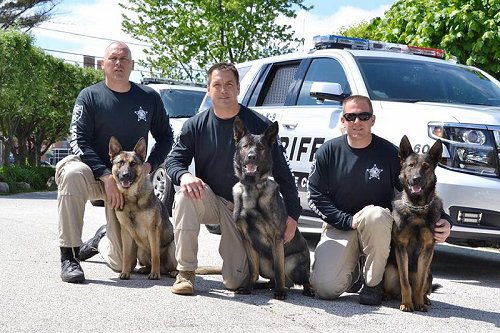 Duke, Dax & Diesel, Lake County Sheriff's Office K9s
Diesel and his partner are often called upon by various towns within our county to track
down fleeing criminals (many of which Diesel has caught!)...
as well as find lost kids, which Diesel did in 2017 finding a lost 8 year old boy.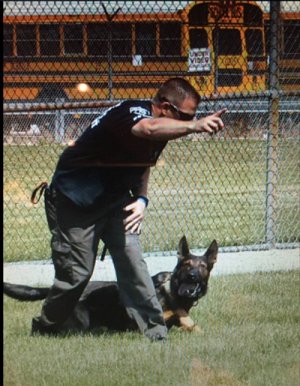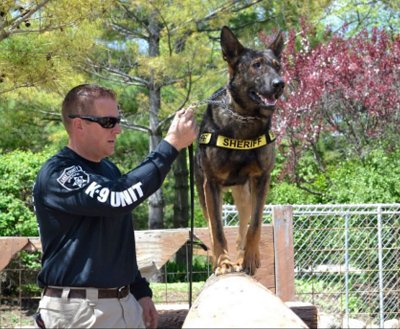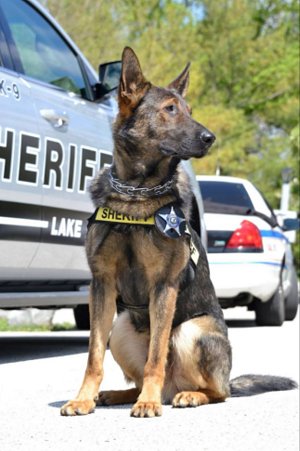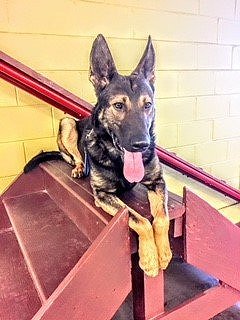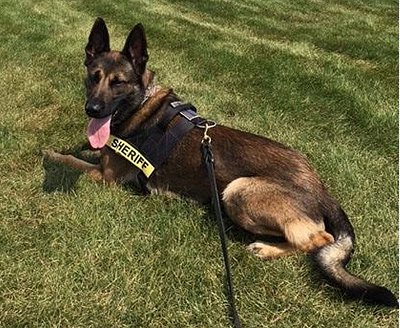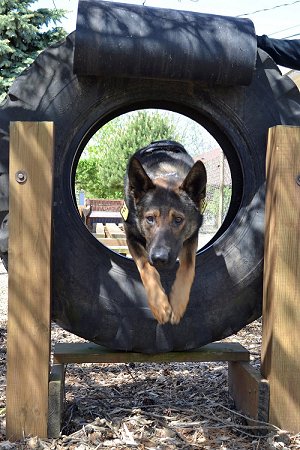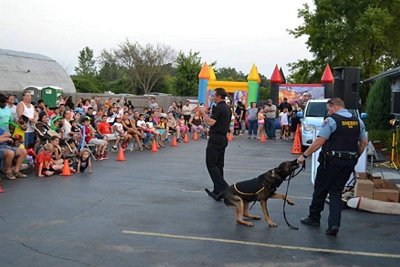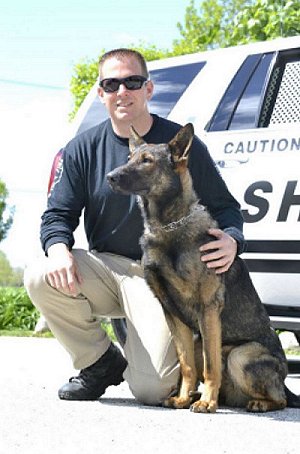 Up to Top
I was upset that Gizmo came out a bit darker than the photo, which sometimes happens through the digitizing. I offered to try again, but they would have to wait until other K9 Heroes were finished, but they said it was perfect and loved it! I did, as always, fall in love with this face...as I do with all the K9 pillows I make. Be sure to scroll down to read more about Gizmo...or Tater Tot...as his loved ones often called him!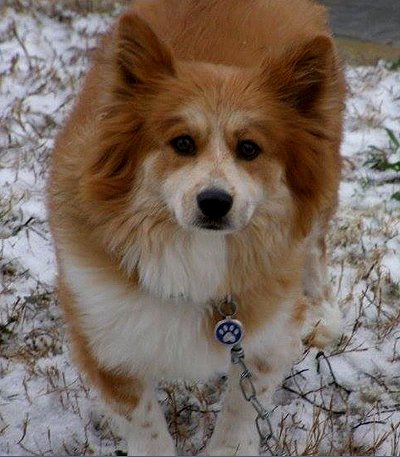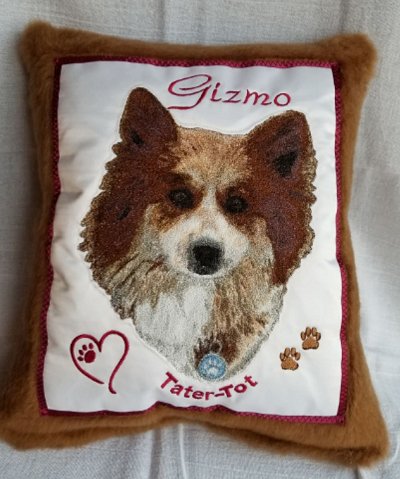 "Gizmo had his own special story of how he came to be with us and I will never forget the day I first laid eyes on that little man; nor will I forget the memories from the years we had with him.

"There is so much I am going to miss about him, his "pretty eyes" that he would give us, his "elvis lip" he would do, or how he would take an ice cube in his mouth, then fling his head and let the ice cube go flying across the floor, then he would run after it, pick it up and fling it a few more times before he would eat it.

"I will miss the special hugs he would give by bowing his head and pressing it up under our chin and just lean in and hold it there, or the "foot loving" where he would lay down at my feet and want me to rub his head with my foot.

"I will miss the special way he use to sit by cocking one of his back legs out to the side - that is how he got one of his nicknames, "Side sitter". There was never a day that he was not loved, nor never a day that he did not give love, even right up till he closed his eyes for the last time.

"He was a gift and we were the lucky recipients...and for that...I am thankful.

"Tater-tot: Mamma misses you... and you will always hold a special place in my heart."

Up to Top
Sophie is alive and well. This pillow was a gift to a friend from a deployed soldier. Although I haven't yet received an official bio, if I do, I'll post an update so we can all learn more about this pretty pup!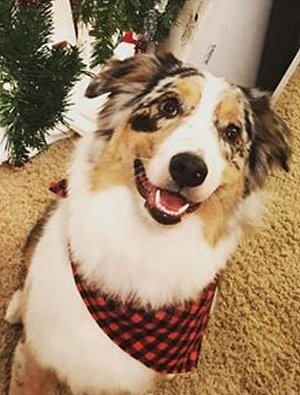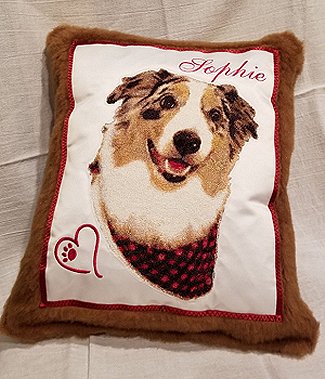 Up to Top
Estee saw my K9 pillows and thought one would be a wonderful Christmas present for her daughter Misty and her son-in-law, John. River is alive and well! Misty and John often foster dogs and cats and have a couple of each, but when they were camping a few years ago, they discovered this stay dog and they took it home. When they were unable to find its owner, they kept him as their own. They found him while they were camping...along a river. Yes, hence the name! As Estee said, they take wonderful care of all their dogs, cats and foster animals...real animal lovers! So we know River is a lucky dog to have stumbled into their camp site!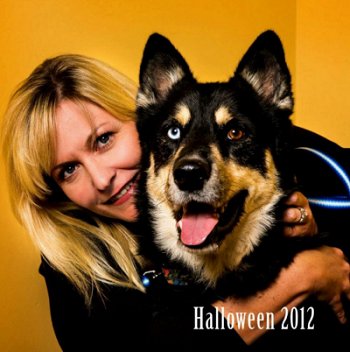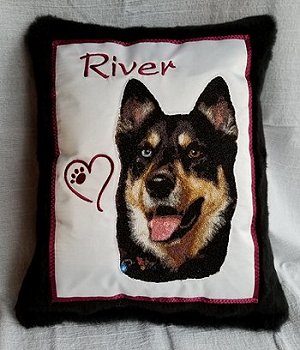 Up to Top
Brit Bear was not only a Military K9 Hero, but he also became quite the celebrity in retirement, as well as getting to hang out with some celebrities. Brit Bear additionally became a Patriot Guard Rider, honoring the fallen. Be sure to scroll down to see many wonderful photos and his bio. This pillow was a gift to Jasmine and Mark from Judie to honor this much loved War Dog, who recently passed.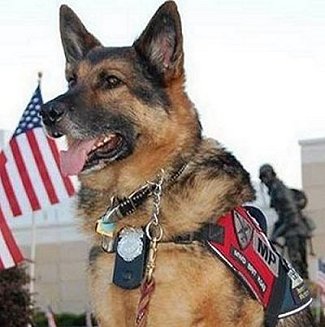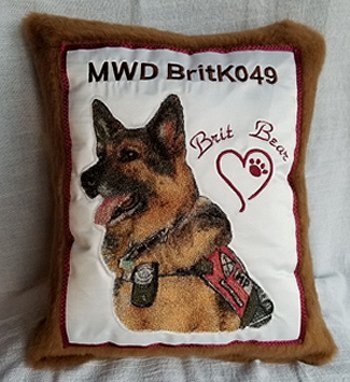 US Army MWD Brit K049 (PNDD) [Patrol Narcotics Detection Dog]

Born 1 June 2004

Entered: Military Working Dog training, Lackland AFB 27 February 2006
Passed Patrol Training: 12 July 2006
Passed Drug Detection training 4 August 2006

Assigned to the 42nd Military Police Brigade, 95th Military Working Dog Detachment, Joint Base Lewis McCord, WA.

Classified as 'Excess' 11 June 2012
Adopted by Mark & Jasmine Russell 28 June 2012

Flew First Class from Seattle to his Furever new home in Fayetteville, NC thanks to Delta.

After Brit's retirement he passed his AKC Good Citizen and Therapy dog training and became a Therapy Dog, visiting the wounded troops at WOMACK Army Medical Center, Ft Bragg, NC. He also became a member of the Patriot Guard Riders, attending funeral services for fallen military members, putting a little smile into the families of the fallen soldier.

In May 2013, Brit was invited to the Charlotte Motor Speedway to represent the US War Dog during the NASCAR Coca Cola 600. During this trip he had the pleasure of meeting many of the NASCAR drivers...Tony Stewart, Jeff Gordon, Danica Patrick, and Dale Jr. He then went back to Charlotte Motor Speedway for the Bank of America 500 in Oct of 2013.

July 2013, Brit was honored to represent the Special Operations Military Working Dogs at the North Carolina House of Representatives. State Representative John Szoka was announcing the placement of the Special Operations K9 Memorial at the U S Army Airborne and Special Operations Museum. Brit was made an honorary Sergeant at Arms for the day by then NC Speaker of the House Senator Thom Tillis.

Brit represented the 26th Infantry Scout dog platoon during Fayetteville, NC's Veterans day parade, in Nov of 2013. Then, in 2015, he represented the US War Dog Assn at the Columbia SC Veterans Day parade. Brit also represented the US WAR DOG Association at various fund raising events, spreading the word about these outstanding 4 legged warriors.

Brit was honored to be the model representing the Fayetteville NC Police K9s who passed in the line of duty in a beautiful memorial located outside Police Headquarters.

Brit crossed over to The Rainbow Bridge on 31 Oct 2017.

His favorite foods were:
Chicken on a stick (Rotisserie Chicken)
Steak
Brie Cheese
Salmon Flavored Cream Cheese

Favorite toy: Stuffed Giraffe

His favorite motto. 'ALL FOR ONE AND ONE FOR ALL'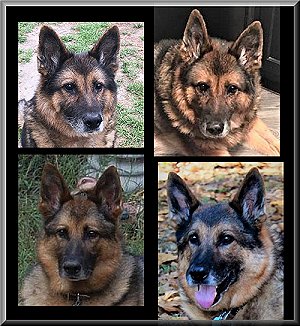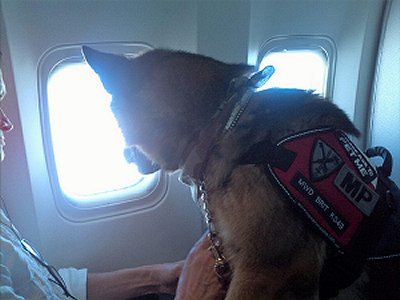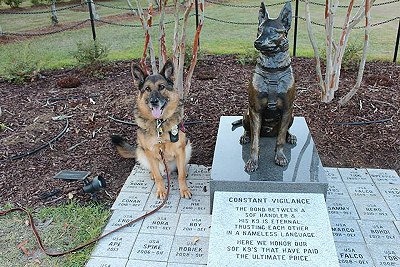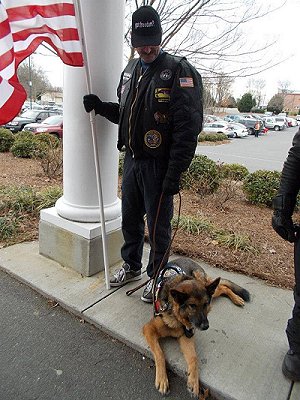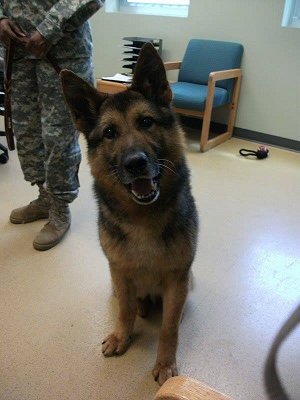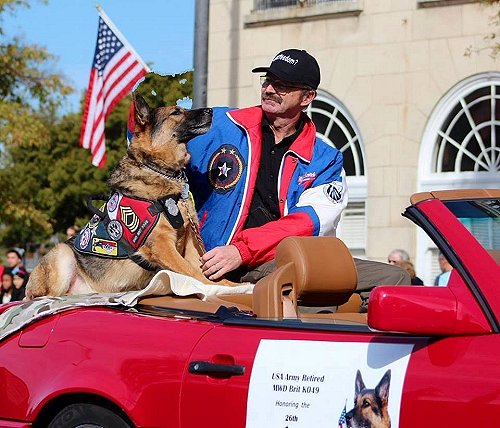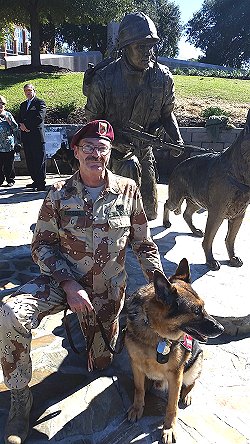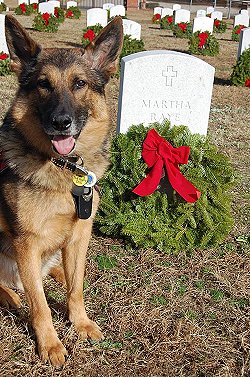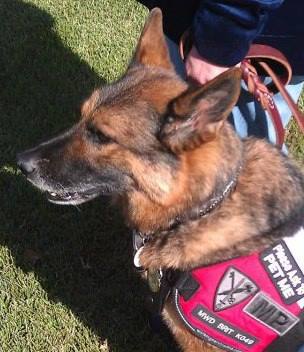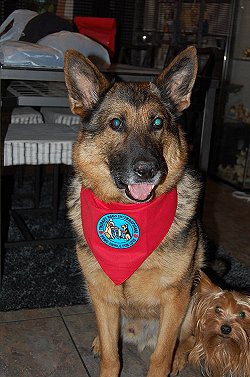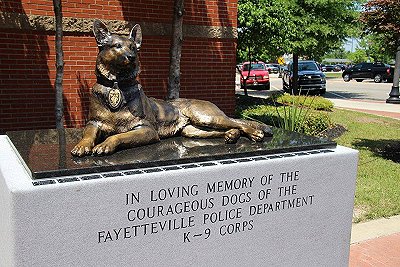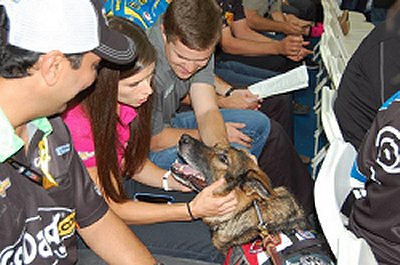 Up to Top
My collie rescue colleague, Melanie, sponsored this pillow for her friend, Ann, who recently lost her sweet Peter. See below for details about Peter's life and see more photos.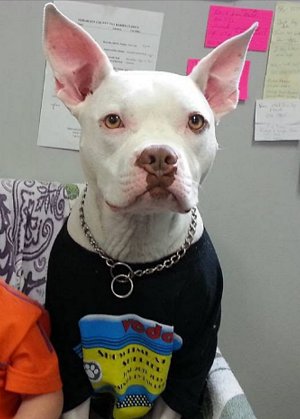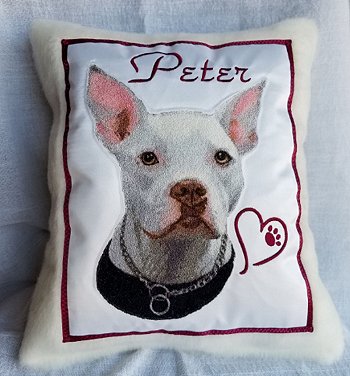 Peter was adopted from Vermilion County Animal Shelter by one of the staff, Ann Puzey, when he was just a pup.

Peter quickly became the mascot of the shelter, coming to work with Ann every day, and helping our shy dogs come out of their shell, playing with puppies, etc. Peter was a great boy!

Sadly, his time here was not long enough. Peter passed away from an unfortunate accident in August of 2017, at the young age of three years old. He is deeply missed by Ann and her family as well as the shelter staff.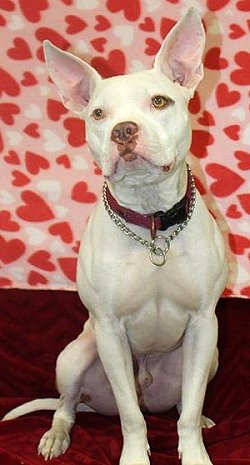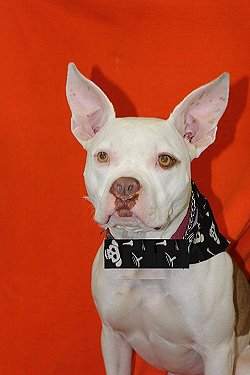 Up to Top
K9 Hero Ringo bravely served our country for the majority of his life and once in retirement he bravely fought a brain tumor. But, very sadly, his body just had enough and he crossed the Rainbow Bridge in Oct, 2017. This pillow is a sponsored gift to Anne, who runs K9 Hero Haven, from her friend Judie. Be sure to scroll down to read Anne's memorial words for Ringo, as well as see several more sweet photos of K9 Hero Ringo.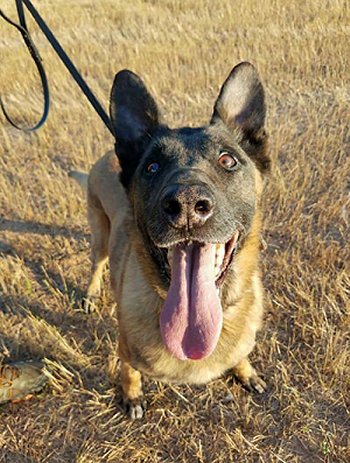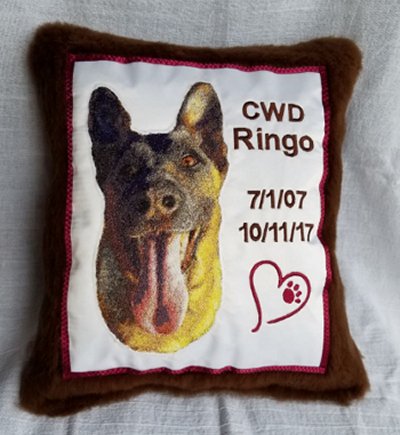 "With a sad and heavy heart I announce the passing of CWD Ringo.

"CWD Ringo served his life in Afghanistan and retired in June 2017. Shortly after returning to the US, we notice neurological problems with him. After tests and scans, CWD Ringo was diagnosed with an inoperable brain tumor. His only option was radiation. He received 20 treatments and started to enjoy retirement. Even thou his retirement was brief, he enjoyed attending events as an ambassador of K9 Hero Haven. He loved people and enjoyed ice cream, treats and toys. He became a huge inspiration to all people especially cancer survivors.

"The radiation took a toll on his body thou. The biopsy left his skull area with out bone. It was very soft and a risk of constant infection. The tumor effected his balance and caused him to fall and be unsteady.

"Today at his vet appointment, my veterinarian suggested helping him pass. He was dealing with an infection at the biopsy site because the area became compromised and just wouldn't heal complicated with balance and falling. His skin was deteriorating in several areas even thou I kept him active and moving.

"CWD Ringo passed in my arms as I laid on the floor crying with him holding him. Remember him as a dog who served his life, loved people, toys and treats. I have included as many pictures allowed by Facebook. So enjoy my favorite pictures and moments.

"CWD Ringo was able to receive a brief retirement with thanks to Diane for her sponsorship of his medical bills and US War Dogs for covering his radiation treatments and stay at Red Bank Hospital.

"I am going to make a request to any of my friends willing to donate, please donate to US War Dog Association in CWD Ringo's honor. Any amount, even a small donation helps US War Dogs to help retired military dogs received medical treatment at Red Bank Hospital after retirement.

"Thank you to all my friends and followers who have supported K9 Hero Haven. I couldn't do this without you. Your love, prayers, and support mean more to me then you will ever know."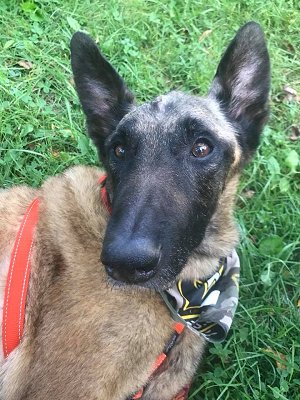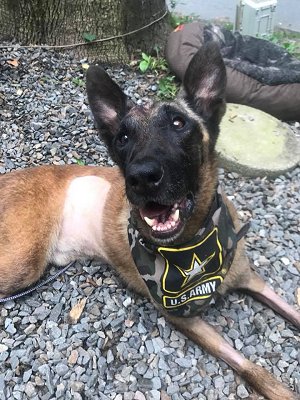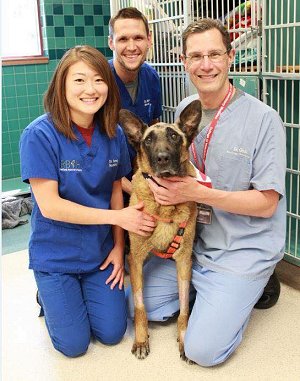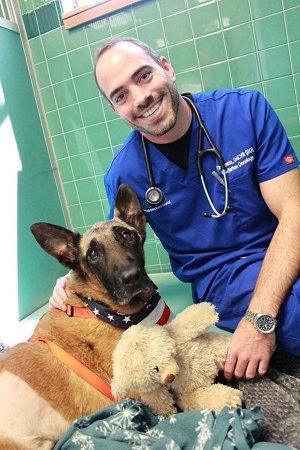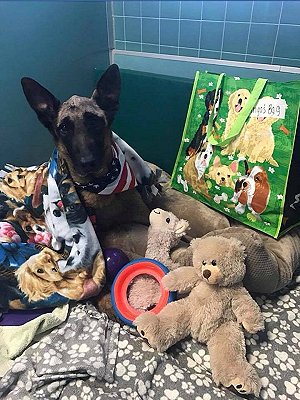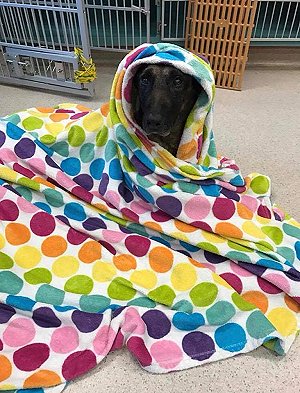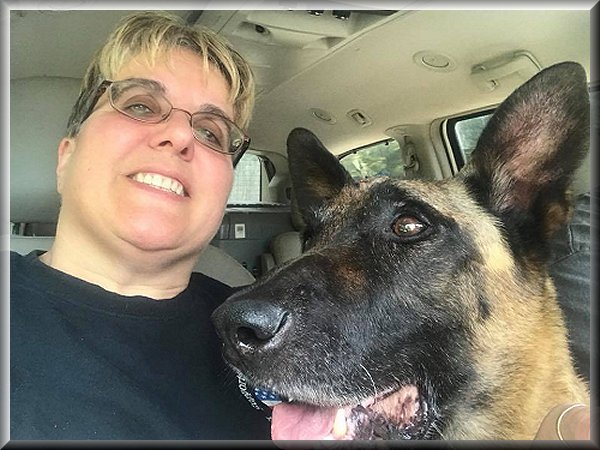 Up to Top
In the fall I ran a donation raffle to help raise some funds so I could replenish some supplies and continue offering free K9 pillows to heroes killed in the line of duty and also to keep prices as low as possible for purchased pillows. Every $5 donation gained the donors an entry in the raffle. I was able to catch up on supplies and Melissa was the winner of the raffle. She won a free K9 Hero pillow of her beloved dog Bailey. Her favorite photo had flash eyes, but thanks to help from Loreen from The K9 Hero Portrait Project, I learned how to modify dog eyes, so I was able to make Bailey's eyes look right with a little magic from a few artistic magic markers.
Be sure to scroll down to read about Bailey.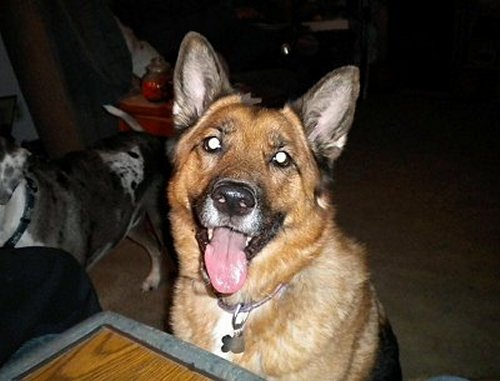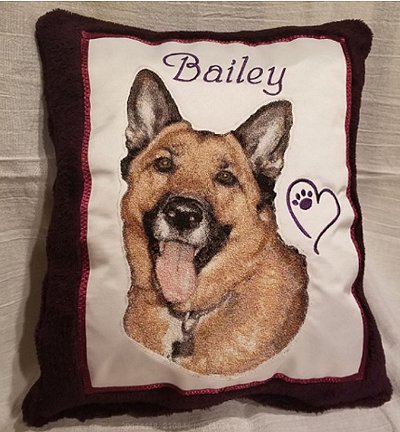 Melissa tells us about Bailey...

"We adopted Bailey when she was 5 weeks old. My son had been asking for a dog, so when he was 7 years old, I decided he was finally old enough to help take care of her. Bailey might not have been a registered therapy dog, but she helped my son and me through some very rough times. My son was diagnosed with cancer 6 years ago. Bailey stayed right by his side and was always there to keep him company. She snuggled with him on the couch for hours.

"Bailey loved playing in the sprinklers and the hose, but try to give her a bath and she hated it! Visits to Grandma's house were at the top of her list of favorite things to do. On holidays and her birthday, Grandma would make her her favorite deviled eggs.

"She always loved her boy, but she became my heart-dog. We had to let her go in May of 2016, at the age of 15 ½. I miss and talk to her every day, and I know she visits me. "

Up to Top
I've gotten to know Melanie as a vital member of the Collie Rescue group that I'm involved in. But she's also a major player in other shelter and rescue groups to help save dogs. Melanie's 'very dear friend,' Lori, recently lost her sweet Jake and she was devastated, so Melanie sponsored this pillow for Lori to help her heart heal, some.
Melanie provided some further info...

"My very dear friend, Lori is Co-Founder, Intake Coordinator and Transport Coordinator for Across America Boxer Rescue. She has a HUGE heart..rescue is her heart and soul. She helps so many Boxers and even other breeds when she can. Jake passed away almost two months ago (summer 2017) at the age of 9. He was the first dog she had ever adopted in her life and she is devastated...her heart is truly broken. Lori is the most selfless and dedicated person I have ever met. My heart hurts for her. Jake leaves behind his fur sister Bella as well. Lori and Bella miss Jake so much."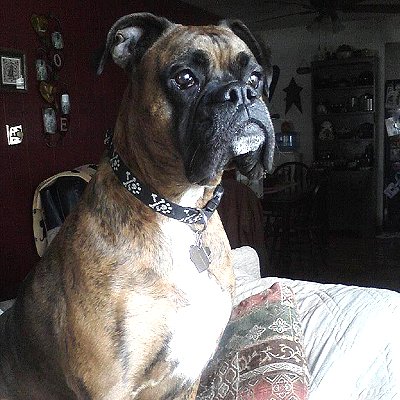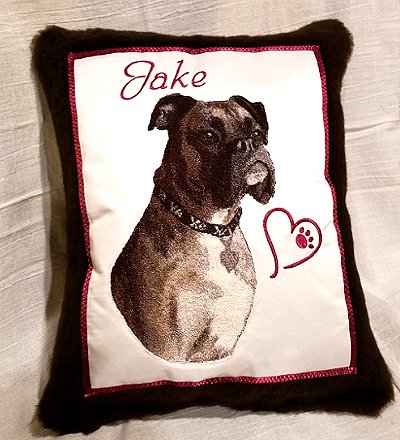 Up to Top
Amy felt so sad that her friend's sweet buddy, BoBo passed. So she sponsored this pillow as a surprise to try to help her friend heal from the loss. Amy told us this about BoBo...
"BoBo was a wonderful companion to his owner, they were inseparable. BoBo was a funny, energetic Dog who was very loved by his family. He loved people and other Animals. BoBo passed away from cancer in his leg. He is truly going to be miss. Dian Chapman did an amazing job with the pillow from BoBo picture."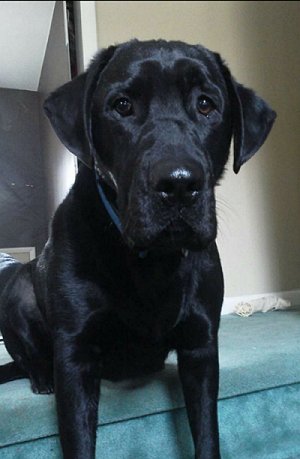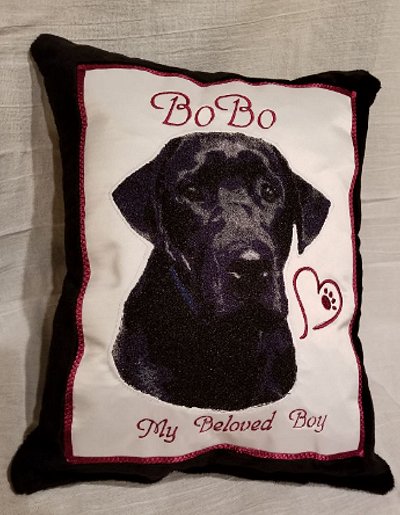 Up to Top
Several months ago, Staff Sgt. Collister saw that I make free pillows to honor K9 Heroes who pass while still serving their country. He sent me an email asking if he could get a pillow to honor his partner, Military Police K9 Aio, who was diagnosed with cancer while still serving and passed before he had a chance to retire. He mostly wanted the pillow for his young son...to hug...especially while SSgt. Collister was deployed.
It took me some time to get this one done because there were only a few photos of K9 Aio (see more below) and the best one caused Aio's eyes to glow. I tried to fix the problem, but I just couldn't get it right. So I asked K9 Hero Portrait artist, and good friend, Loreen Pantaleone if she was interested in a barter. She recently planned to sponsor a pillow to honor a friend's K9 Hero (LEO Shrek). So I suggested that I would do Shrek for free if she would take time to work on Aio's eyes (digitally) to fix the photo and give this hero proper looking eyes. She did (and I think her daughter, Ana helped)...and she (they?) did a great job. You can see the original photo further below, as the comparison photo with the pillow is Loreen's adjusted photo. I was able to modify the remaining slight 'glow' around his eyes by converting that thread color while digitizing the image.
Be sure to scroll down to see more photos and learn about the ceremony that was held to honor K9 Hero Aio.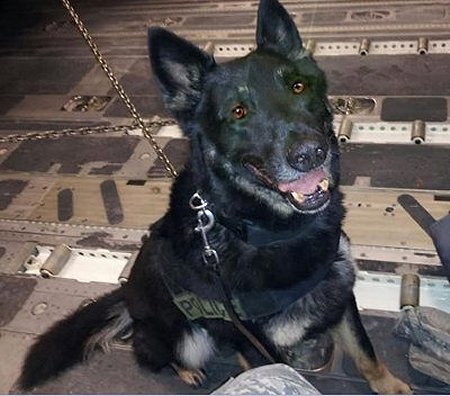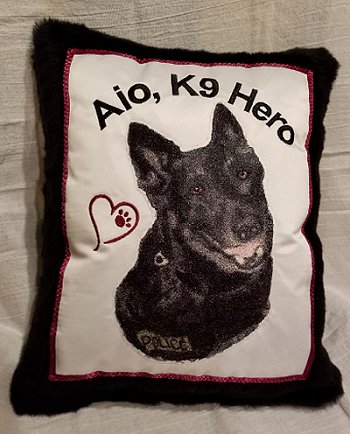 Aio's original photo.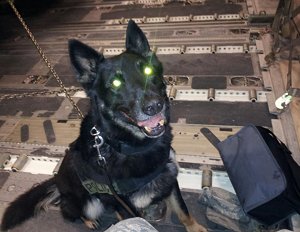 PETERSON AIR FORCE BASE, Colo. -- A lone kennel sat empty at the center of the stage flanked by military working dog handlers and their companions. Service members and civilians stood at attention while the 21st Security Forces Squadron honored the passing of MWD Aio.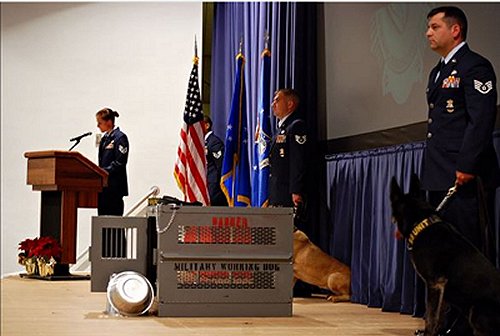 Aio service was cut short when he developed cancer. His last day of watch was April 12. Aio's handler, Staff Sgt. Albert Collister, performed the honor of packing Aio's equipment into an empty kennel. The slamming cage door echoed through the auditorium as a haunting closure to Aio's 8-year career.

"I spent three years with that dog (Aio), I spent more time with him than my own family," Collister said then backed away from the podium.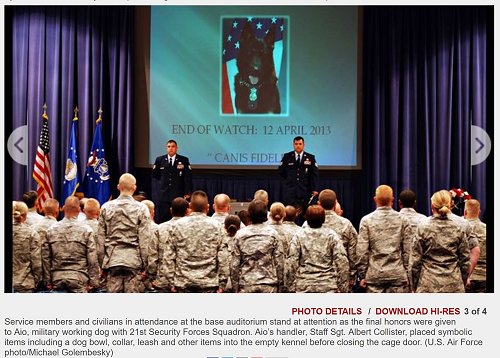 The Working Dog Poem "God summoned a beast from the field" was then read aloud.

"Walk by his side: sleep in his doorway: forage for him, ward off his enemies, carry his burdens, share his afflictions; love him and comfort him.

"And in return for this, man will fulfill your needs and wants - which shall be only food, shelter and affection.

"So be silent, and be a friend to man. Guide him through the perils along the way to the land that I have promised him."

(Anonymous)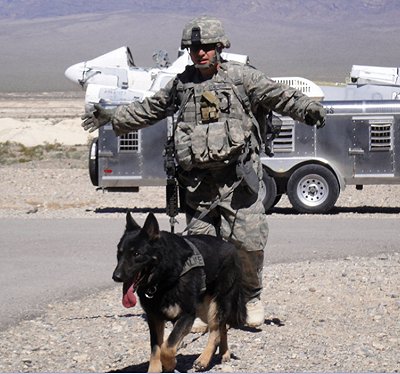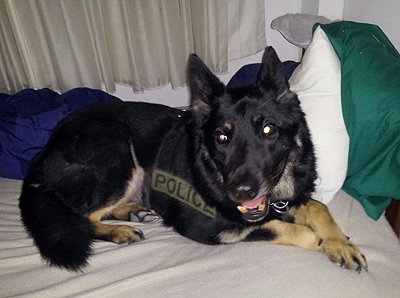 Up to Top
When Sherri's Son-in-Law joined the Snelville (GA) Police Department, the young rookies formed a bond...they were family. When Sherri heard that Lt. Matson lost his partner, LEO K9 Chris, she knew she had to help him heal his heart by giving him a K9 Hero Pillow to honor K9 Chris. He loved the pillow, but his young daughter, who was very close to K9 Chris and misses him, hugs the pillow a lot. I hope it helps her feel better, too. Be sure to scroll down for more info and photos.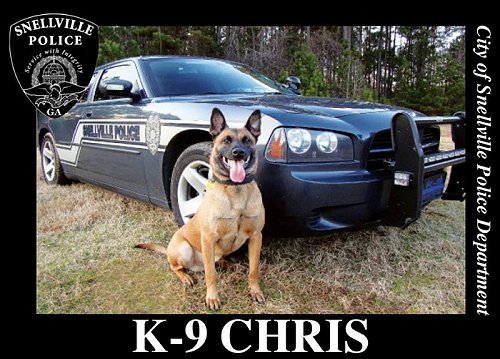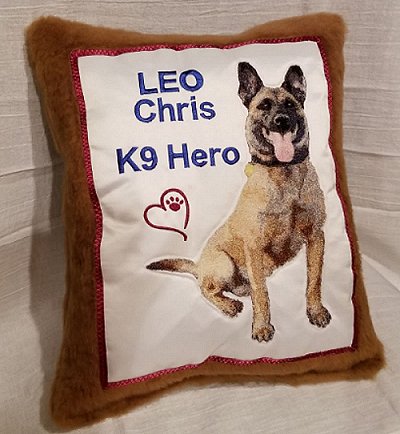 "From his first day of training with the Snellville Police Department, K-9 officer Chris was ready to work. The Belgian Malinois worked with Lt. David Matson for 11 years, tracking scents, recovering evidence and sniffing out hundreds of pounds of drugs and thousands of dollars in cash. Chris also became a member of Matson's family, serving as protector to Matson's young daughter after his retirement from the K-9 force in 2015. K9 Hero Chris passed in June 2017 from Cancer. He was one of Snellville's first K-9 officers."

Lt. Matson explains how his young daughter is trying to understand Chris' disappearance..."When I was going to get Chris's remains, my daughter said 'Tell him I miss him and I'm ready for him to come visit me.' "I said, 'What do you mean?' and she said 'He has wings now and he can come visit me.' "

You can read more at this article, which is online as of 2017.
Snellville PD, family remember love, dedication of deceased K9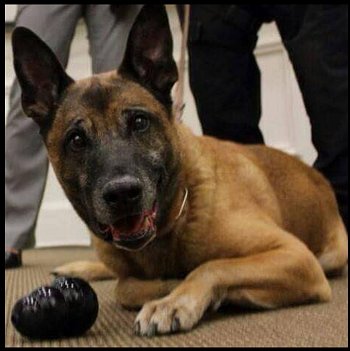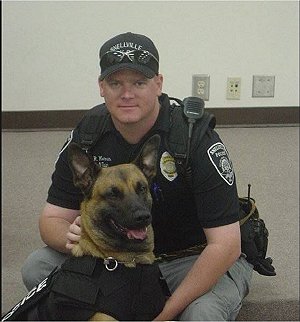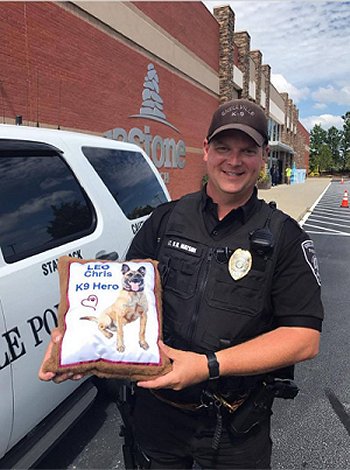 From Sherri...

"We delivered the pillow today. He loved it and said it looked exactly like Chris. He was blown away. He said the fur color was just like Chris. He told us that this past week he kept thinking about him. It truly touched my heart the way he kept touching the pillow as if he was once again touching his partner. As you can see by the photo (above) he was on duty when we gave it to him. As he put the pillow in the car he said "I know the perfect place for you buddy."

"I gave him the card first...saying it would explain the package. He had no idea it was coming even though my daughter said we were bringing him something. He thought it might be M&Ms. He said this was so much better.

"Your work truly impacts the hearts of those who receive the pillows you do. I just want you to know. Thank you for sharing your talent."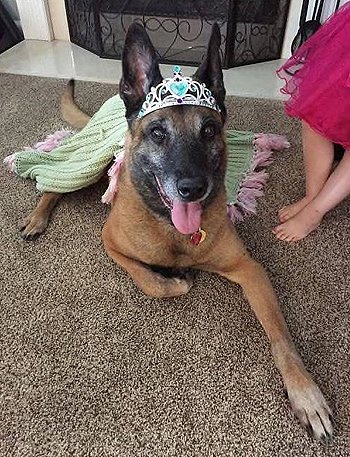 As Lt. Matson said of this photo above:
"Here was this badass K9 dressed up having a tea party."

Up to Top
Terry learned about my K9 pillows through Teddy the Spaz Man's facebook page...an hysterical doggie who had a sister named Roxie who passed and I made Roxie's pillow for them thanks to their friend, Becki, who sponsored Roxie's pillow. I've been a fan of Teddy and the gang ever since.
Tracy's sister recently lost their beloved Koby at the age of 17! They still have Zacky, Koby's brother, who is 8 and misses his sister, Koby. Since Tracy's sister's birthday was coming up in the summer of 2017, Tracy wanted to get her a special present. However, she felt her sister was a hard person to buy for. When she learned about my K9 Hero Pillows, she knew these pillows would be a wonderful gift her sister would surely love. And she DID! You can see a photo below showing how these wonderful Shiba Inu dogs' pillows are now on display in her home.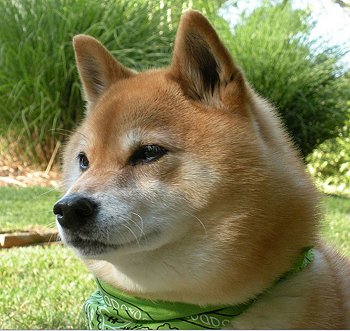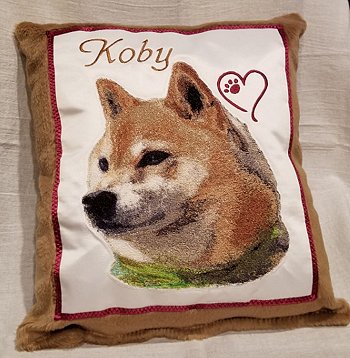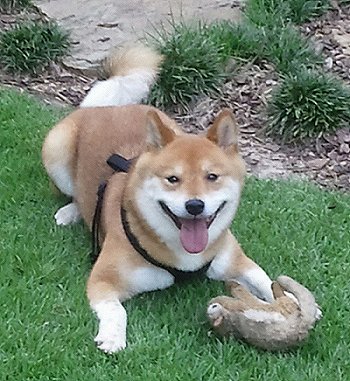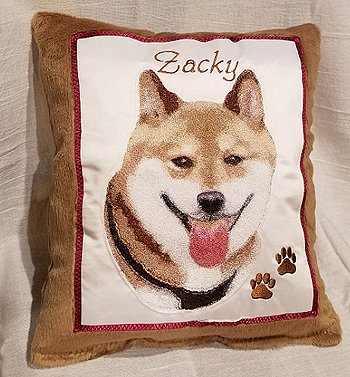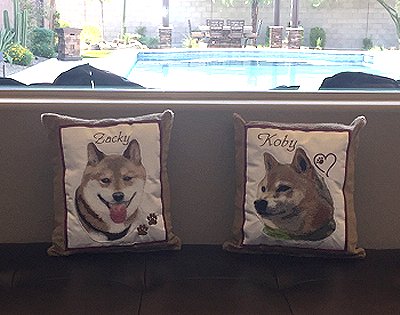 Up to Top
LEO K9 Hero Shrek passed due to terminal illness after six years of serving his community, in Morganton, NC, while being partners with Ofc Huffman. This pillow was a gift to Ofc Huffman from Loreen Pantaleone, artist and founder of The K9 Hero Portrait Project. Be sure to scroll down to see many more photos and lots more information about LEO Shrek and his little brother, LEO Jaros, who is now partnered with Ofc Huffman and will take over walking in Shrek's paw prints to help protect his community.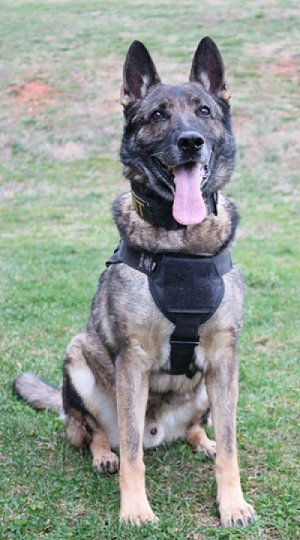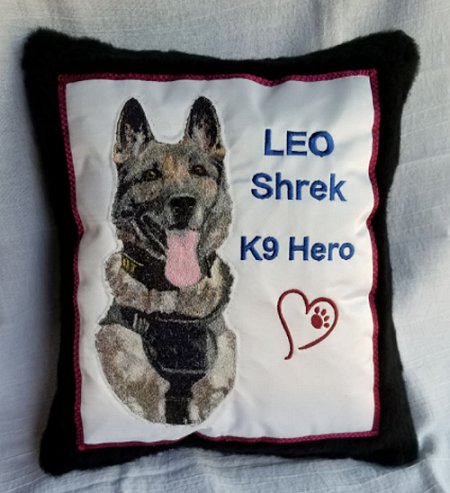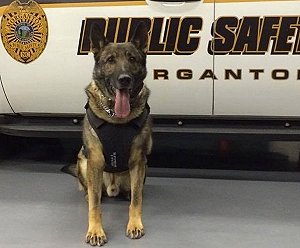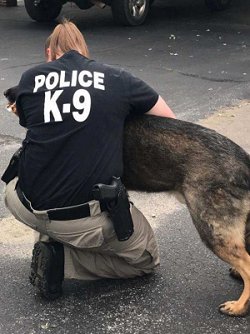 Shrek started his career with MDPS in 2011 and was a full-service Police K-9, trained in drug detection, tracking and apprehension. He had a busy and productive six-year career at Public Safety, producing some very impressive statistics, the information said.

Shrek excelled in drug detection and is responsible for more than 400 drug arrests that resulted in the seizure of 3.76 kilos (8.29 pounds) of marijuana, 1.29 kilos (2.84 pounds) of methamphetamine, 271.87 grams (9.59 ounces) of crack cocaine, 32 grams (1.13 ounces) of powder cocaine, 1.86 grams of heroin and more than 500 dosage units of illegally used prescription medication, the information said.

During these narcotics seizures, Shrek helped get $72,498 in cash and 36 guns directly associated with narcotics use and sales off the streets. His largest single find of 2 pounds of methamphetamine stands out as one the largest in Morganton Public Safety history.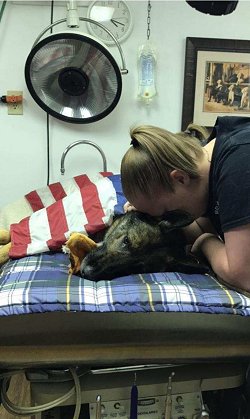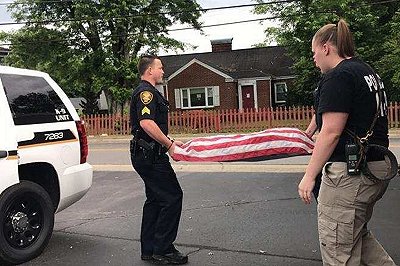 Morganton Public Safety had to say goodbye to "one of the finest four-legged cops" in the history of their K-9 program.

K-9 Shrek, a 7-and-a-half-year-old German Shepherd, was relieved of his duties due to a series of debilitating issues with his hips and lower back. Shrek put up a valiant fight for several weeks to enjoy retirement, but his condition was determined to be terminal.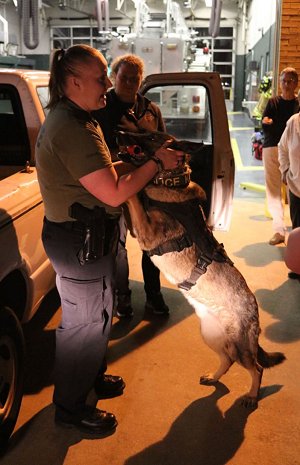 "K-9 Shrek, thank you my loyal partner and faithful friend, you will be greatly missed," said PSO Stacey Huffman, who was Shrek's K-9 Handler for three and a half years. "I couldn't have asked for a better first partner, even though we were both stubborn, we deserved each other. Some may never understand the bond we have, so I'll explain it like this: That one person that has your back no matter the situation, that's Shrek to me and what I was to him."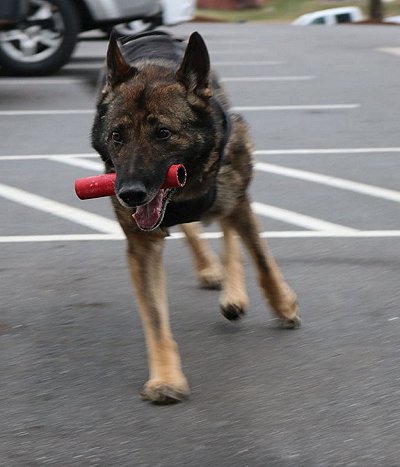 LEO Shrek's Final Call

"Burke to K-9 Shrek … Burke to K-9 Shrek … Burke County to K-9 Shrek," said a voice over the emergency communications police radio. "Burke, to all units be advised K-9 Shrek of Morganton Department of Public Safety is clear from his final tour of duty. K-9 Shrek served faithfully the Morganton Department of Public Safety for six years and was 7 years old. Shrek, this is your final call on this 25th day of May 2017. Our deepest sympathy to his handler, Morganton Department of Public Safety Officer Stacey Huffman, and his fellow Morganton Department of Public Safety officers. Rest easy, Shrek, we will take the watch from here. Burke clear on May 25th, 2017 at 16:20 hours."
RUN FREE NOW, K9 HERO, SHREK!
Jaros has it from here.
From Stacey...

"Yes this is my new partner Jaros. Jaros is actually named after and in memory of US Forest Officer Jason Crisp and his K9 Maros. Ja is for Jason and Ros is for Maros. They were both killed by the suspect as they were tracking a double homicide suspect here in my county."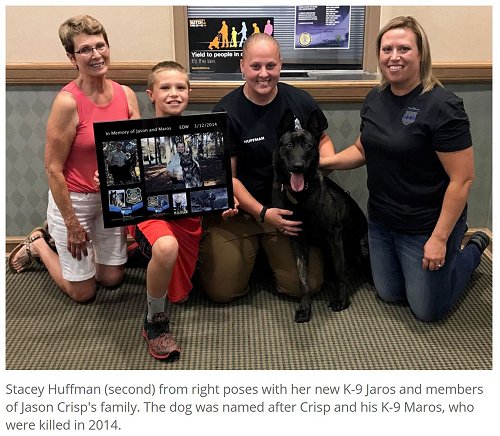 Here are the links to the full news articles w/videos, which are online as of 2017.
New Public Safety K-9 Undergoing First Week of Patrol
Moment of Silence: Burke County to honor Jason Crisp, Maros
This (below pic) is why I do this!
From Stacey: "Can't thank you enough for this!!"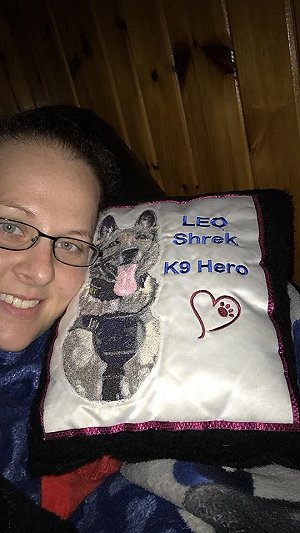 Up to Top
Unfortunately, I don't know if Biba is still with us, as I've been unable to get an update. Sherry came to me back in March 2017 to ask for a pillow for her son's (a Texas State Trooper) partner, DPS (Department of Public Safety) German Shepherd K9 Biba, who was active duty when she was diaognosed with lung cancer in both lungs after tests for a lump were done. I made and sent this free pillow to honor Biba.
Biba and her partner, Sherry's State Trooper son, were still working in Amarillo at the time she wrote me. The vet said Biba could work as long as she was able or wanted to work and chemo was started. But the prognosis wasn't promising for K9 Hero Biba and her family was devastated at the news. Especially since they had just lost a family dog to cancer a couple weeks prior.
We CERTAINLY hope that K9 Hero Biba did well with her treatment and that she is enjoying a well deserved, loving retirement. If I'm able to get an update, I'll post it here. Thank you K9 Hero Biba for your service and we wish you the best! (More photos further below.)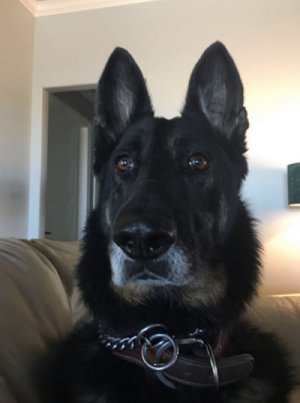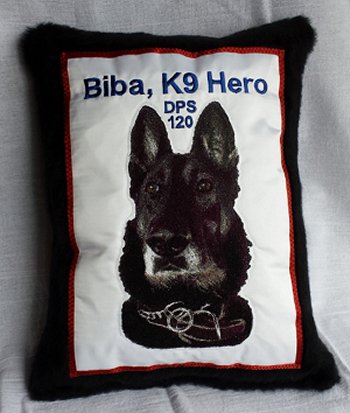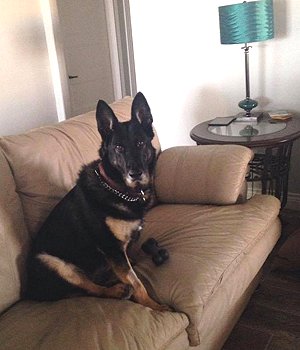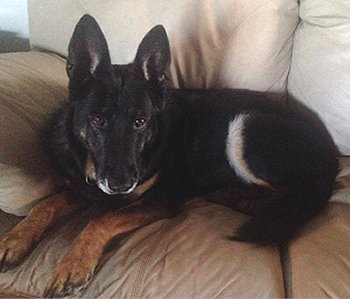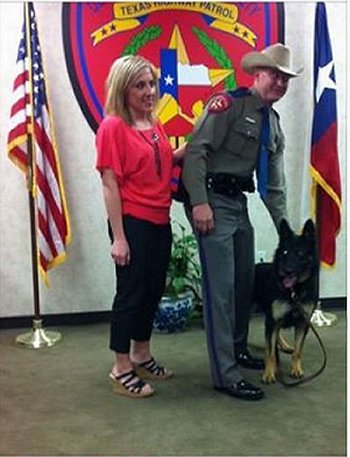 Up to Top
A friend's sweet dog, Sophie, was sick for awhile and, sadly, recently crossed over The Rainbow Bridge. Several of her friends wanted to make sure she had a pillow to hug. Thanks to Kathy who sponsored this pillow and Barbara who made an additional donation in Sophie's name. Be sure to read Sophie's bio below and see more photos.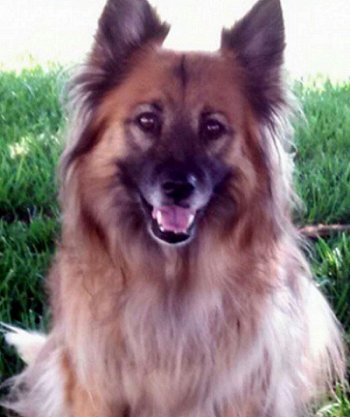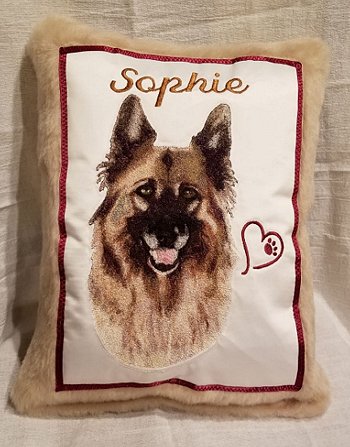 "Sophie Fahey...cheerleader to all Hero Dogs.

"In April 2013 Sophie was diagnosed with an inoperable MCT in her chest. The Oncologist predicted she would only live for 6 months. She beat the odds with courage and love.

"Sophie made many friends on Facebook and met her love of her life CWD Rico Marthers there. They had the virtual wedding of the century. She was the honorary head Cheerleader for The War Dog Memorial Colorado and constant supporter of Gabe To The Rescue.

"Sophie was known as The Duck Whisperer among her friends. Ducks seemed to gravitate to her and would follow her along on her walks. She was a gentle soul who never hurt anybody or anything.

"In July 2016 several more Mast Cell tumors had begun growing at an alarming rate. We decided to have them removed as they were affecting her quality of life. She came through like a champ. March 2017 she came down with aspiration pneumonia. She fought as hard as any warrior could fight.

"On July 3, 2017 Sophie let her Mom know she no longer had the strength to fight and made her trip to The Rainbow Bridge. Her pawprints will be forever etched in all our hearts."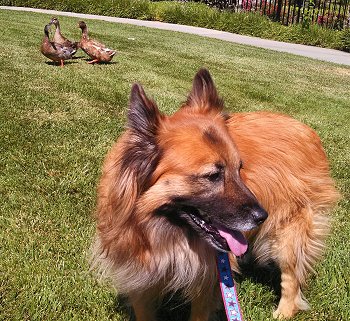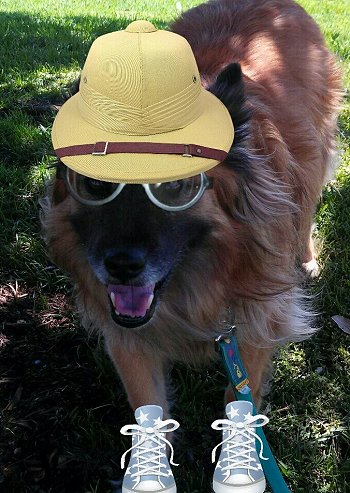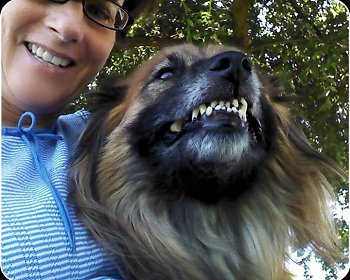 Up to Top
As many of you know, I'm a member of a Collie Rescue group. I'd never been to St. Charles, IL before, but for the last year, I've traveled there many times since the rescue group's veterinarian is located there. So when I heard that St. Charles' beloved K9, Aries, suddenly was lost to an illness while still serving his community, I wanted to make sure I could help honor him. I reached out to the St. Charles Facebook page and, thankfully, Ofc. Anson's brother saw my post and contacted me so I could honor LEO Aries with this free Line of Duty Death memorial pillow. Be sure to scroll down to read about Aries career and see another photo.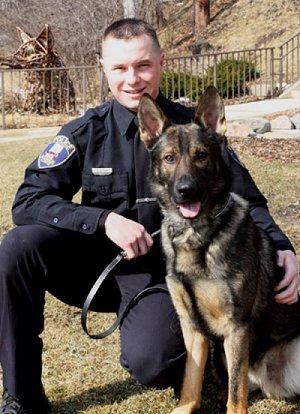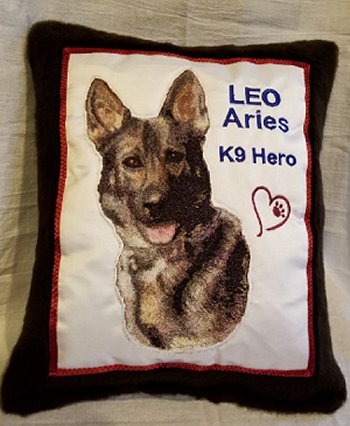 In June, 2017, LEO (Law Enforcement Officer) K9 Aries died suddenly after nine years of service to the St. Charles, IL community. Aries was 10 yrs old and served with his partner, Ofc. Anson, since 2008.

According to St. Charles Police, Aries was rushed to the veterinarian Sunday morning where x-rays revealed he had a large amount of fluid around his abdomen. Officials made the decision to put him down after consulting with the veterinarian.

Aries was an important part of the St. Charles Police Department, assisting with duties such as narcotics detection, tracking, building searches, and apprehensions. Aries also assisted the Kane County SWAT team with operations and was certified by the Illinois State Police. Aries and Officer Anson trained together twice a month, and Aries passed his most recent certification 'with flying colors,' according to a news release from the St. Charles Police Department.

Some of Aries' most notable work included his tracking of a young girl in Geneva who ran away from her home without shoes or a coat. Aries was even recognized with a special proclamation at a City Council meeting, where he was awarded an edible key to the City.

St. Charles Mayor ordered the City of St. Charles flag lowered to half-staff to honor the talented animal

Police K9 Officer Aries was quite a beloved member of his community and was truly a part of Ofc. Anson's family. Sincere condolences to Ofc. Anson, his family and the St. Charles Police Community for their loss of LEO K9 Hero Aries.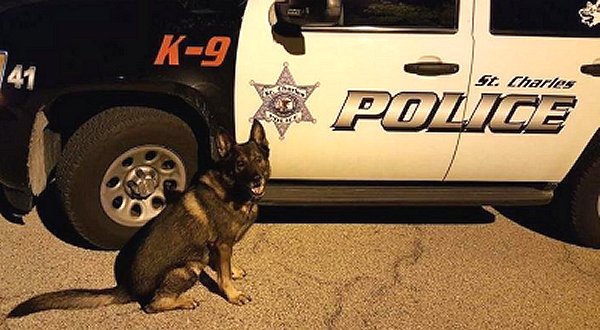 Up to Top
As many of you may know, although I have two Golden Retrievers, I am also a member of Collie Rescue of Greater IL and I often foster/transport rescued collies. One of my fellow foster members is Melanie, who volunteers at the Vermilion County Animal Shelter (Internet link) in Danville, IL. Recently, they had a fundraiser put on by the Paw Brigade for the Vermilion County Animal Shelter (Facebook link) to raise funds for the expansion of the play yard for the shelter dogs and an outdoor cattery for the shelter cats, in order to improve their stay at the shelter. When I heard about their funraising efforts, I offered up a free K9 Hero Pillow for their auction.
The winner of the K9 Hero Pillow was Melissa, who sent me this photo of her beloved Jasmin, who is alive and well. Be sure to read Melissa's information about Jasmin below, as well as see more photos.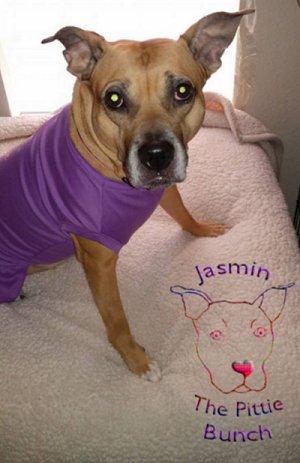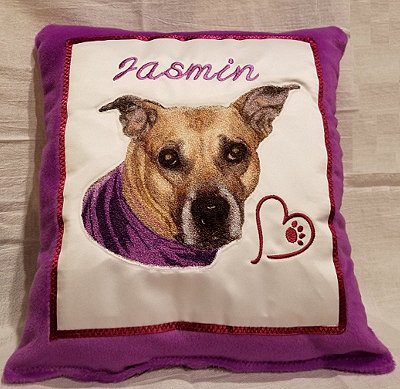 "Jasmin is my heart dog. She is 8 years old and has been with me since she was a pup. She has been by my side through four K9 angels crossing the bridge. We just lost our boy Domino this past May 2017 at the age of 12.

"Jas is so smart, loving, playful, loyal, and caring. She is also a diva, mostly due to her followers on her Facebook page, Jasmin and The Pittie Bunch. She has always been my rock and life with her has been adventure. I love every single one of my babies, but she is my heart.

"Jas and Sable are the only two left with me. My girls Bandit and Shadow and my boys Smokey and Domino are waiting for us at the bridge where we will meet again one day. If you were to spend even five minutes with Jas, you would understand the connection she has with people. Life wouldn't be the same without her."

Up to Top
I donated a free K9 Pillow voucher to Loreen's recent raffle to support her amazing The K9 Hero Portrait Project. The winner was Nikki, who also makes some fantastic clay figurines including custom dog figurines. Be sure to check out her site here: Nikki's Clayations and thank you, Nikki, very much for supporing our K9 Heroes! She used her voucher to have a custom pillow made of her best friend, Zoey...who is alive and well and Nikki says "Zoey is her everything!" Live long, healthy and happy, Zoey! Be sure to scroll down to read more about Zoey.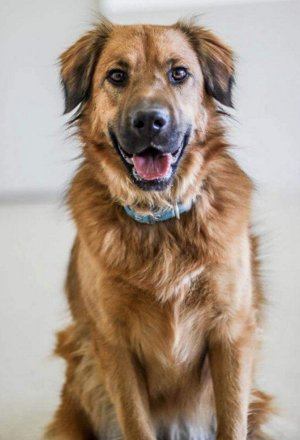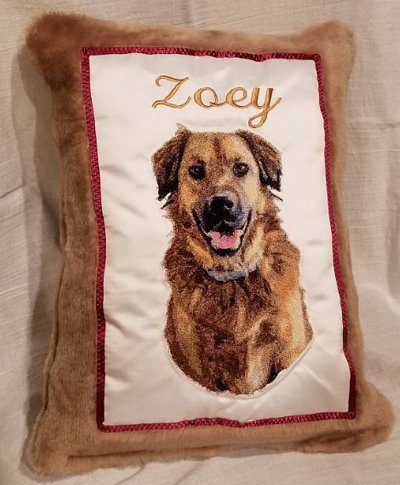 "Zoey is a 7 yr old German Shepherd/Golden Retriever mix. I adopted her at 7 months old after she was found in the Nogales, AZ desert. She is smart, loyal, and the best dog I've ever had.

"Zoey has been through obedience training, agility and rally-o training, and has an intermediate trick dog title. She loves hiking, running through streams, and playing in the snow. She also loves chasing lizards and rabbits any chance she gets and does a play bow to them any time she catches up to them, wanting to continue their game."

Go back to the top.