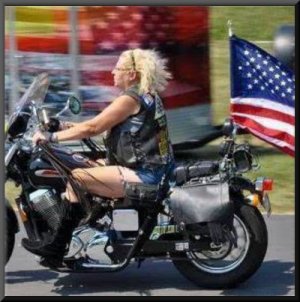 Dian Chapman (nee Fontaine) is a retired 30 year Technical Consultant, retired Microsoft MVP who was awarded each year from 1995-2015 and a retired Certified Microsoft Office Instructor.
She joined the Patriot Guard Riders in 2007 in honor of her 'big brother' Donny, a Marine, who was KIA in Vietnam in 1966 during Operation Prairie. In May, 2008, she became a member of Soldiers' Angels, first serving on their sewing and crochet teams...making blankets for deployed soldiers and crocheting American flag 'lapghans' for wounded vets. In 2011, she also became a Warriors Watch Rider.
Dian soon became an Approved Angel allowed to adopt deployed soldiers, which meant regularly writing to them and sending them monthly care packages. She now holds a life-time membership status as a Soldier's Angel.
In 2009 she became more involved with US War Dogs Org and has since met many wonderful K9 teams, several who she supports as unofficial adoptees. If you're a dog lover, you'll also enjoy reading a story Dian wrote about her husband, Greg's, adventure getting a soldier's mascot dog home from Iraq: Honey, I'm Home! Greg was also one of the many volunteer pilots who has flew to assist with flying relief supplies in after Katrina and Ida.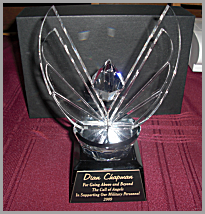 In 2009, Dian was honored with this Soldiers' Angel award (pictured at the left) by Patti Patton-Bader, founder of Soldiers' Angels and grand niece of General George S. Patton! It is engraved: 'Dian Chapman. For Going Above and Beyond The Call of Angels In supporting Our Military Personnel. 2009.'
Writing letters to her adopted soldiers was so rewarding that, at the end of 2009, Dian joined the Soldiers' Angels' Letter Writing Team, and sent hand-written letters to over 200 deployed soldiers. And in July, 2010, she became a member of Operation Top Knot, making baby blankets for expectant military wives.
Dian also discovered another great way to show affection for what our military does for us...by sending them a cup of coffee through the Green Bean Cup of Joe program. It's a quick, easy and secure way to pay for a soldier's coffee while s/he's in a war zone! See the Cup of Joe link for details.
In 2015, Greg surprised Dian with a Viking Epic embroidery machine. She soon taught herself how to digitize images of K9 Heroes and family dogs and embroiders those images to create K9 Hero Pillows. At the links above, you can see photos of those pillows and read the touching stories of these K9 Heroes and beloved family dogs, as well as order your own pillow to honor your pupster!
Because she often makes free K9 Hero pillows to honor K9s who have been killed in the line of duty, she also soon started making several other sewn items for sale as a way to gain additional funds for these pillows, since she does not charge for her time on any K9/dog pillows. She only charges a small amount to cost her costs.
Dian can be reached through her K9 Hero Pillow Project page or by emailing her at dian@mousetrax.com.

Up to Top